Guitar
Manuel Ramírez Spanish
Santos Hernández Spanish

On view at The Met Fifth Avenue in Gallery 681
In 1913, Andrés Segovia went to Madrid to make his debut concert at the Ateneo theater. He visited the workshop of Manuel Ramírez with the intention to rent a superior instrument than the one he was using at the time. According to Segovia, when Manuel heard him play, he ordered his top workman Santos Hernández to "…bring the guitar we made for Manjon." Antonio Giménez Manjon was a blind 11 string Spanish guitarist who had considerable fame in those days, and had balked at paying Ramírez' price for the 11 string guitar he had commissioned. The Ramírez shop headed by Santos Hernández then rebuilt that rejected instrument into the 6 string version by replacing the soundboard and bridge, and converting the tuning pegs to mechanical tuning machines. It was in this rebuilt form that the guitar was gifted to Segovia with the admonition that Segovia repay him by carrying the guitar around the world to display his art for all to appreciate. It is thought that Segovia played the instrument publicly for the first time at the Ateneo concert. In 1922 the guitar required significant repairs, so Segovia took it to the shop of Santos Hernández who restored the instrument and inserted his dated label indicating this. For nearly 25 years this instrument was the main performance and recording instrument used by Segovia at the beginning of his illustrious and long career. It was the instrument he used for his debut in the United States in 1929 at New York's Town Hall. In 1986 Segovia gifted this guitar along with his beloved 1937 Hauser to the Metropolitan Museum of Art and the City of New York in appreciation of the pivotal position New York City played in the success of his career. (Richard Bruné, 2022)



25 3/4" (654 mm) string length, spruce soundboard, Brazilian rosewood sides, back and bridge, Spanish cedar neck, ebony fretboard.
Playlist

9370. Guitar

946. Kids: Guitar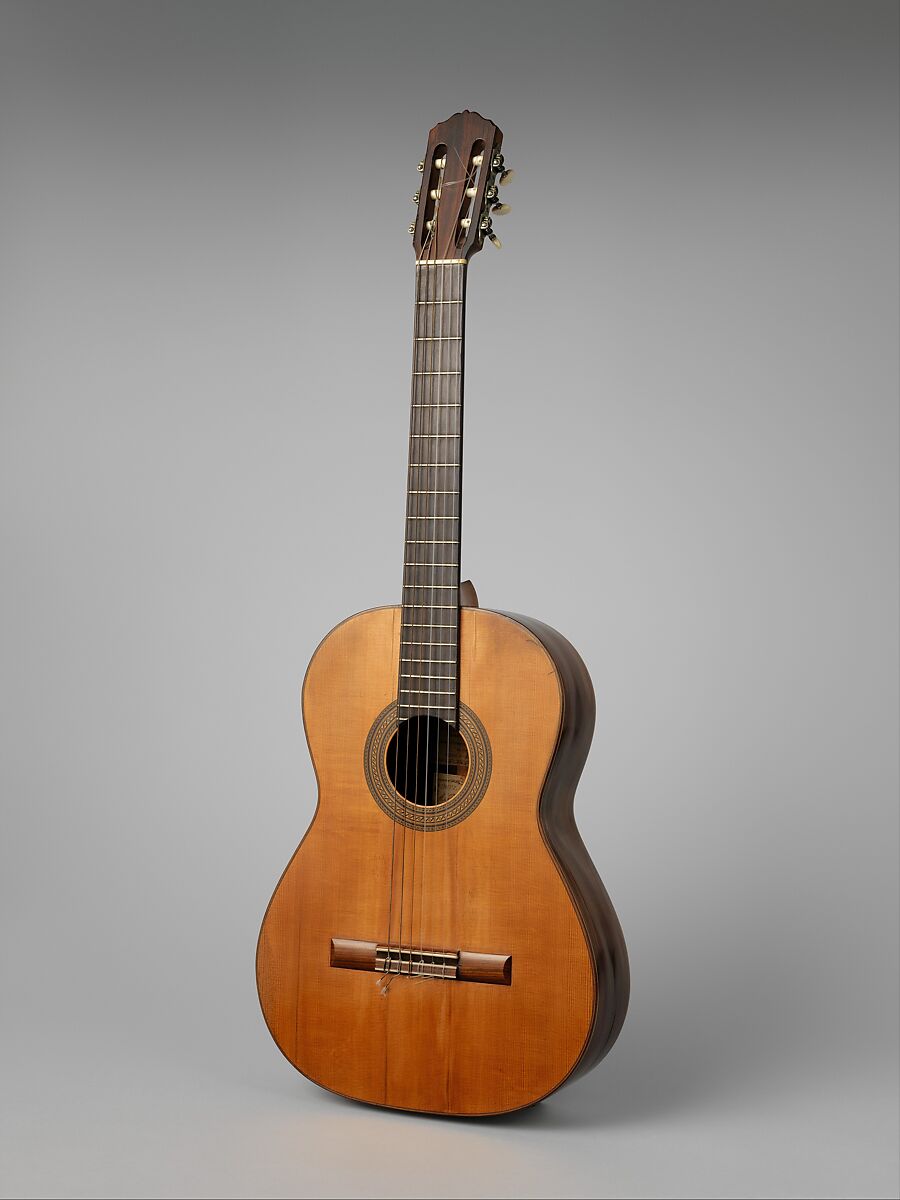 This artwork is meant to be viewed from right to left. Scroll left to view more.