Musette Baroque
Not on view
The musette is a refined form of bagpipe with a bellows that generates wind to inflate the bag and sound a chanter and a bourdon. The bourdon is a device to play the drones. This musette is one of the luxurious pieces used in French aristocratic circles between 1620 and 1760. The instrument features a double chanter, a novelty that emerged around 1650, and a bourdon for three double reeds and four sliders. The small parallel chanter (petit chalumeau) was invented by Martin Hotteterre (1630-1712) in the mid-seventeenth century. The sliders allow the play of one, two, or three drones. The double chanter operates with only one double reed.

The instrument is unsigned, but its decoration of ebony studs in the ivory is also seen in instruments by Dupuis, who worked in Paris around 1690. The instrument retains all its original parts. The silk bag is almost entirely bleached out, but still shows some pink and yellow threads.

(Cassandre Balosso-Bardin, 2023)

Technical Description
Instrument consists of five principal sections:

(1) Double chanter of ivory which forms a unit of four sections, a long pipe (grand chalumeau) and a short pipe (petit chalumeau), each of which is tucked into a receiver; the two chalumeaux have a cylindrical bore; both receivers are glued and fitted together; receiver for long pipe has tenon to be inserted into the bag; the long and main pipe has 7 frontal finger holes (the lower is double) and 5 silver keys; the small pipe has six silver keys and no finger holes; the bells of both pipes and their receivers are decorated with ebony studs arranged in a circular fashion.

(2) Bourdon of ebony featuring 4 ivory slides and 3 open holes for reeds.

(3) Bellow of wood featuring three folds of leather and marble paper; a strap of silk is fastened at two iron hooks; strap serves to attach the bellow to the left arm; the wood is dyed brown.

(4) Connecting hose that links up bellow to bag; both ends of hose are attached to turned tubes of ebony; outer sections of tubes are worked as tenons to plug into the receivers of bellow on one side and bag on the other.

(5) Bag, consisting of an internal leather bag and an outer cover of silk; bag has three openings, which are attached to turned tubes of boxwood; they serve as receivers for the chanter, the bourdon, and the

connecting hose; receivers have the following inscriptions with silver point (?): "Haute No 3" (chanter), "Centre No. 3" and "Ebène" (referring to the bourdon of ebony), "Bas No. 3" (hose for bellow).

Inner bag is of brown supple leather; outer fabric cover was patched together of a purplish silk fabric with white floral ornaments; original color can be seen in some hidden places; ornamented braid that seams the cover has largely retained its yellow color; no maker's mark could be found.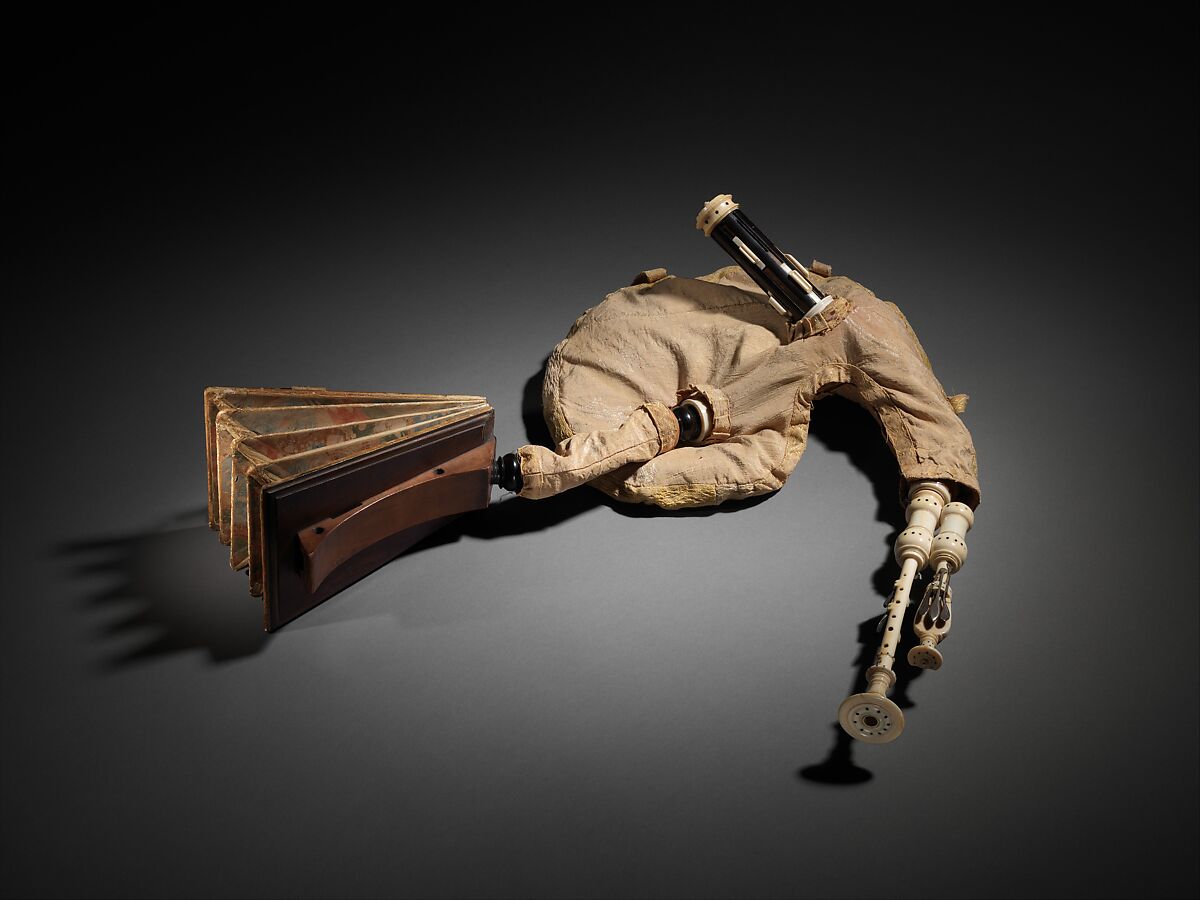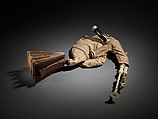 This artwork is meant to be viewed from right to left. Scroll left to view more.