Pipa (琵琶 )
On view at The Met Fifth Avenue in Gallery 684
The pear-shaped lute slowly migrated from Central Asia into China during the Han and Sui dynasties (1st-7th century). It eventually became the pipa; the term describes the original playing motion of the plectrum held in the performer's right hand: p'i, "to play forward" (toward the left), and p'a, "to play backward" (toward the right). Until the mid-tenth century, the pipa was held horizontally (guitar style), and its twisted silk strings were plucked with a large triangular plectrum. Toward the end of the Tang dynasty, musicians began using their fingernails to execute the exuberant and programmatic repertory that was gaining popularity and that became the national style. To facilitate the use of the fingers, the instrument began to be held in a more upright position. In addition to its use in the opera and in storytelling ensembles, the pipa has a solo repertory of highly programmatic, virtuosic music.

The spectacular back and sides of this unique Ming-dynasty instrument feature more than 110 hexagonal ivory plaques, with thinner bone plaques on the neck. Each plaque is carved with Taoist, Confucian, or Buddhist figures and symbols signifying prosperity, happiness, and good luck. These include images of various gods and immortals, such as Shou Lao, the Daoist god of longevity, who is shown with a prominent forehead on the single plaque at the very top. When the instrument is played, this expert workmanship remains unseen by the listener, as the back faces the player. The front is relatively plain but shows signs of use. The ivory string holder bears a scene featuring four figures and a bridge; an archaic cursive inscription; and, at the lip, a bat motif with leafy tendrils. Above the lower frets, two small insets depict a spider and a bird, and just before the rounded upper frets, a trapezoidal plaque portrays two men, one with a fish. The finial repeats the bat (good luck) motif.
#Demonstration of a modern pipa by Wu Man, 2016. "White Snow in Spring."
Playlist

Demonstration of a modern pipa by Wu Man, 2016. "White Snow in Spring."

9379. Pipa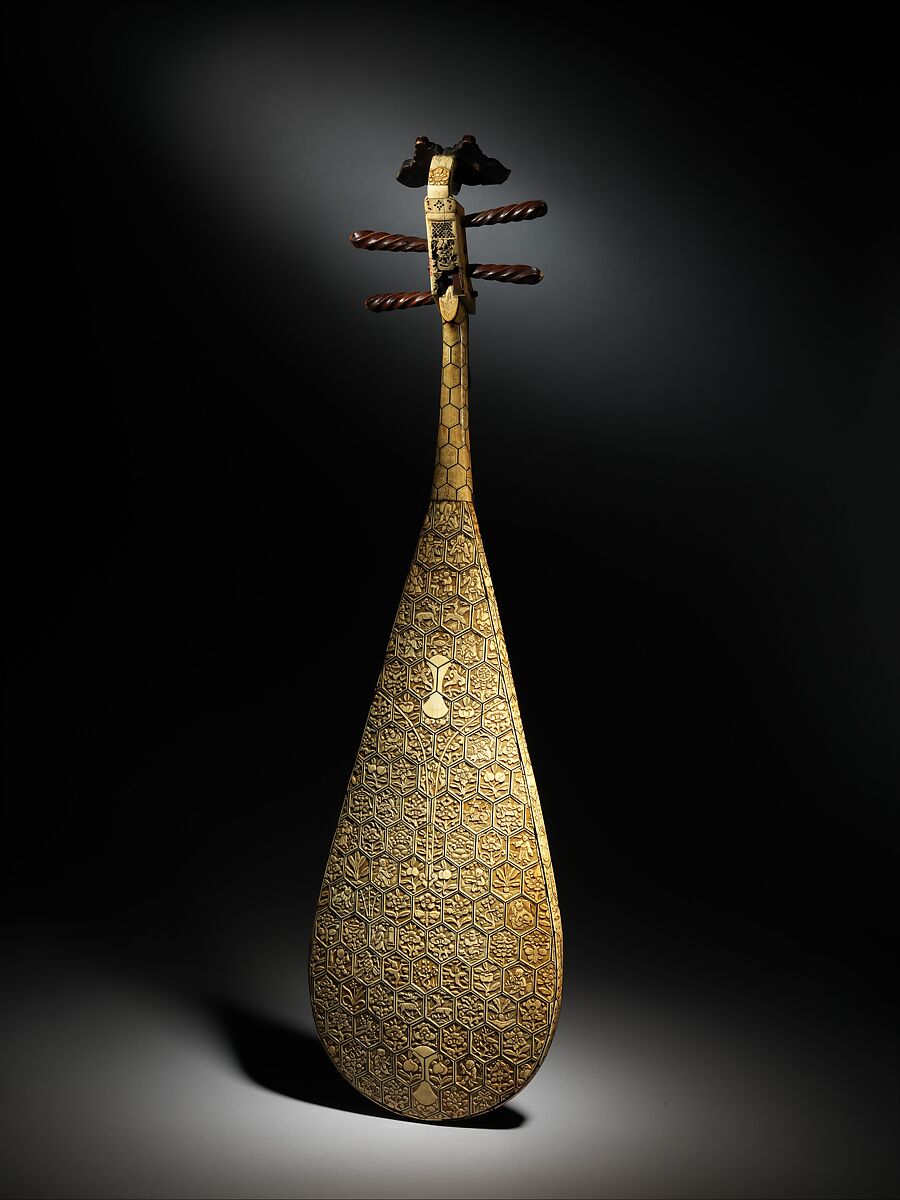 This artwork is meant to be viewed from right to left. Scroll left to view more.