Pedal Harp
Lyon & Healy American

Not on view
The harp is the firm's model 23, which was introduced in 1895 and was produced in this style by about 1913. It is one of the earliest items made of this model and the 115th harp the company had built since 1889. It is a semi-grand harp with seven double action pedals and an eights pedal to control a swell at the back of the soundboard to manipulate the volume. The harp has forty-five strings for a compass from CC to e"" (second position). Later the company resumed the production of model 23 with forty-seven strings and different decoration.

The pedals can be set in three positions and the associated double action raises the basic pitch of a string by one or by two half steps by means of a twin forked disk mechanism. If the pedals rest in the top position, no mechanical action takes place and the seven strings per octave deliver the scale C-flat major. Pressed to the second position (the pedal can be arrested in a lateral notch), the mechanism raises the pitch by a half step, resulting in the scale C major, if all pedals are pressed. Pressing the pedals to the bottom (third position), the scale switches to C-sharp major. The pedals for the left foot serve the notes D, C, and B, the right foot the notes E, F, G, and A. This way, the double action harp has astounding playing technical possibilities superior to those of the single action harp, the hook harp, and the chromatic harps with double or triple stringing. Composers like François-Adrien Boildieu, Camille Saint-Saens, and in particular Claude Debussy, but also Richard Wagner and Peter Tchaikovsky have much contributed to expand the technical possibilities of the double action harp.

Lyon & Healy went into business in 1864 as publisher; in 1885, the company added the manufacturing of all kinds of musical instruments, and in 1889 it began building harps. Within a few decades, Lyon & Healy evolved into one of the best harp makers in America and displaced the company Rudolph Wurlitzer, which built harps between 1909 and 1936, also in Chicago. Lyon & Healy became globally successful as a result of the fine musical qualities and the outstanding workmanship of its harps. However, all basic technical innovations were developed long before: the forked disk mechanism by Sebastian Erard (1794) and the double action of the pedals by Charles Groll/S. Erard (1807/10). The eights pedal for operating a swell shutter at the back of the sound body was invented by Jean-Baptist Krumpholz (1742–1790) and first built in 1786 by Jean Henri Naderman. It was the finer points of workmanship and beauty of sound that led Lyon & Healy to its great success.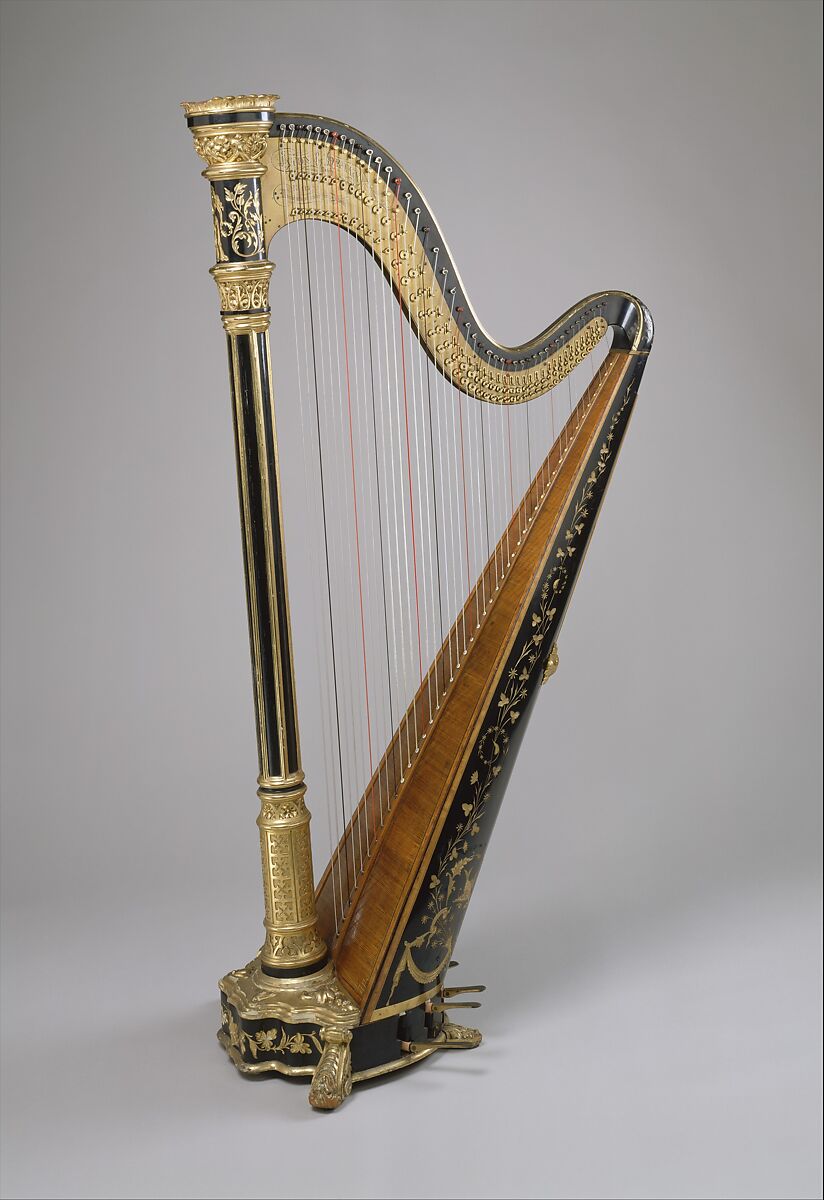 This artwork is meant to be viewed from right to left. Scroll left to view more.