Model Bakery and Brewery from the Tomb of Meketre
Middle Kingdom
On view at The Met Fifth Avenue in Gallery 105
This model of a combined bakery and brewery was discovered in a hidden chamber at the side of the passage leading into the rock cut tomb of the royal chief steward Meketre, who began his career under King Nebhepetre Mentuhotep II of Dynasty 11 and continued to serve successive kings into the early years of Dynasty 12.

The making of bread and beer was closely related in ancient Egypt, both using basically the same kind of ingredients. The two processes are therefore combined here in one workshop complex, albeit with separate rooms. A guard with a baton sits inside the screened off main doorway that leads first into the brewery. Here a man crushes the grain with a pestle, then two women grind it into flour, which another man works into lumps of dough, possibly adding yeast from the square basin in the corner. After a second man has added water to the lumps of dough and treaded the mash with his feet in a tall vat, the resulting liquid is set aside in four tall crocks to ferment. After fermentation it is poured off into round jugs that are covered with black clay stoppers. The bakery in the inner room is divided by a screen wall into two compartments. In the first a man again crushes grain with a pestle for two female millers to grind into flour. Two men then mix the dough in tall tubs, while two black ovens are tended by a man with a poker. In the middle of it all stands a basket with baked conical loaves. In the second compartment are two more men with pestles; two others make loaves and cakes of various shapes, some of which are baked on two circular stoves, while some must have been carried over to the ovens in the first section of the room.

All the accessible rooms in the tomb of Meketre had been robbed and plundered already during antiquity; but early in 1920 the Museum's excavator, Herbert Winlock, wanted to obtain an accurate floor plan of the tomb's layout for his map of the Eleventh Dynasty necropolis at Thebes and, therefore, had his workmen clean out the accumulated debris. It was during this cleaning operation that the small hidden chamber was discovered, filled with twenty-four almost perfectly preserved models. Eventually, half of these went to the Egyptian Museum, Cairo, and the other half came to the Metropolitan Museum in the partition of finds.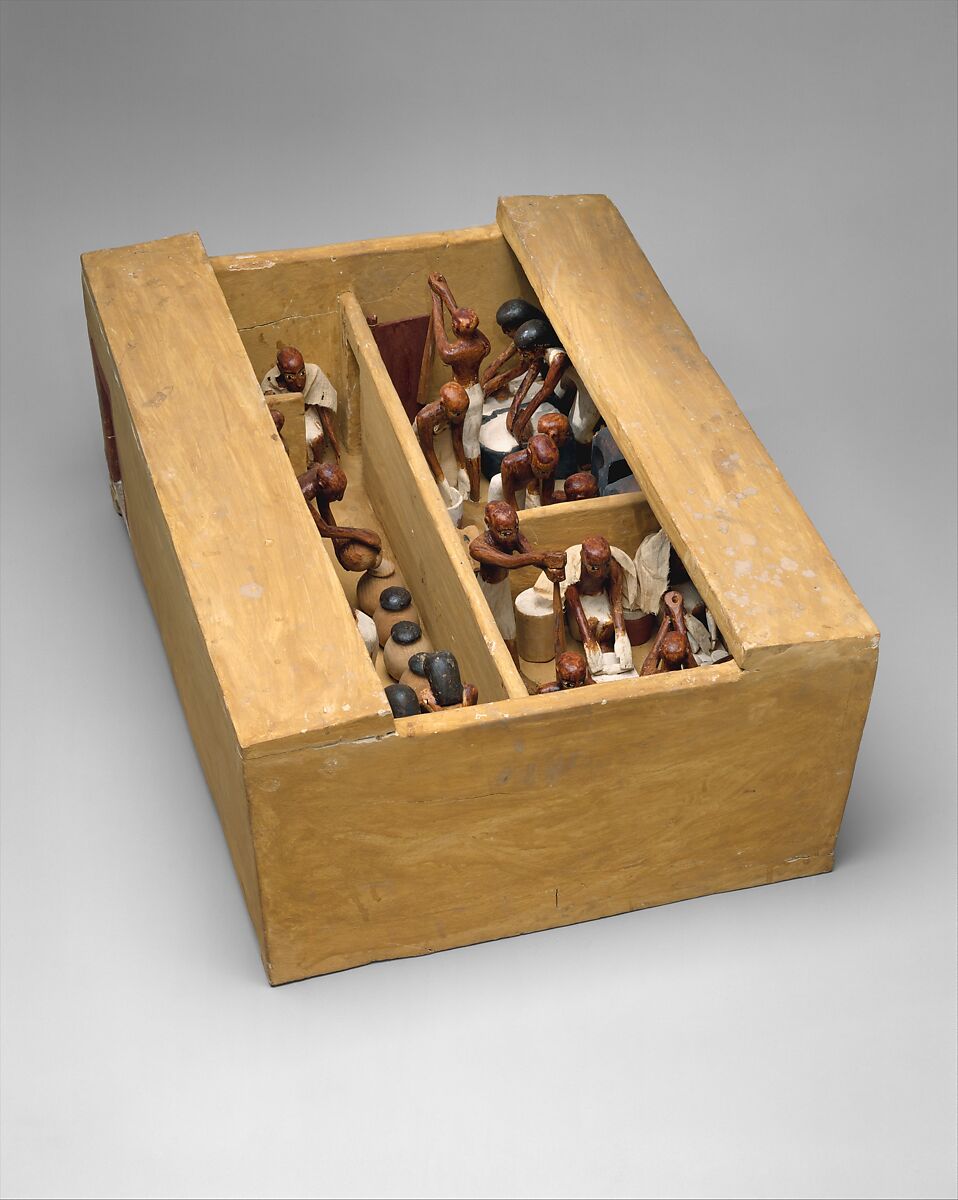 This artwork is meant to be viewed from right to left. Scroll left to view more.