Scarab Inscribed with a Blessing Related to Amun (Amun-Re)
Third Intermediate Period
On view at The Met Fifth Avenue in Gallery 130
Scarabs bearing wishes and blessings related to divinities whose protection individuals wished to summon are particular popular during the late New Kingdom and the Third Intermediate Period (ca. 1295-664 B.C.). Given the limited surface on scarab bases, seal carvers were often very creative in using as few hieroglyphs and signs as possible in order to convey their message.

A blessing related to the city of Thebes and the sun god Amun is inscribed on the underside of this scarab. Its owner thus calls upon the protection of the sun god by expressing the wish that his city, Thebes, will be long-lasting. The sun god is referred to by the image of the solar barque, while the feathered was-scepter is a symbol of Thebes, where his main cult center was located.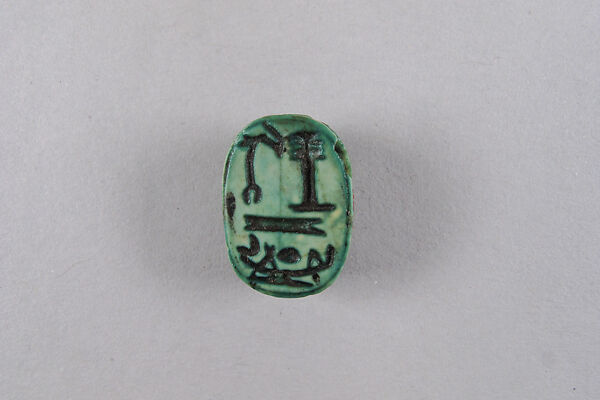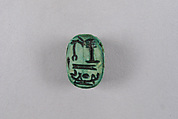 This artwork is meant to be viewed from right to left. Scroll left to view more.