Sickle Insert
New Kingdom, Ramesside
On view at The Met Fifth Avenue in Gallery 122
This small piece of flint was a key element to a successful agricultural season in ancient Egypt. Grain was a staple of the economy, as bread and beer made from grain were consumed daily. They also formed the foundation of eternal sustenance, as funerary offerings. Ancient Egyptians used sickles made from flint and wood to reap grain. Pieces of flint such as this one were shaped to fit into a wooden haft along with a number of other such inserts, and secured with an adhesive. The flint pieces provided a sharp edge to cut the grain stalks. With use, the flint would wear down and develop a shiny gloss. The flint inserts could be re-sharpened or replaced as needed.

Sickle inserts could be made in a variety of ways. The earliest were fully bifacially retouched, then later they were made on blades (long narrow pieces of flint). Starting in the 2nd millennium BC, some sickle inserts were made on large flakes, such as this one.

Flint, rather than copper alloy, was the primary material used to make sickles in Egypt until the first millennium B.C. when iron became more widely available. The reason for using flint was probably multifaceted and included considerations such as its abundance, its ease of manufacture compared to casting metal tools, flint's proficiency at cutting grain, and the relationships between the people who made flint tools and the people who used them.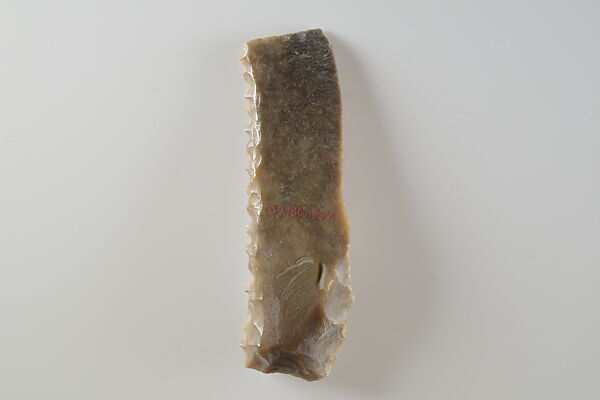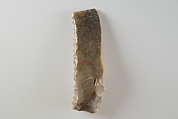 This artwork is meant to be viewed from right to left. Scroll left to view more.