Bogolanfini Display Cloth
Gneli Traoré Malian

Not on view
This large cotton cloth made for display is a modern interpretation of bogolanfini, a Malian textile tradition central to Bamana culture. It was commissioned in 1969 from renowned artist Gneli Traoré (ca. 1923 ̶ 2002) by the donor, Pascal James Imperato. Dr. Imperato bought the twelve 4 ¾-inch-wide cotton cloth strips known as finimougou (indigenously woven cotton cloth) at the market, provided them to the artist, and carefully documented the creation process, recording names of the patterns and techniques employed throughout. Dr. Imperato has published this work and its accompanying documentation on several occasions. As a result, not only is this display cloth a beautiful example of modern bogolanfini art, but it is probably among the best documented examples of bogolanfini in a museum collection.

The word bogolanfini literally translates into "mud-cloth" (bogolan=something made by using mud; fini=cloth). Historically, men weave the cotton cloth strips that are then sewn together, producing the canvas that women decorate through a complex dying process using plant extracts and mud. Bogolanfini are worn by hunters, and also by women upon reaching puberty. Usually, a bogolanfini artist is commissioned by a client who supplies the hand-woven cloth to be dyed. As is the case with Gneli, as she preferred to be called, the artists are well respected for their specialized knowledge of the materials needed and skill required in successfully completing the complex production process.

Although the technique used superficially resembles a resist technique, it is one of direct application of the colorant onto a pre-mordanted cloth. The designs appear as the unpainted areas when the background is painted with a specially prepared fine black clay. A spatula or feather is used to apply the paint onto the surface. Once the surface is dry, both the clay and the yellow color are removed through the application of specially prepared "soaps," leaving a gray-white ground. In addition to their powerful graphic qualities, the designs and patterns left on the cloths hold symbolic significance. Young women acquire the knowledge and understanding of this visual language from their mothers through a long-term apprenticeship. The motifs are usually abstract or semi-abstract representations of everyday objects. Used in association with one another, they can give expression to a proverb or a song, articulate a message, or represent a historical event.

In this example, the surface is divided by partitioning parallel zigzags into six distinct sections, each filled with an individual pattern. From right to left, the patterns are the following: the popular motif known as Mali, easily identifiable as it is dominated by the abstract representation of a human form; then is Samory Ani Tieba Benyero, a complicated pattern representing an alleged 19th-century battle. It combines crosses (the Mauritanian woman's cushion, a symbol of nobility), circles (the drum of the king's griot), and short zigzags (the paths of soldiers attacking a city), all arranged within and outside of a series of lines terminated in diamonds. Center is Souraka Mousso N'Kunkoro Talan, a square with a cross in the center representing the cushion traditionally used by Mauritanian women; then comes Turusina (literally "a helping hand"), the meaning of which has been lost; and Finingoloni Sera Fla ("the two twisted paths") which combines straight lines, griot drums and a number of twisting lines. The pattern in the upper section, Koumi Diosseni Kandian (Koumi Diosse, "the long-necked") consists in a series of long parallel lines connecting diamonds, and honors Koumi Diosse, an extremely important folk hero of Beledougou who led an unsuccessful revolt against the French in 1915.

Since 1970, an immense revitalization of this textile tradition has both expanded its consumption in Malian popular culture and led to its adaptation by international fashion designers. The increased internal and external market for modern fabrics with similar designs and patterns to traditional ones had a transformative influence on the bogolanfini tradition: modern-day textiles are known as bogolan. More specifically, it impacted the work of Gneli, but this example was created before she radically altered her approach to bogolanfini.

Gneli is considered by many as one of the most skilled mud-cloth artists in Mali. Her work spanned almost 70 years and is continued today by her children and students. She originally learned the art of making bogolanfini not from her mother, but from her father's youngest wife, and exhibited early on a keen desire for expanding the patterns and designs. She spent many years evolving such traditions, and by the mid-1980s, she had adapted her technique and motifs to the new demands of the market. Gneli's aesthetic presence in the bogolanfini tradition is still seen in many of the bogolan fabric designs created today.

Yaelle Biro, 2015


Further Reading
Brett-Smith, Sarah C. The Silence of Women: Bamana Mud Cloths. Milan: 5 Continents Editions, 2014.
Imperato, Pascal James. "Bokolanfini: Mud Cloth of the Bamana of Mali." African Arts (III, 4), Summer 1970, pp. 32-41.
Imperato, Pascal James. African Mud Cloth: The Bogolanfini art tradition of Gneli Traoré of Mali. New York: Kilima House Publishers; [Tenafly, N.J.]: The African Art Museum of the S.M.A. Fathers, 2006.
Rovine, Victoria. Bogolan: Shaping Culture through Cloth in Contemporary Mali. Washington, DC; London: Smithsonian Institution Press, 2001.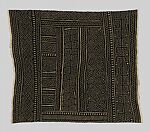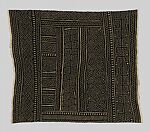 This artwork is meant to be viewed from right to left. Scroll left to view more.