On loan to The Met The Met accepts temporary loans of art both for short-term exhibitions and for long-term display in its galleries.
Fireman's Jacket (Hikeshi-banten) with Shogun Tarō Yoshikado
Not on view
Townsmen firefighters served in Edo's business and residential areas. Their reversible coats were made of several layers of thick cotton fabric quilted with sashiko stitching (a running stich of "small stabs"). The inner layer was decorated with elaborate designs often inspired by popular contemporary woodblock prints of warrior-heroes and mythical creatures that instill bravery or are related to water. This jacket's interior (shown reversed) features a scene popular in Kabuki and based on a print by Utagawa Kunisada (1786–1865) in which the warrior Yoshikado asks a frog sage for magical powers to avenge the murder of his father. Yoshikado holds his family banner, patterned with a tethered black horse. The subject signifies a heroic and honorable confrontation with death, suitable for such a garment.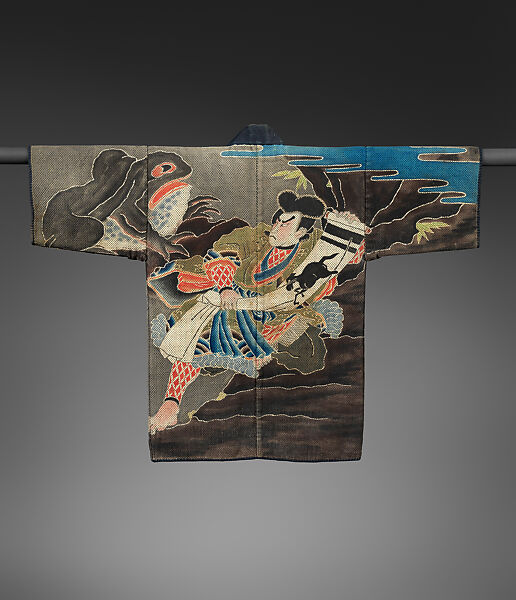 This artwork is meant to be viewed from right to left. Scroll left to view more.