Paintings after Shitao's "Wilderness Colors"
Zhang Daqian Chinese

Not on view
Zhang Daqian was a great admirer and collector of the works of Shitao (1642–1707); he was also an accomplished forger of Shitao's paintings. These acknowledged copies provide an invaluable resource for connoisseurs of both artists' work. Zhang's paintings are undated, but the seals all bear legends that he used in the late 1920s and 1930s, when he was intensely interested in mastering Shitao's painting style.

Zhang's interpretations are not slavish copies; rather, they are dashing sketches with their own energy and visual appeal. Nevertheless, Zhang's paintings are consistently simpler in execution, with fewer colors and less detail. A subtler difference is Zhang's tendency to transform Shitao's naturalistic, three-dimensional renderings into flat abstractions. A final telling difference between the two artists' work is the calligraphy. Each of Shitao's inscriptions draws inspiration from a different antique master; even within the same inscription, one can sense a variety of stylistic sources. Zhang's shorter inscriptions reflect his familiarity with Shitao's most characteristic writing style, but they lack the varied stylistic influences that distinguish Shitao's writing.

(translations of calligraphic text on Zhang Daqien, Paintings after Shitao's "Wilderness Colors", about 1930, ink and color on paper)

Taro Roots
Eating even one half [of a taro root is better than] receiving the post of prime minister for ten years.

Bamboo
The wind has diminished after sweeping away the layered clouds;
Alone with an open mind I enter the woods.
While the phoenix remains hidden the tree bears few red fruits [i.e., the times are not propitious];
But I won't let the struggling yellow disturb my contemplative state of mind.
Painted by Qingxiang Laoren [Shitao]; copied by Daqian

Eggplants
Year after year as summer approaches I am proud of my new harvest,
But I act like [Zhao Mengfu (1254-1322) of] Wuxing in the Zhijun Studio.
This purple color is not the same as that of leaves after frost,
Holding the handle [of my hoe] I join my friends in the fields.

Orchid and Rock
When one speaks of picking flowers to present;
If not to a gentleman, then to whom?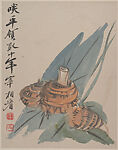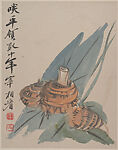 This artwork is meant to be viewed from right to left. Scroll left to view more.