Archtop guitar
Ken Parker American

Not on view
This beautiful guitar was made by one of the most famous living luthiers, Ken Parker, of Gloucester, Massachusetts who attained great fame for his "Fly" model electric guitars. This archtop guitar includes many of Parker's experimental ideas about instrument design. The guitar has a spruce top (soundboard) and blistered mahogany back and sides made from "The Tree," a famous tree felled in Belize in the 1960s. The tailpiece, tuning peg cover, and soundhole strip are made of metal formed using the Japanese metal-work technique mokume-gane. It includes copper, silver, and gold, forming natural layered designs that are cut and hand forged to create unique decorative patterns. Instead of the traditional f-holes found on most archtop guitars, this instrument has a sound opening in the top left corner and side, with the soundhole strip forming the traditional outline of the instrument. The side opening gives the musician a better sense of the sound of the guitar as experienced by the audience. Most importantly, Parker has integrated a unique design to the neck/body joint. A unique feature of Parker's design, the action is adjusted from the neck rather than the bridge. The neck is attached to the body by a carbon fiber post.
#Doug Wamble, guitar, and friends, 2016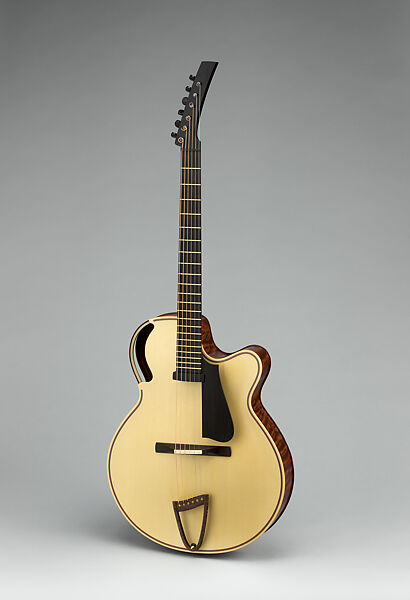 This artwork is meant to be viewed from right to left. Scroll left to view more.