[Man Calming a Young Boy Posing before the Camera]
Not on view
The mass appeal of the daguerreotype portrait lay in the medium's ability to capture and preserve a loved one's likeness, and perhaps even personality, for posterity. The fleeting nature of childhood brought parents to the photographer's studio to record key phases in their child's development. These portraits were all the more treasured in an era of high infant mortality rates, when many did not make it to adulthood. Just as daguerreotypists outfitted their studios to appeal to the tastes of a bourgeois clientele, featuring salon-like waiting rooms and props reflecting their sitters' cultural and class aspirations, so did they cater to the needs of their youngest patrons. One photographer commented, "What keys and blocks and other unbreakables were placed at their disposal; what cake crumbs, nut-shells and candy papers from the hands of their fathers were by these little ones lavished at will upon my carpet."

Indeed, toys, music boxes, or other treats were frequently employed to soothe frightened or fussy sitters. For fidgety children, special stands and chairs meant to hold the child in place were used. Children were photographed in the strongest light possible to decrease exposure time, and thus the time needed to sit still. Another daguerreotypist advised, "Have two or three plates at hand, and as soon as the child is placed, when parents, nurse, and all present, are talking, laughing, and baby is struck dumb with surprise at its strange position, then is the golden moment…" This daguerreotype captures not only one such "golden moment," but reveals a behind-the-scenes glimpse at the effort required to produce it. This touching portrait reveals what was typically kept out of frame: the relationship between parent and child, a proud father calming and coaxing his son into posing for the camera. Both a reflection on familial bonds and photographic practice, it is a rare example of daguerreotype studio portraiture.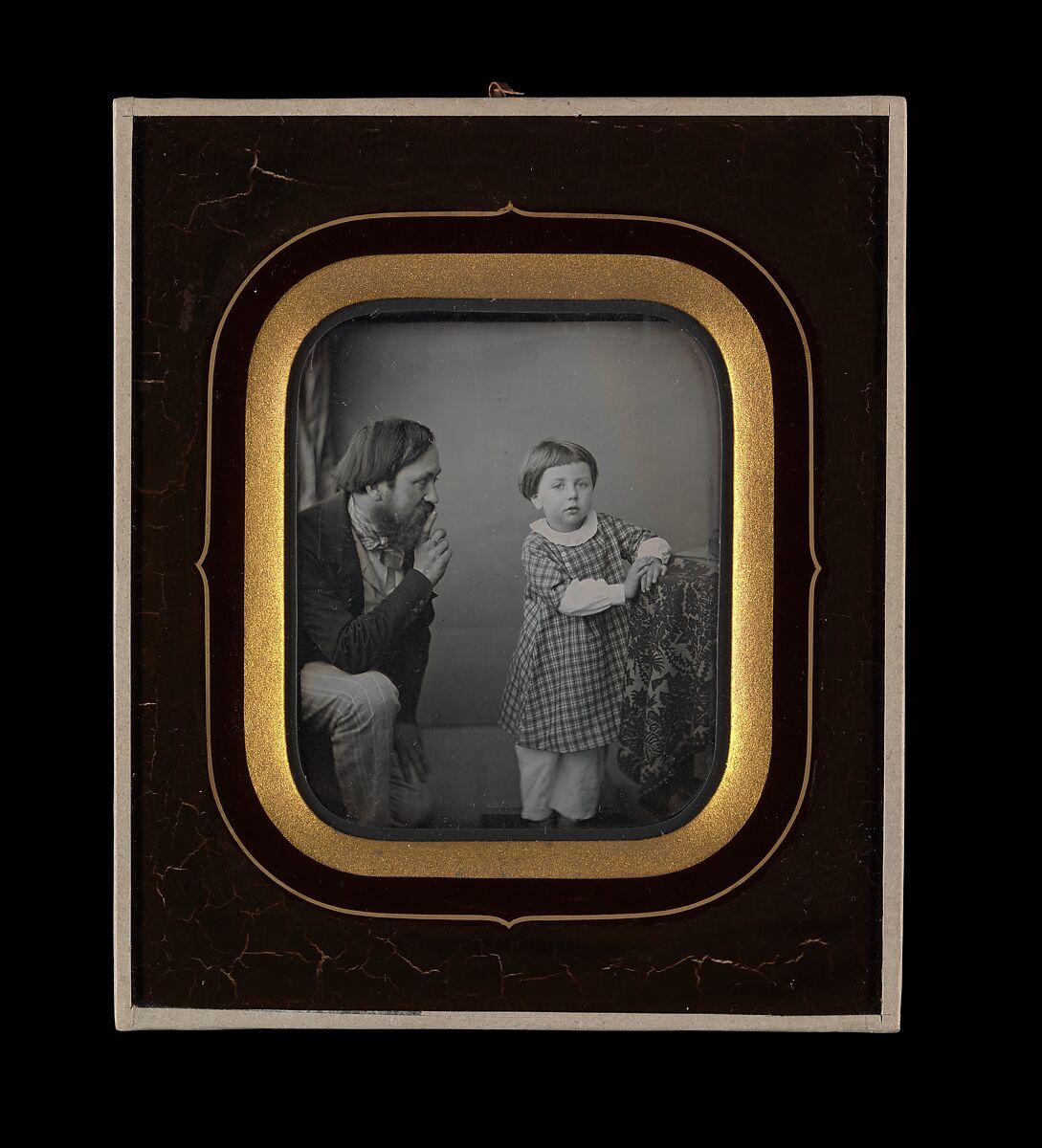 This artwork is meant to be viewed from right to left. Scroll left to view more.