Standing Male and Female Figures
Not on view
This work is a pair with 1978.412.592.

This elegant and refined couple from the Lake Tanganyika region of southeastern Democratic Republic of Congo depicts the respected ancestors of a Tabwa ruler. During the mid-nineteenth century, a group of elite Tabwa families who prospered through regional trade challenged traditional forms of governance and assumed control of regional leadership. These new Tabwa rulers looked to ancestry to legitimize their right to lead, invoking and, when necessary, inventing a chiefly lineage through sculptural representations of royal predecessors. A new genre of figural sculpture was developed to depict these chiefly ancestors. Passed down from one generation to the next, these works were visual representations of enduring dynastic power.

The legitimacy of the chiefly family's rule depended upon its perceived superiority within the community, and ancestral sculptures such as this couple were intended to reinforce these notions. Decoration of the skin with raised geometric designs was one way of indicating exceptional character: to transform one's body into an ordered, ornate, and visually pleasurable object was to attain the highest ideals of enlightenment and civilization. Both of these figures exhibit facial markings that draw attention to areas of the head associated with acute perception and intelligence. Lines on the cheeks and temples indicate the spot just above the bridge of the nose that was considered the origin of wisdom and foresight. Two long, textured bands frame the forehead, home of dreams that were considered a special form of vision bestowed upon gifted individuals.

These Tabwa figures, like most other works of this genre, are nude except for strands of beads around their necks, wrists, ankles, and, on the female figure, the waist. Period sources tell us that Tabwa individuals generally wore very few articles of clothing, but that beaded belts were commonly worn by both men and women, and acted as markers of kinship. When an elder died, his or her belt was passed down to a younger relative, maintaining ancestral continuity and family identity. In the context of these sculptures, such belts were vital signs of lineage that reinforced links to previous generations of rulers.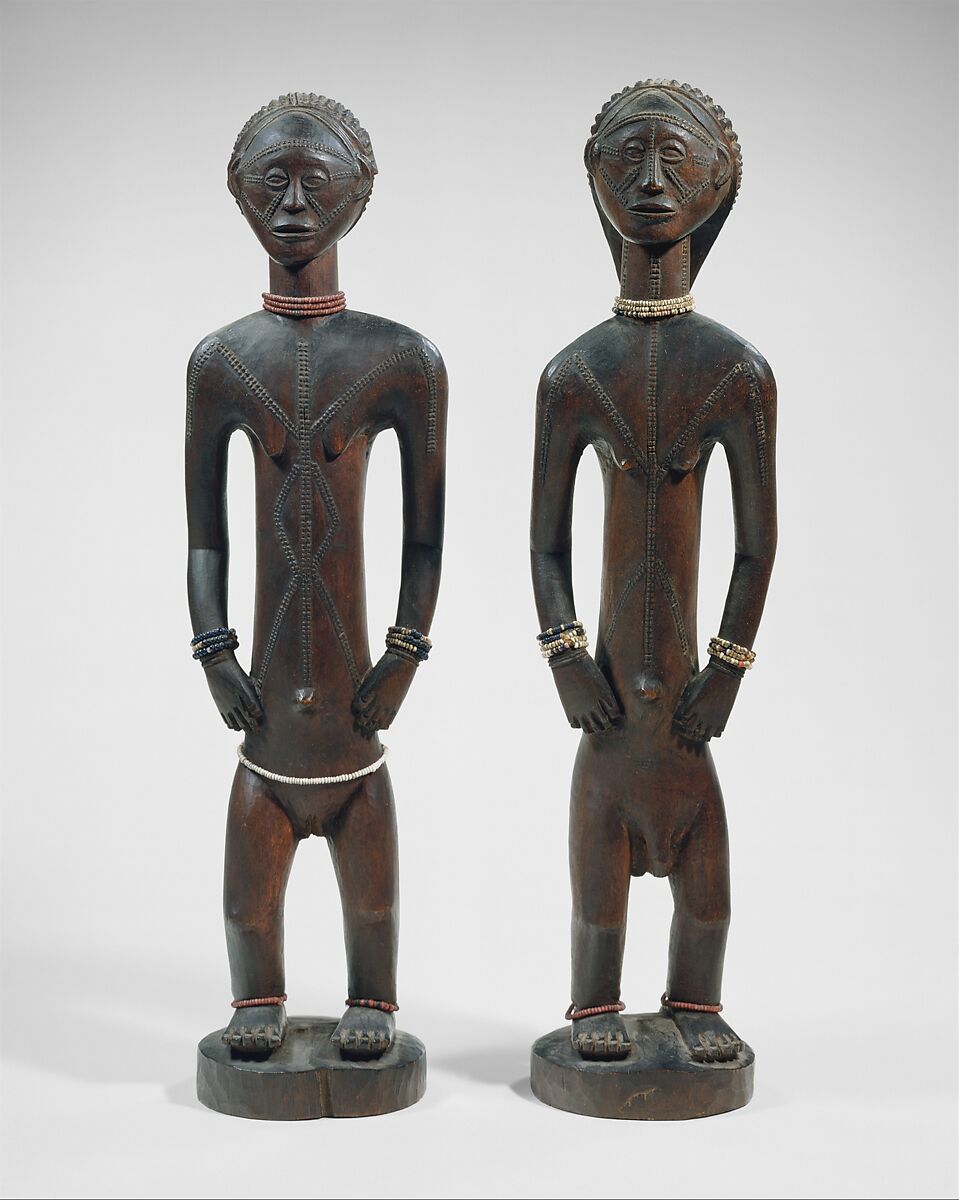 This artwork is meant to be viewed from right to left. Scroll left to view more.