Oba with Animals
Not on view
This work joins 1996.11

In the kingdom of Benin, ikegobo, or "altars to the hand," celebrate the accomplishments of exceptional individuals. The hand is associated with action and productivity, and is considered the source of wealth, status, and success for all those who depend on manual skill and physical strength. Altars of this kind are commissioned in terracotta, wood, or brass, depending on the status of the patron.

This ikegobo is an important historical document associated with the reign of Akenzua I. In the early eighteenth century, rebellious chiefs challenged Akenzua's leadership and threatened the unity and stability of the kingdom. Ehenua, Akenzua's ezomo or military commander, played a central role in defeating these forces and restoring order to the kingdom. In recognition of his heroism and service, Akenzua presented Ehenua with an ikegobo illustrating his military triumph.

The artist who created this work, composed of a series of units, used costume, scale, and composition to denote the relative status of the figures depicted on the frieze. A monumental image of Ehenua, dressed in full military regalia and clutching trophies of war, appears at the center of a group of diminutive soldiers, attendants, and priests. Two rows of musketeers above the frieze include Portuguese soldiers, an indication of the degree to which European powers were engaged in the support of Benin's leadership at this time. A separately cast sculptural group sitting in front of these soldiers portrays Oba Akenzua in the act of performing sacrifices to his ancestors so that Ehenua will prevail and triumph over his adversaries. Finally, a carved ivory tusk, now missing, was fitted onto the brass peg between the soldiers.

While most Benin art left the kingdom as a result of the British Punitive Expedition of 1897, Ehenua's ikegobo remained in Benin in the possession of his descendants, who inherited the ezomo title. Its regular use across generations is a testament to its continued relevance and vitality.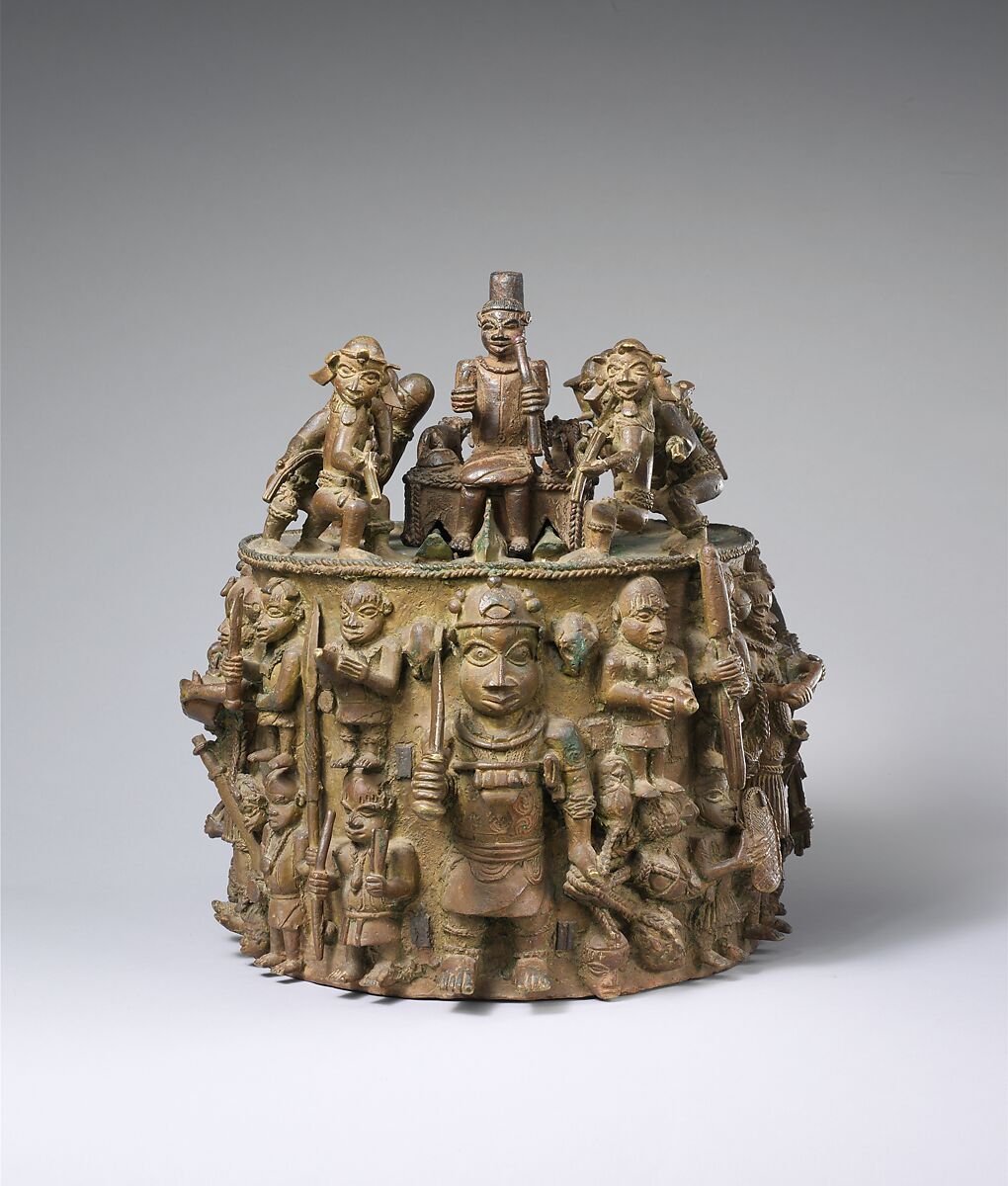 This artwork is meant to be viewed from right to left. Scroll left to view more.