Young Woman Seated in Apple Print Dress
Seydou Keïta Malian

Not on view
Born in Bamako in the early 1920s, Seydou Keïta is one of the most celebrated photographers in Mali. He learned darkroom techniques from photographer Pierre Garnier and others in Bamako, where he eventually launched his own studio, in 1948. In just over a decade, he produced around ten thousand negatives of the Bamakois elite. In these images, backdrops, clothing, accessories, and postures were meticulously and collaboratively selected to fashion the subject's chosen identity. Yet it was Keïta's camera that turned the sitter into a new Bamakois: his photographs recount and created the myth of Bamako as a cosmopolitan and modern city.
As is the case in this image, Keita is known for privileging an aesthetic of abundance and opulence that speaks to his sitter's social status. To do so, he often cropped his images close to the sitter or modulated sharp tonal contrasts through backdrops.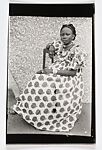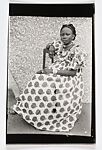 This artwork is meant to be viewed from right to left. Scroll left to view more.