Female Figure from an Obu (house of images)
On view at The Met Fifth Avenue in Gallery 957
Regal, introspective, and sensuous, this sculptural representation of a woman was conceived as a pillar for the most ambitious monument to individual achievement and success and collaborative governance in an Igbo community in southeastern Nigeria. The author of this work portrays a female subject at once striking for her universal beauty and distinctive cultural character. The subject's expression is deeply reflective with eyes downcast. She wears a collar-like necklace of leopard claws around her neck and a series of bracelets on her forearms. There is a slight asymmetry to her rounded shoulders so that the proper right side is slightly higher. The long arms are held to her sides. Reddish brown pigment is used to define her skin tone, while black is used to accentuate features throughout from the coiffure to the brows to the vertical band that extends from the breasts to the raised, rounded navel. Only traces of the legs survive. On the reverse side there is evidence of where the figure was detached from the pillar it was originally integrated in.

In Igbo culture independent villages were led by a meritocracy of title-holders from many different families recognized on the basis of their individual accomplishments. In Things Fall Apart, Chinua Achebe writes of his Igbo tragic hero: "Age was respected among his people, but achievement was revered. As elders said, if a child washed his hands he could eat with kings." In the eastern region of Igboland, notably in the Cross River communities of Ohafia and Abiriba, the governing body assembled in a centrally positioned structure known as the "obu" or "House of Images." That large and imposing civic meetinghouse constituted a major communal commission conceived to give prominent visibility to the sociopolitical character of its constituents and intended to unify and inspire the populace at large. The "obu" was situated centrally in relation to private familial devotional spaces. Its impressive interior was filled with an elaborate sculptural program of monumental sculpture. According to Herbert Cole, a hierarchical group of freestanding figures was positioned near the center of the large room and life-size or larger figures lined the veranda and interior walls.

Figural groups in Abiriba meeting houses featured a range of archetypal subjects relevant to Igbo experience including conquering warriors and nurturing mother and child figures rendered on a heroic scale. Several of these contained monumental house posts in the form of full or half-figures positioned in prominent relief. This work comes out of that tradition of patronage and stylistically relates to the rounded treatment of form that distinguished the carving style of sculptors in the northern Cross River area. The most gifted artists working in this tradition during the nineteenth century took a distinctive approach to their rendering of bodily forms that boldly emphasizes major passages. This work embraces the qualities they underscored through the treatment of its elongated torso, expansive shoulders, and bent knees.

Historically the economic mainstay of Igbo society was agriculture and the foundation of life and all endeavors "Ala" or Earth. This female focus of devotion was identified with all matters technological, artistic, moral, and philosophical. While life-size artistic tributes to this ideal are a major subject in Igbo sculpture, their depiction are for the most part relatively stiff. The naturalism of this work stands apart, making it the exceptional artistic point of reference cited in major surveys.

While "obu" interiors might feature as many as twenty-two figurative columns, this work is one of only a handful of pre-20th century examples that survive. In Igbo society, such structures when not in use were allowed to melt into nature. While Achebe's classic novel chronicles the abandonment of such traditions by some with the imposition of British colonial rule and the conversion of many to Christianity, in Abiriba, where this work once stood, they remain a great source of contemporary pride and vitality. That continuity, however, was interrupted in 1968 with the onset of Nigeria's Biafran civil war, which led to great suffering among members of this community and the dispersal of works of art such as this.

Alisa LaGamma, Ph.D., 2020
Ceil and Michael E. Pulitzer Curator in Charge, Arts of Africa, Oceania, and the Americas

References

Falgayrettes-Leveau, Christiane, et al, Femmes Dans Les Arts d'Afrique. Paris: Editions Dapper, 2008, p. 190.

Bassani, Ezio, Africa: Capolavori da un Continente. Florence: Artificio Skira, 2003, p. 215, plate 3.48.

Guimiot, Philippe, Regards sur une Collection. Brussels, 1995, pl. 14.

Kerchache, Jacques, Jean-Louis Paudrat and Lucien Stephan, L'Art Africain, L'Art et les Grandes Civilisations, 18. Paris: Editions Mazenod, 1988. English translation: Art of Africa. New York: Harry N. Abrams, 1993, pl. 107.

Bassani, Ezio, Le Grand Héritage: Sculptures de l'Afrique Noire. Paris: Musée Dapper, 1992, p. 169.

De Heusch, Luc et al, Utotombo: Kunst uit Zwart-Afrika in Belgisch Privé-Bezit. Brussels: Palais des Beaux Arts, 1988, p. 174, no. 114.

Berjonneau, Gerald, and Jean-Louis Sonnery, Rediscovered Masterpieces of African Art. Boulogne: Art 135, 1987, p. 215, pl. 192.

Cole, Herbert, and Chike C. Aniakor, Igbo Arts, Community and Cosmos. Los Angeles: University of California, 1984, fig. 20b.

Muensterberger, Werner, "Les Expositions." Arts d'Afrique Noire, 1977, No. 22, p. 38.

Guimiot, Philippe, and Lucien Van de Velde, Oerkunsten van Zwart Afrika / Arts Premiers d'Afrique Noire. Brussels: Credit Communal de Belgique, 1977, p. 46, fig. 47.

Marijnissen, Roger H., Cent Chefs-d'œuvre du Musée Ethnographique d'Anvers et de Collections Particulières: Sculptures Africaines: Nouveau Regard sur un Héritage. Antwerp, 1975, p. 31, fig. 33.

Leuzinger, Elsy, Kunsthuas Zürich - Die Kunst von Schwarz Afrika. Zurich: Kunsthaus, 1970, fig. M4.

Exhibition history

Femmes. Musée Dapper, Paris, October 8, 2008 - July 12, 2009.

Africa - Capolavori da un Continente. Galleria d'Arte Moderna, Turin, October 2, 2003 - February 15, 2004.

Le Grand Héritage - Sculptures de l'Afrique Noire. Musée Dapper, Paris, May 21- September 15, 1992.

Utotombo - L'Art de l'Afrique Noire dans les Collections Privées Belges. Palais des Beaux Arts, Brussels, March 25 - June 5, 1988.

Chefs d'Œuvres Inédits de l'Afrique Noire. Musée Dapper, Paris, 1987.

Igbo Arts. Community and Cosmos. Frederick S. Wight Gallery, University of California, Los Angeles, October 9 - November 25, 1984; The Center for African Art, New York, March 12 - June 16, 1985; National Museum of African Art, Smithsonian Institution, Washington, D.C., July 31 - October 13, 1985; Birmingham Museum of Art, Birmingham, AL, January 5 - March 2, 1986; Seattle Art Museum, Seattle, WA, April 10 - June 15, 1986.

Oerkunsten van zwart Afrika / Arts Premiers d'Afrique Noire. Credit Communal de Belgique, Brussels, March 5 - April 17, 1977.

Cent Chefs-d'Oeuvre du Musée Ethnographique d'Anvers et de Collections Particulières: Sculptures Africaines-Nouveau Regard sur un Héritage. Marcel Peeters Centrum, Antwerp, Belgium, November 16 - December 2, 1975.

Die Kunst von Schwarz-Afrika. Kunsthaus Zürich, Zürich, Switzerland, October 31, 1970- January 17, 1971.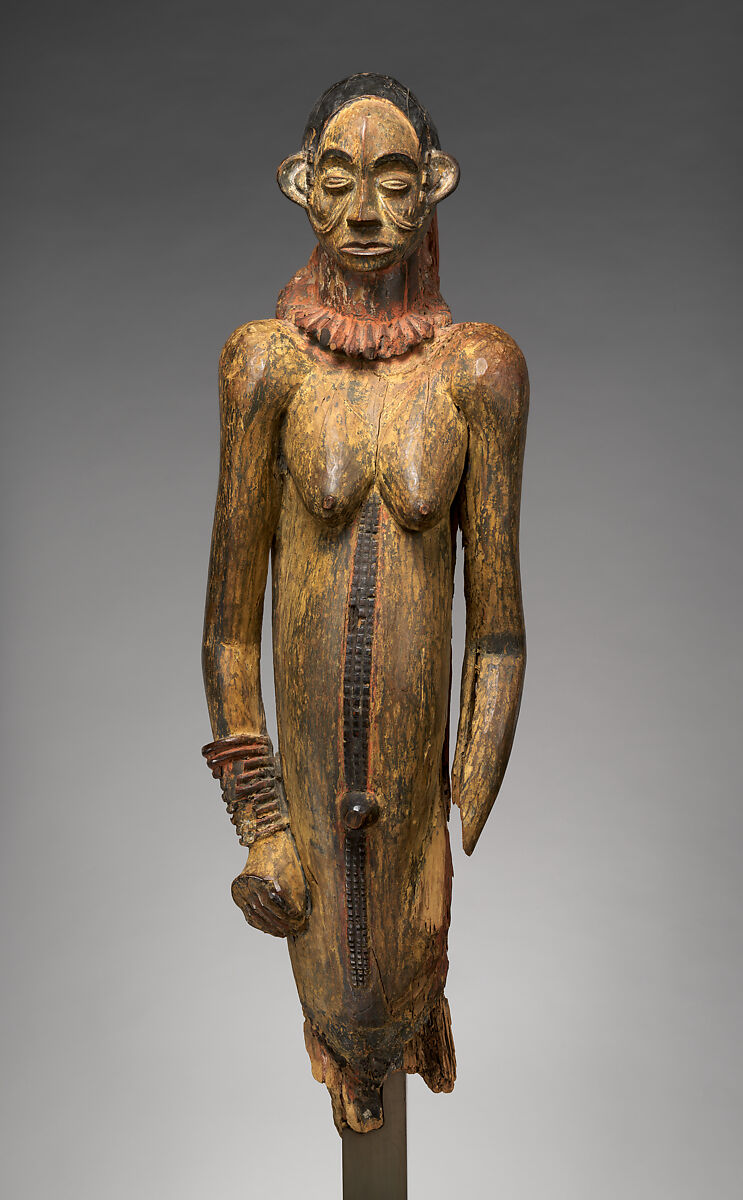 This artwork is meant to be viewed from right to left. Scroll left to view more.