Returned to lender The Met accepts temporary loans of art both for short-term exhibitions and for long-term display in its galleries.
Battle of the Carriages (Kuruma arasoi-zu byōbu)
Not on view
The "Battle of the Carriages" occurs in Chapter 9, when Lady Rokujō attempts to glimpse her former lover Genji amid a grand procession for the new Kamo Priestess. Genji appears in all his finery on the right screen, in procession on horseback with a page in attendance. The left screen shows the altercation, which occurs when the attendants of Genji's wife, Aoi, displace Rokujō's carriage, blocking her view and breaking her vehicle's pedestal. Rokujō's deep humiliation leads her vengeful spirit to attack Aoi just after she has given birth to Genji's son Yūgiri. These screens closely follow the composition of a famous pair commissioned by Emperor Ōgimachi in 1560, which represent the earliest example of a single Genji episode depicted at such a monumental scale.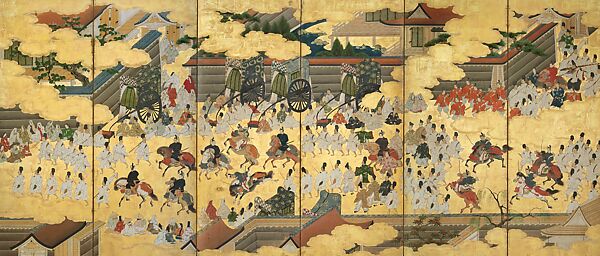 This artwork is meant to be viewed from right to left. Scroll left to view more.