On loan to The Met The Met accepts temporary loans of art both for short-term exhibitions and for long-term display in its galleries.
Fountain with the coats-of-arms of Ernest Augustus, bishop of Osnabrück and duke of York surmounted by a unicorn
Probably by Johann Wilhelm Voigt I German

On view at The Met Fifth Avenue in Gallery 551
These fountains and basins belong to a large silver service made between 1705 and 1725 for the royal Hanover family of Germany. One fountain and its accompanying basin were commissioned by George Louis, prince-elector of Hanover (1660–1727) before he became George I of Great Britain in 1714, and made by Lewin Dedeke, a master silversmith in Celle in Lower Saxony. Dedecke was appointed royal goldsmith at the court of Hanover in 1697. The second set was commissioned a few years later by George Louis's younger brother Ernest Augustus (1674–1728), Prince Bishop of Osnabrück, who in 1716 became Britain's Duke of York, from Johann Wilhelm Voigt.

These imposing vessels hint at the grandeur and ceremony that characterized royal feasts in eighteenth-century Germany. The fountains held water, which was used either to rinse glasses or to cool the beverages stored in the basins below. The ornamentation, such as the lion-head handles and the lion and unicorn finials, was derived from royal insignia.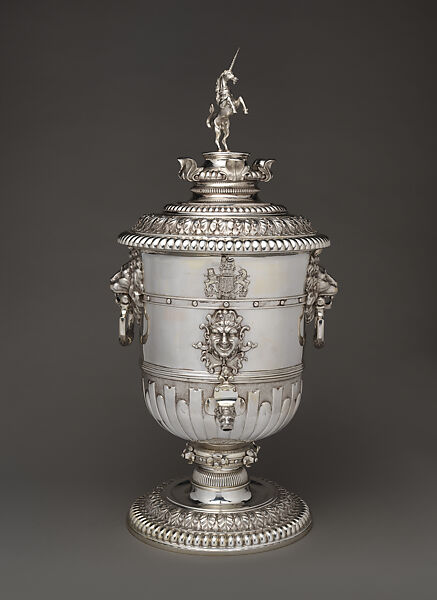 This artwork is meant to be viewed from right to left. Scroll left to view more.