Where's My Water?
Tabor Robak American

Not on view
A prodigy of digital effects who was doing commercial work by the time he was a teen, Robak is the most talented and interesting artist using computer graphics today. His use of programs such as After Effects and Photoshop to create intricate, imaginary environments--impossibly eye-popping virtual worlds that in an unshowy way reveal the artist's astonishing craftmanship. Described as a "dazzlement" by Roberta Smith in The New York Times (May 28, 2015), this piece from Robak's second solo gallery show is entitled "Where's My Water?", a 12-foot-tall tour-de-force still-life comprised of 12 HD screens arranged in a grid that is anything but still: digitally rendered implements of the hand such as pens and pencils, as well as kitchen utensils and toothbrushes, whirl, dance, and spin in and out of a succession of containers, each tool rendered with hallucinatory clarity and individuality. These objects of course draw comparison to Robak's own tricks of the trade, which he deploys with such wit and skill that the viewer instantly realizes she is present at the birth of, if not a new medium, then at least a new benchmark for making art from new technologies.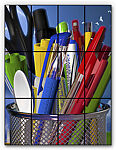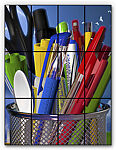 This artwork is meant to be viewed from right to left. Scroll left to view more.