Shakyamuni triad
Not on view
This exquisite painting depicts the historical Buddha, Shakyamuni (Korean: Seokga), flanked by two attending bodhisattvas, Manjusri (Korean: Munsu; bodhisattva of wisdom) and Smantabhadra (Korean: Bohyeon; divine guardian of believers), shown without their usual attributes of a lion and an elephant, respectively. The deities' elegantly attenuated bodies, graceful gestures, and delicate facial features as well as the luxurious coloring and sumptuous patterns of their garments intensify both the aesthetic and spiritual experience of the viewer.

According to the gold inscription, this painting was commissioned by Queen Dowager Munjeong (d. 1565) to pray for the health of her son, King Myeongjong (r. 1546–67), and to celebrate the birth of the crown prince and the restoration of Hoeam Temple, a major Seon Buddhist (Chinese: Chan; Japanese: Zen) monastery located near the capital and an influential royal temple of the early Joseon. This piece was part of a set of four hundred paintings, one hundred each (fifty in color and fifty in gold) of triads depicting the Buddha Shakyamuni (Historical), Maitreya (Future), Baisajyaguru (Medicine), and Amitabha (Western Paradise). Only a handful survive. The set demonstrates the importance of Buddhist beliefs, rituals, and artistic patronage even to the ruling royal court during the early Joseon, despite the official state policy of suppressing Buddhism in favor of Neo-Confucianism.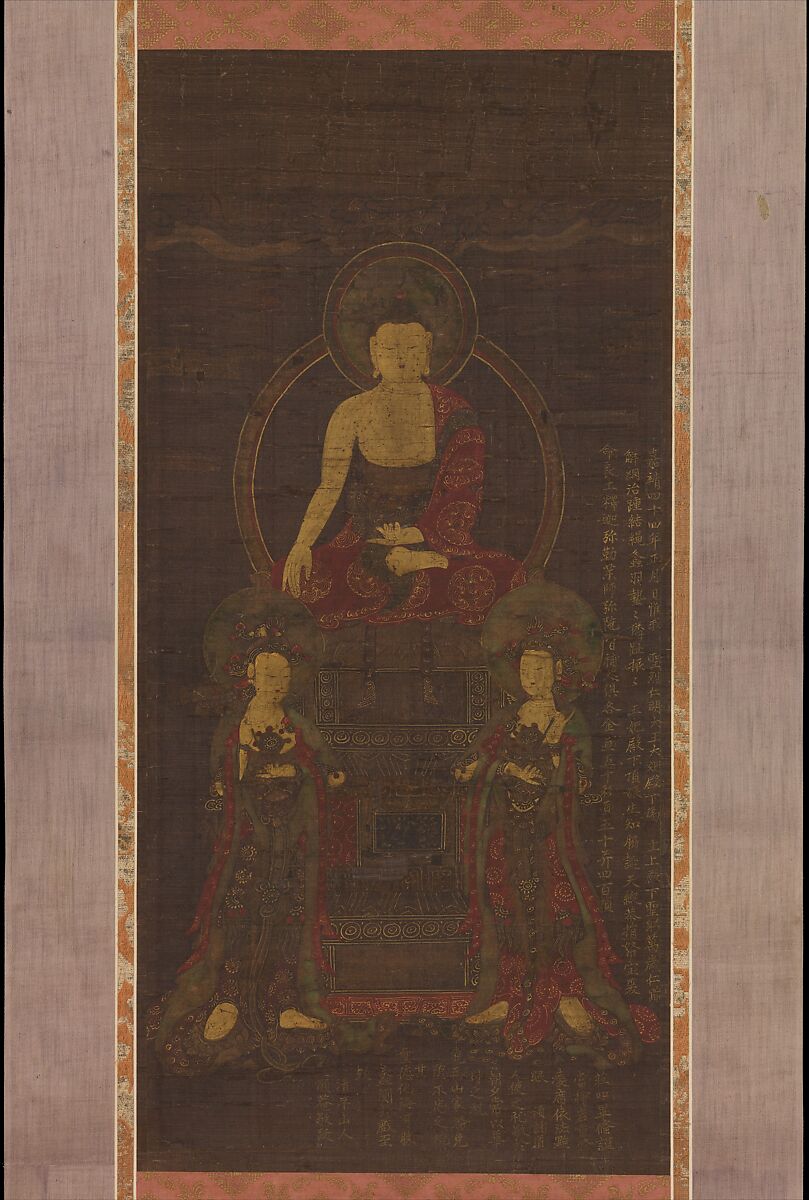 This artwork is meant to be viewed from right to left. Scroll left to view more.