On loan to The Met The Met accepts temporary loans of art both for short-term exhibitions and for long-term display in its galleries.
Torana architrave with elephant makara
India, Phanigiri, Suryapet District, Telangana
On view at The Met Fifth Avenue in Gallery 999
The discovery in 2002–3 of this crossbar from a monumental gateway at the Buddhist monastery of Phanigiri, transforms our understanding of monastic architecture in the early Andhra territories. Gateway architecture was previously known only from the depictions in stupa sculptural reliefs. The three largest architrave sections found at Phanigiri to date, along with several smaller fragments, are decorated with episodes from the life of the Buddha. The lower architrave features the birth of Buddha in the sala tree grove at Lumbini; the narrative culminates above with the depiction of the Buddha's first sermon in the deer forest at Sarnath. Other scenes include Prince Siddhartha first witnessing sickness, old age, and death outside the palace, and the youth resolving to abandon his princely life. Scenes of monks venerating relics and the Dharma-wheel reflect the realities of everyday monastic life.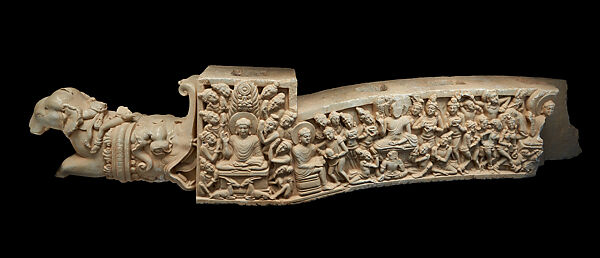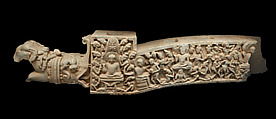 This artwork is meant to be viewed from right to left. Scroll left to view more.