Returned to lender The Met accepts temporary loans of art both for short-term exhibitions and for long-term display in its galleries.
Landscapes Depicting Poems of Huang Yanlü
Shitao (Zhu Ruoji) Chinese

Not on view
This album presents Shitao's interpretations and transcriptions of travel poems by his patron-friend
Huang Yanlü (Huang You, 1661–ca. 1725), a wealthy merchant of considerable cultural sophistication. The places mentioned in the poems include famous sites in Guizhou, Hunan, Guangdong, Zhejiang, Jiangxi, and Fujian provinces.

The album exemplifies Shitao's extraordinary originality and versatility. Done in his old age, the
landscapes demonstrate the entire spectrum of his stylistic sources and innovations through decades of experimentation. Whether sketched in monochromes or meticulously finished in refined colors, they represent the perfect union of fresh observation and imagination
with art-historical awareness.

cat. no. 75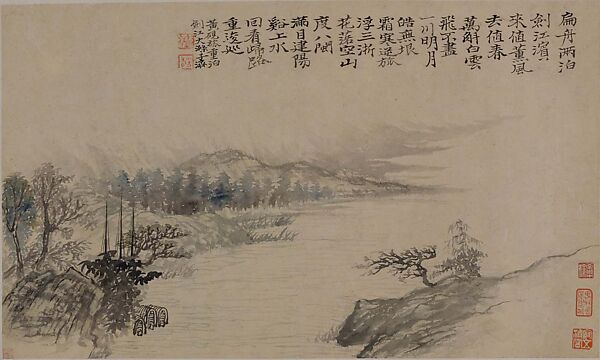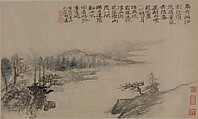 This artwork is meant to be viewed from right to left. Scroll left to view more.