On loan to The Met The Met accepts temporary loans of art both for short-term exhibitions and for long-term display in its galleries.
Sonic Wave
I. W. Turner, Inc.
Jimmy Page British

Not on view
The theremin, invented in the 1920s by Russian engineer Lev Termen (Leon Theremin), was the first successful electronic instrument. Its pitch and volume are controlled by the proximity of the player's hands to vertical and horizontal antennae, respectively. This version, owned by Jimmy Page, features a single antenna for pitch control. Page used the theremin, often with his Echoplex EP-3 tape delay, to create the dynamic soundscapes in Led Zeppelin's "Whole Lotta Love" and "No Quarter." He also incorporated the instrument in live solos and in his soundtrack to the 1982 action film Death Wish II.

Technical Description:
Metal housing and components; One vertical antenna for pitch control, one "adjust" control for sensitivity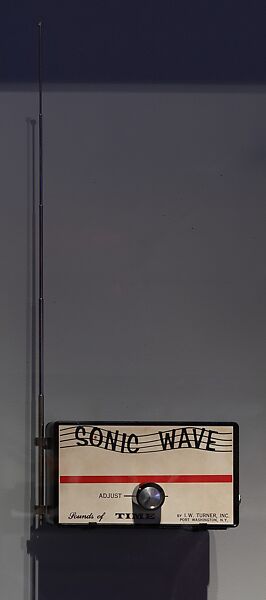 This artwork is meant to be viewed from right to left. Scroll left to view more.