Returned to lender The Met accepts temporary loans of art both for short-term exhibitions and for long-term display in its galleries.
Standing Courtesan
Kaigetsudō Doshin Japanese

Not on view
This painting shows a courtesan in an especially revealing pose, lifting her skirts with her left hand to reveal her naked foot. She has shrugged her kimono, beautifully decorated with roundels of blue irises against a patterned red brocade, off of her shoulder to expose one of the under layers beneath it, which she holds close to her lips as if to shield her face. It was not the faces or the bodies of Yoshiwara courtesans that interested artists or the populace so much as the fashions set by them in dress and hairstyle.

Doshin trained under Kaigetsudō Ando (ca. 1671–1743) and, like his master, was known for his depictions of statuesque women, typically turned slightly away from the viewer and sumptuously dressed in brightly colored, beautifully patterned robes.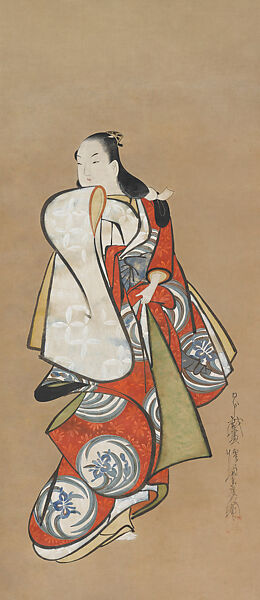 This artwork is meant to be viewed from right to left. Scroll left to view more.