Returned to lender The Met accepts temporary loans of art both for short-term exhibitions and for long-term display in its galleries.
Woman Applying Makeup
Gion Seitoku Japanese

Not on view
This half-length portrait shows a woman applying lipstick, using the small stick clenched in the fingers of her right hand. The object in her left hand is a pocket mirror or perhaps the portable paper case containing the colorant for her lips. Though her upper lip is red, the lower one appears green, a style known as sasa-iro beni (bamboo grass red) that was popular during the late Edo period. It was achieved by using red makeup (beni) derived from safflower that turns an iridescent green when thickly applied.

Seitoku was active in Kyoto and known for his strikingly realistic portraits of geisha and courtesans, characterized by thick eyebrows, prominent noses, and staring eyes.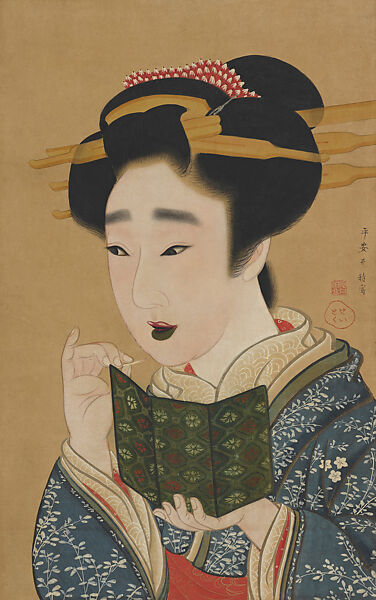 This artwork is meant to be viewed from right to left. Scroll left to view more.