Returned to lender The Met accepts temporary loans of art both for short-term exhibitions and for long-term display in its galleries.
The Story of Chen Zhongzi
Calligrapher Jin Nong Chinese

Not on view
清 金農 漆書 冊 紙本

Jin Nong's calligraphy was inspired in part by ancient stone inscriptions, which were revered in eighteenth-century Yangzhou. As a young artist, Jin received critical acclaim for his clerical-script calligraphy. After failing the examination to enter officialdom at the age of fifty, he seems to have turned away from traditional clerical script, adapting and exaggerating elements of it to create the idiosyncratic personal style known as "lacquer script." The transcription in this album of the story of Chen Zhongzi, a famous recluse from the fourth century B.C., is representative of Jin's mature style. The characters are tall rather than squat; the horizontal strokes are swept onto the paper with a flattened brush tip; and the vertical strokes and left-downward diagonals turn spiky toward the ends.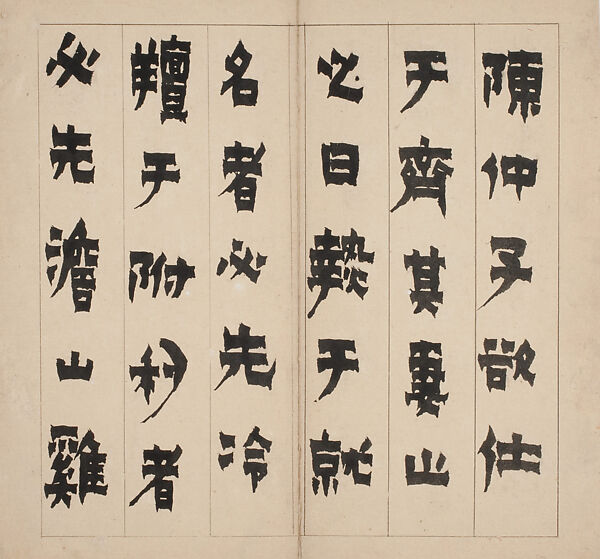 This artwork is meant to be viewed from right to left. Scroll left to view more.