"Dot Boot"
Designer Damien Hirst British
Manufacturer Manolo Blahnik British

Not on view
In an intersection of contemporary art and fashion, the shoe designer Manolo Blahnik worked with Damien Hirst on this design. Exploiting the Pop and Op evocations of Hirst's pattern of identically sized dots evenly spaced on a grid, Blahnik reprises the 1960s "go-go" boot. The boots, associated with a time when technology was seen as the mechanism by which a Space Age, utopian future might be realized, were designed to be worn with Courrèges and Cardin mini-skirts. In Blahnik's reprise, the flat, functional heel has given way to a high, thin stiletto. The design of the boots situates the prettily colored patterning by Hirst, which generally resists all but formalistic analysis, to a period when an ostensible decorative and reproducible vacuity masked a deeper cultural critique. Coincidentally, this collaboration predated by a few months Louis Vuitton's launch of its Takashi Murakami patterned bags.

"I have always been an admirer of Damien Hirst, so I jumped at the opportunity to work with his prints. I made two boots-both very simple because I wanted Mr. Hirst's work to be the main focus and not the shoes. One is this from the 'Spots' series, and the other a 'Splash.' Of the two, this is my favorite. Spots have always been a favorite theme with me, but I love the way that Hirst places them in this rigid, repetitive format. It looks very disciplined but at the same time is very playful-thanks to the fun colors that represent chemicals, giving the whole piece a dark undertone, which I find very clever."

-Manolo Blahnik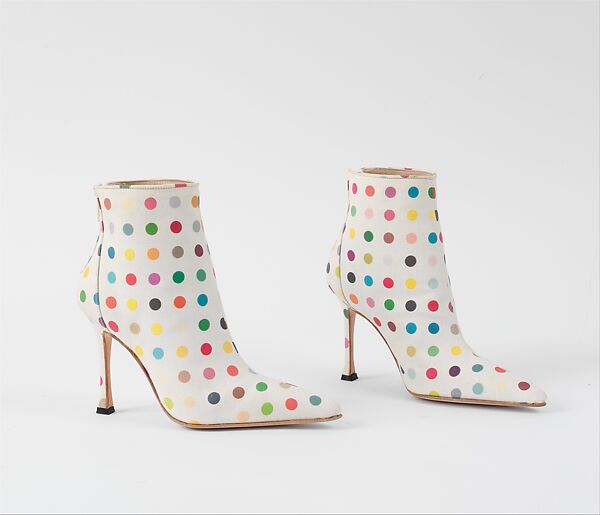 This artwork is meant to be viewed from right to left. Scroll left to view more.