Evening dress
Design House House of Worth French
Attributed to Jean-Philippe Worth French
Attributed to Jean-Charles Worth French

Not on view
By this time the House of Worth was past its peak of popularity and opted to keep up with the budding Orientalism of the period instead of setting trends of its own. This example, which is an extravaganza of trims and decoration, manages to be fussier than the Orientalist designs of one of Orientalism's major proponents, Paul Poiret (1879-1944). Although they were not setting trends at this point, this dress indicates the continued elegance and beauty of their gowns.

Jean-Philippe Worth began as an assistant to his father, Charles Frederick Worth, in 1875. Gradually he was allowed to create his own designs and when his father died in 1895, he became the lead designer for the house. He was praised for making elaborate artistic gowns with intricate trimmings on unique textiles, much like his father had before him. Although the House of Worth was still favored by royalty and celebrities through the turn of the century, their styles were no longer the forefront of French fashion after 1900. Around 1910 Jean-Philippe limited his design work to important orders and hired his nephew, Jean-Charles Worth, as the new lead designer before leaving the company entirely after World War I.

Jean-Charles Worth joined the House of Worth around 1910 and became chief designer after World War I when his uncle, Jean-Philippe Worth, retired. He transitioned the Worth style into a new era of simpler lines and silhouettes with minimal trim indicative of the 1920s and 30s. He also moved the House into the more practical styles reflecting the decrease in noble patrons. Jean-Charles retired in 1935, passing the design reins to his nephew, Roger Worth.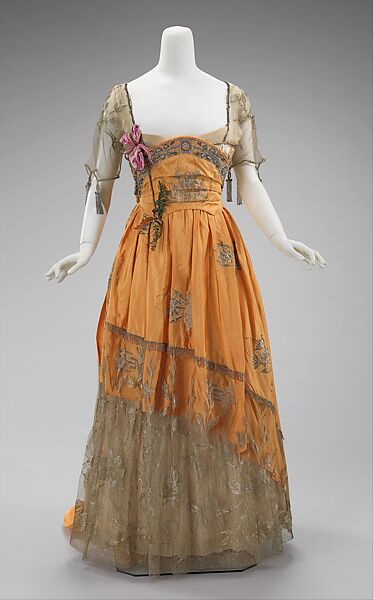 This artwork is meant to be viewed from right to left. Scroll left to view more.