Dress
Design House Comme des Garçons Japanese
Designer Rei Kawakubo Japanese

Not on view
Spurring controversy in the fashion press and consumer public, and inspiration among design peers, the bulbous gingham dresses of Rei Kawakubo's 1997 women's line literally challenged the form of fashion. While Kawakubo has clearly demonstrated an interest in challenging various social, sexual, and economic stereotypes with her garments, this dress confronted one of the oldest taboos of fashionable and wealthy society: the shapes of the feminine ideal. Said to have been exploring the boundaries of malleable form in movement with padded bumps at bust, rear, and midriff combined with a stretchy synthetic gingham, Kawakubo has never verbally confirmed a frustration with fashion's passion for fit, even emaciated models and mannequins.

The gingham, commissioned from the Orimono Kenkyu Sha Fabric Company and its designer, Hiroshi Matsushita, fit so tautly over the projectile padding that it denoted a second skin. This rather disturbing imagery prompted many to view the pieces as a twisted tribute to deformity or disfiguration. Kawakubo, who has been labeled melancholic for her early use of black, has declined comment on these criticisms and allegations. Much like Issey Miyake, she believes that a company should have its own theory and persona, separate and different from that of its patriarch or matriarch, and thereby unfailingly allows her work to speak for itself.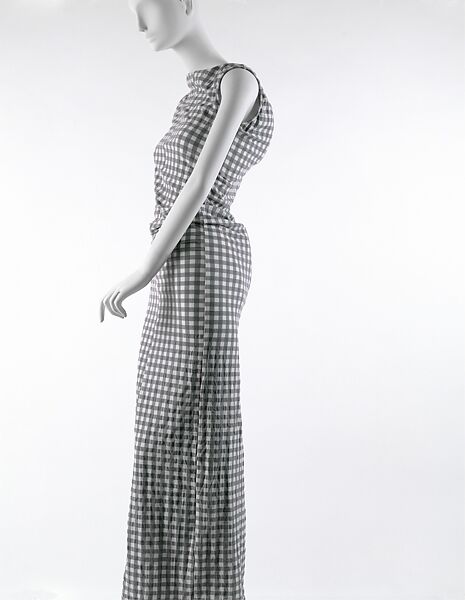 This artwork is meant to be viewed from right to left. Scroll left to view more.