Ensemble
Designer John Galliano British

Not on view
For his graduation collection titled Les Incroyables, presented in 1984 at the Saint Martins College of Art and Design, John Galliano chose a flamboyant fashion moment from the turn of the eighteenth century as an inspiration for his vision of romance and rebellion in the late twentieth century. With eight silhouettes for both men and women, inspired by the exaggerated, slashed and deformed garments worn by a small group of youths, "Les Incroyables" (male) and "Les Merveilleuses" (female) in post-Revolutionary France (1792-1799), Galliano proposed a historical pastiche expressing the sentiment of his own circle, the London-based New Romantics. Picking up where punk had left, this generation of club kids liked to dress the part, being gender fluid, romantic, nostalgic and eccentric. New Romantics went against the nihilistic stance of punk by dressing more lavishly and decoratively. Similarly, the Incroyables (part of the vanishing aristocracy and staunch royalists) went against the egalitarian stance of the French revolutionaries: as such, they are a countermovement to a countermovement, showing their political stance through provocative dress.
The Incroyable silhouette was characterized by an exaggerated high collar hiding the neck and chin, in this case detachable and decorated with an oversized bow. The short, colorful waistcoat was often made up of fabrics with contrasting motifs. The blouse is worn over light breeches worn tightly against the male body, giving the wearer a statuesque, semi-nude look. Monocles, walking sticks and large hats were typical accessories for these men who would walk with a hunched posture.

This ensemble's buttons are made from rusty British coins of one shilling, or twelve pence, a coin which was produced in England until 1970. Its inscription "Elizabeth - Dei Gratia Regina" (Elizabeth - By the Grace of God, Queen) mirrors the royalist stance of the Incroyables, in a 1980s nod to the punk anthem "God Save the Queen" from 1977.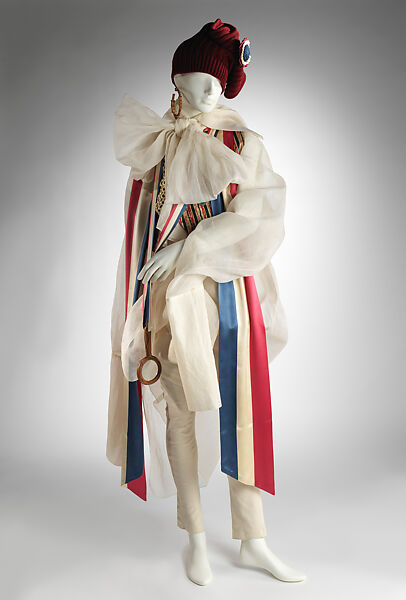 This artwork is meant to be viewed from right to left. Scroll left to view more.