Evening dress
Design House Mainbocher French and American
Designer Mainbocher American

Not on view
"Lady Mendl was so successful that she became a living factory of chic."
—Cecil Beaton
The artist Ludwig Bemelmans describes Lady Mendl typically descending to her famous parties wearing "one of her Mainbocher uniforms." She wore this particular Mainbocher to her Circus Ball on July 1, 1939, at the Villa Trianon in Versailles. It was the last party of the season and the last before the outbreak of World War II. Lady Mendl believed in simplicity of dress. As she said, "I always take one thing off before leaving the house." She also preferred neutral colors. When she saw the Parthenon for the first time, she exclaimed, "It's beige! My favorite color!"
Lady Mendl was equally celebrated for her Sunday lunches. After moving to the Ritz during the Phony War (a lull in fighting that lasted from October 1939 to April 1940), her Sunday lunches continued to draw a lively crowd of artists, designers, diplomats, aristocrats, and movie stars. The difference, however, was that these lunches had a more political agenda—to raise money for "Le Colis de Trianon-Versailles." Vogue noted, "Sometimes she gets as much as fifteen thousand francs in contributions."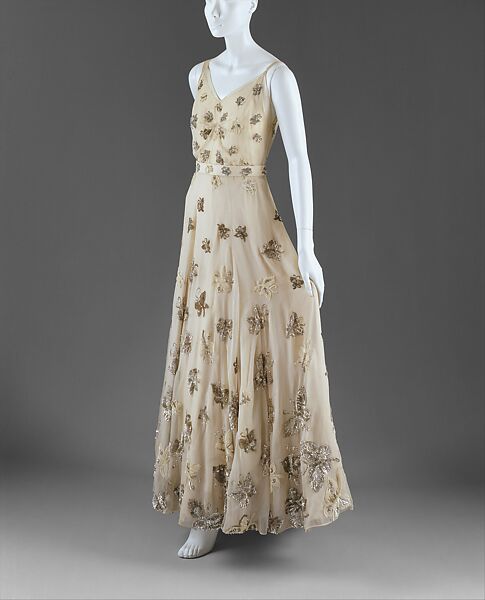 This artwork is meant to be viewed from right to left. Scroll left to view more.