Court presentation ensemble
Design House Schiaparelli French
Designer Elsa Schiaparelli Italian

Not on view
A good fashion is a daring fashion, not a polite one."
—Daisy Fellowes
According to Jean Cocteau, the Honorable Mrs. Reginald "Daisy" Fellowes "launched more fashions than any other woman in the world." She was the supreme word in elegance, going beyond fashion to create a style of her own. She loathed the commonplace and enjoyed making other women look foolish. As Cecil Beaton explained, "At the races, while her rivals would be wearing enormous picture hats of chiffon or transparent straw that spouted fireworks of feathers, Daisy Fellowes might turn up hatless. The effect, of course, succeeded in making the others appear overdressed and slightly ridiculous."
Daisy Fellowes was not an acquisitive clotheshorse and was known for wearing the same dress for day and evening. She wore this empire-line dress to at least two official functions: a reception given by the king and queen of England at the Palais de l'Élysée on July 19, 1938; and the court presentation of her daughter in March 1939.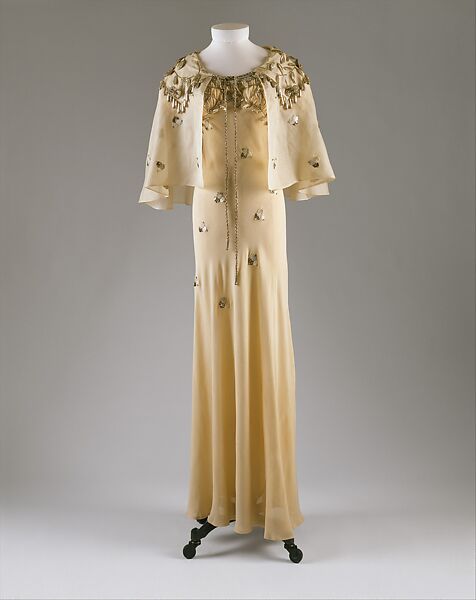 This artwork is meant to be viewed from right to left. Scroll left to view more.