Evening dress
Designer Madeleine Vionnet French

Not on view
"I'm not a beautiful woman. I'm nothing to look at, so the only thing I can do is dress better than anyone else"
The Duchess of Windsor

The Duchess of Windsor lent two dresses to the exhibition "Paris Openings", including this ensemble by Madeleine Vionnet. Elegant, romantic and feminine, it seems uncharacteristic of the Duchess's sober and somewhat severe fashion aesthetic. It also seems more revealing than her usual modest, discreet style. But as Danielle Porthault of Yves Saint Laurent commented, "Her Royal Highness's style was sobriety by day and fantasy and originality at night."

As chairperson of "Le Colis de Trianon-Versailles", the Duchess of Windsor played an active role in raising money for the charity. The Duke of Windsor also supported the charity by knitting hats, gloves and sweaters for the "soldiers' boxes" sent to the front line trenches of France. It was an act that highlighted the Duke's ambiguous political beliefs and allegiances.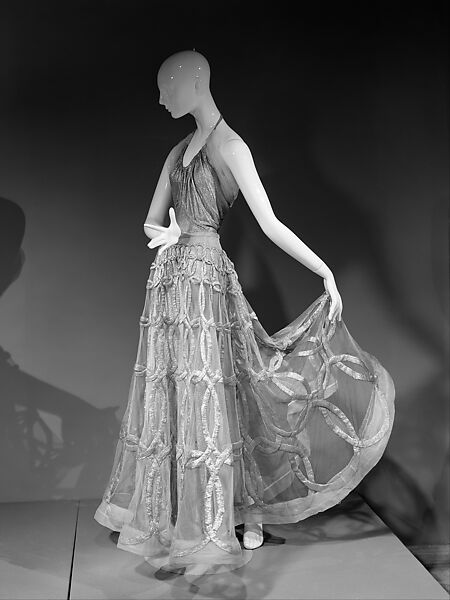 This artwork is meant to be viewed from right to left. Scroll left to view more.