Evening suit
Designer F. Scholte British
Designer H. Harris American

Not on view
In the 1920s, the Duke of Windsor, then Prince of Wales, introduced the midnight blue evening suit as an alternative to the conventional black evening suit. He was motivated by a desire not only to soften men's formal wear, but also to augment his sartorial standing in the popular press. As he explained in A Family Album, "I was in fact 'produced' as a leader of fashion, with the clothiers as my showmen and the world as my audience. The middle-man in this process was the photographer, employed not only by the Press but by the trade, whose task it was to photograph me on every possible occasion, public or private, with an especial eye for what I happened to be wearing." The Prince of Wales understood the photogenic possibilities of midnight blue in black and white. Unlike black, midnight blue allowed for the recognition of such subtle tailoring details as lapels, buttons, and pockets.

The trousers are not part of the original suit, but are a duplicate pair made for the Duke of Windsor by H. Harris, a New York-based tailor whose apprenticeship was served in London. The Duke began to have his trousers tailored by Harris while he was Governor of the Bahamas during the Second World War. As he explained, "I gave him a pair of my old London trousers and he copied them admirably. Since then, I have had my trousers made in New York and my jackets in London, an international compromise which the Duchess aptly describes as 'pants across the sea'."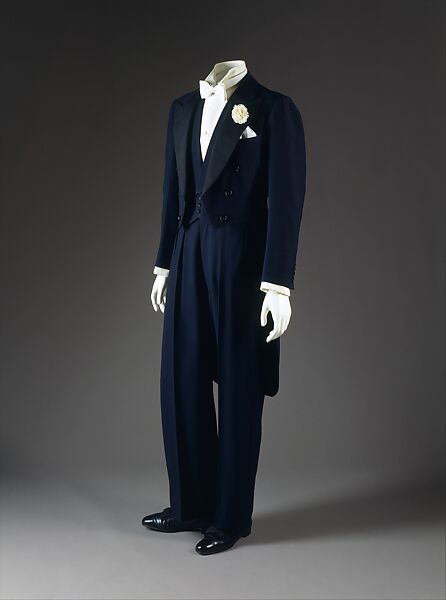 This artwork is meant to be viewed from right to left. Scroll left to view more.