Evening ensemble
Design House Yves Saint Laurent French
Designer Yves Saint Laurent French, born Algeria

Not on view
While a long, lean body remained the ideal in the 1980s, a new, wide shoulder began to be appended to the silhouette. Ornately rendered here by Yves Saint Laurent, the shoulder provided a foundation from which fabric could be draped down to a contrastingly narrow waist. In the hands of some 1980s designers, shoulders were padded out to absurd widths. To a degree, this was a revival of 1940s fashion. Toward the end of the 1980s and into the '90s, historicist revivals by fashion designers have created such a multiplicity of silhouettes that finding the defining one will have to wait.
Marguerite Duras wrote in appreciation of Saint Laurent's synthesizing imagination, "I tend to believe that the fabulous universality of Yves Saint Laurent comes from a religious disposition toward garnering the real—be it man-made—the temples of the Nile—or not man-made—the forest of Telemark, the floor of the ocean, or apple trees in bloom. Yves Saint Laurent invents a reality and adds it to the other one, the one he has not made." In this case, Saint Laurent invents a mysterious East and adds it to the Stendhalian valor of formal military dress.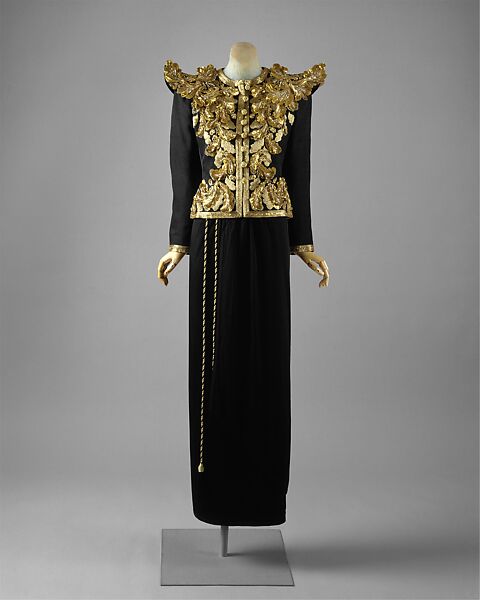 This artwork is meant to be viewed from right to left. Scroll left to view more.