"Partie Fine"
Design House House of Dior French
Designer Christian Dior French

Not on view
What appears to be a one-piece dress is actually a separate bodice and skirt. The bodice has a boned corselet over which the pleated fabric has been anchored in a stiffened armature with floating, barely affixed pleated panels. The collar is held away from the neck by a line of hidden wire. Roses with green leaves were placed at the left side of the bodice. The shoulders, when seen in detail, suggest the way Dior has draped rather than tailored his forms, wrapping and tacking instead of cutting and piecing. The soft plaiting at the neck and shoulders alludes to eighteenth-century fichus, small shawls that defined the wearer's décolletage with softly gathered fabric. It was in 1951 that Dior detached his subtle surfaces from the grand silhouette, his finest achievement of that year. He had always known and demonstrated, in his cocktail and evening dresses, that the skin of the garment was pliant and could be lifted away from the substructure, but in 1951 that principle became the prime focus of the collection.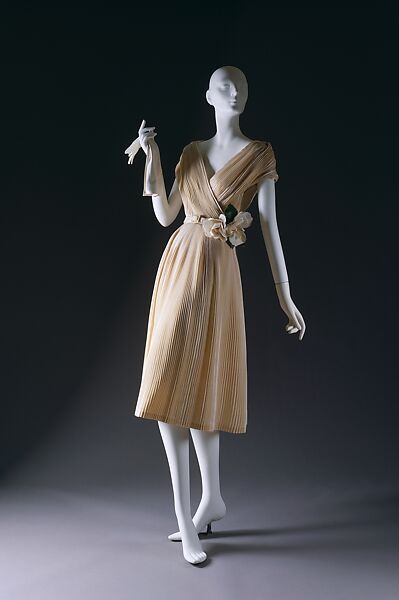 This artwork is meant to be viewed from right to left. Scroll left to view more.