Dress
Designer Issey Miyake Japanese
Design House Miyake Design Studio Japanese

Not on view
In keeping with the practicality of the APOC (A Piece of Cloth) ethos, intended to limit waste and excess in fashion and provide a minimalist template for design, many of Miyake's pleated pieces can be folded into easily stored flat objects. At the 1990 Energieen exhibition at the Stedelijk Museum in Amsterdam, garments were featured on hangers and as flat entities, set in recessed cutouts in the exhibit's floor. Miyake professed his interest in the transitions of clothing design as an art form, championing simple geometrics as the future of fashion and transforming three-dimensional garments into two-dimensional cloth canvases.

The pleating process is perhaps the most significant applied design of Miyake's career: taking cues from the success of classically inspired pleat designer Mariano Fortuny, Miyake has used pleats both as an aesthetic complexity and a means for movement within his designs. In 1993, he introduced his "Pleats Please" collection and through it explored transformations of the pleated garment via surface application or distress, or sculptural manipulation.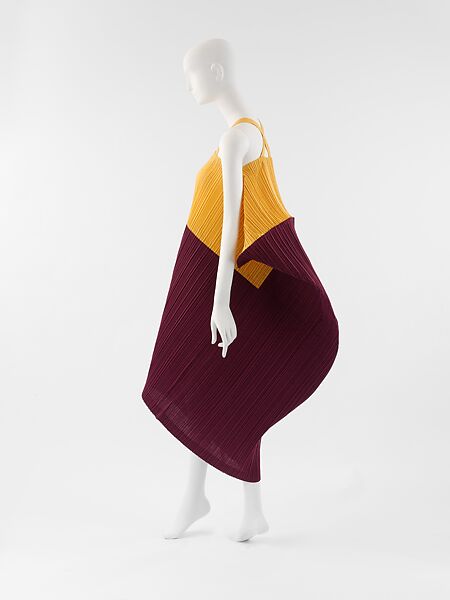 This artwork is meant to be viewed from right to left. Scroll left to view more.