Women Carrying Pots for the Tsukuma Festival
After Katsushika Hokusai 葛飾北斎 Japanese

Not on view
At first glance, this work showing two elegantly dressed women appears to be a deluxe painting on silk by the renowned artist Katsushika Hokusai, but microscopic inspection and scientific analysis of the pigment reveals that it is rather a sophisticated facsimile created partly by woodblock printing and partly by painting by hand. Some of the pigments used to color the kimono were not invented until over two decades after Hokusai died in 1849, so it would have been impossible for the master to have supervised the production of these works, even though obviously the technology for creating meticulous outlines (that replicate brush-drawn lines) already existed in the Edo period. A handful of other Hokusai paintings are known to have been reproduced using the same reproductive technology.

This facsimile was based on an original meticulously colored painting on silk that represents the epitome of Hokusai's bijinga ("paintings of beautiful women"), dating to around 1806 or 1807, when he was moving away from the depiction of svelte and delicate feminine beauty of his Sōri period (when he styled himself "Hokusai Sōri") to a more sensuous portrayal of women.

Two women here, one with two iron cooking pots on her head, the other carrying one in her left hand, are no doubt on their way to participate in the Tsukuma Festival (Tsukuma matsuri 筑摩祭) held in the early summer at the Shinto shrine of that name in Maihara near Lake Biwa, to the northeast of Kyoto. It is also referred to the Cooking Pot Festival (Nabe Matsuri) by locals.

According to custom, the number of pots a women places on her head is supposed to correspond to the number of men she has had relationships with (though popular literature and humorous senryū poetry of Hokusai's day openly spoofed the idea that pots would fall off the heads of women who lied about the number of men they had been involved with). There is also a two-panel screen treating the same theme by Hokusai dating to around 1799 to 1801 in the Freer Gallery Collection (F1904.177).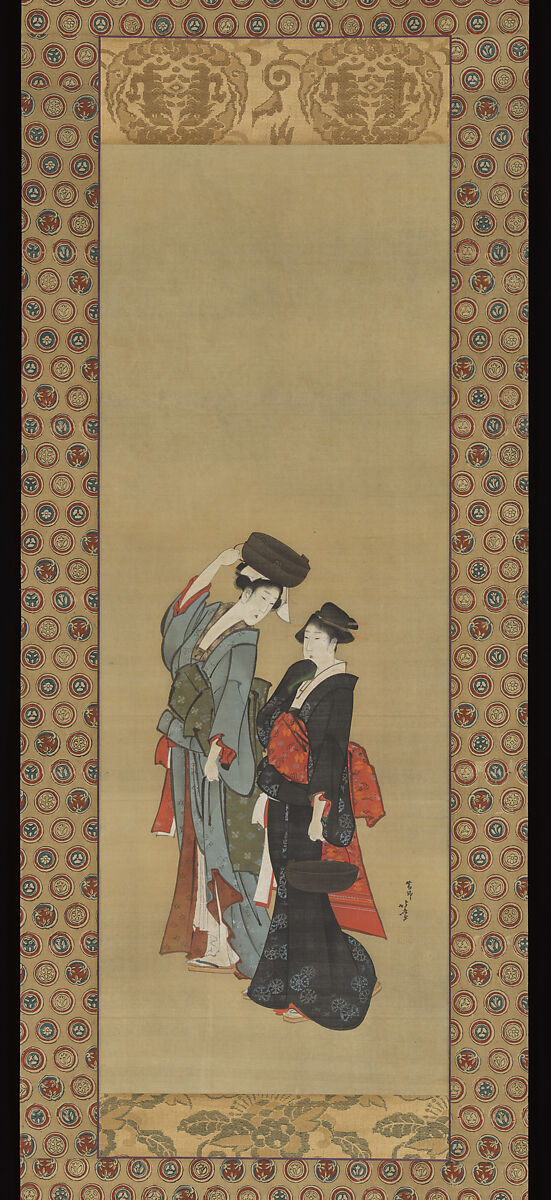 This artwork is meant to be viewed from right to left. Scroll left to view more.