Publius Terentius Afer
Not on view
Title and imprint within lined border. With added engraved title page dated MDCCCXXII [1822]. With engraved headpiece. With guardsheet between engraved frontispiece and add title page. Undated engraved frontispiece portrait by Robert Grave facing added engraved title page dated 1822. With title page vignette (printer's device) with motto: "Honi soit qui mal y pense" (i.e. Middle French: "shame upon him who thinks evil upon it"). Blank leaves at front not counted in pagination.



Volume in a series known as "Diamond classics." First started in 1819 by William Pickering "small books set in tiny type, that were offered in a uniform binding of cloth or leather at a price the common man could afford"--C/f Wikipedia entry for William Pickering (publisher).



Contents: Andria -- Eunuchus -- Heuton Timorumenos -- Hecyra -- Adelphi -- Phormio.



Binding: White vellum with gilt floral design, "Terentius" in mounted red vellum heart-shaped label in middle of front cover - "1822"in heart-shaped label on back cover , all edges gilt.



Series title: Diamond classics.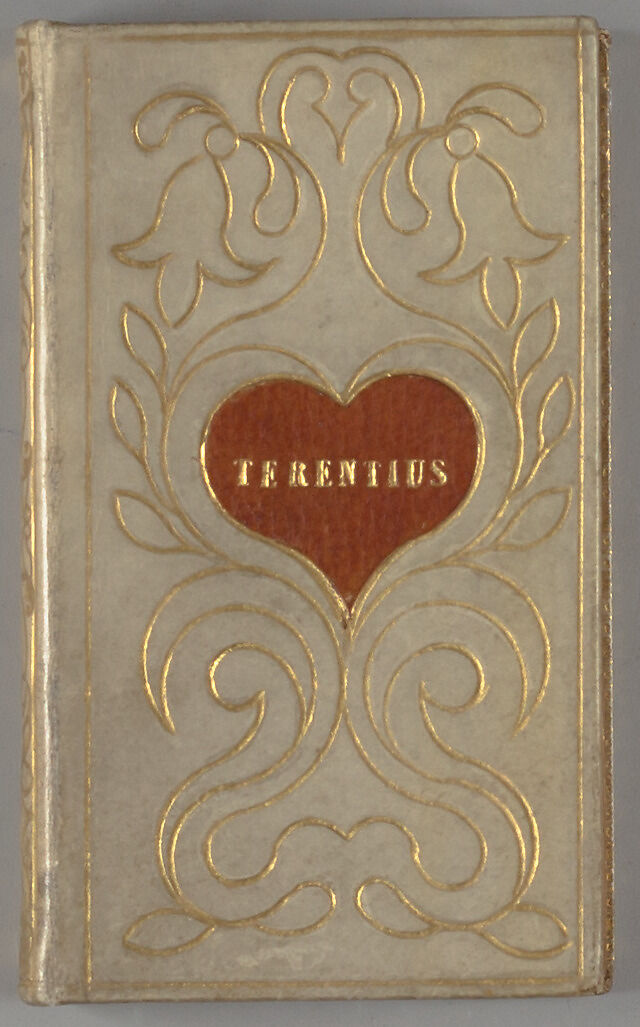 This artwork is meant to be viewed from right to left. Scroll left to view more.