Dancer with a Fan
Not on view
A dancer garbed in a sumptuous kimono holds a golden folding fan decorated with the red orb of the sun rising though suzuki grass. The textile patterns on the on the dancer's outer robes include large snowflake motifs containing kanoko ("fawn spot") stitch-resist dyeing, outlined with gold thread. Scrolling patterns in gold on the blue ground of the sash may be intended to represent a design in gold leaf—conveying an aura of luxury. At first glance, we assume the elegant raiment, gentle facial features, pale powdered complexion, and delicate hands were meant to capture the appearance of a female performer frozen in a dance movement. The white kerchief covering the dancer's hair, however, suggests that this is actually a young man cross-dressed as a stylish woman. Such cross-dressing performers were common, especially on the Kabuki stage after 1629, when female actors were banned from performing stage because it was thought that they were using theatrical performances as fronts for prostitution.

Though representing a male dancer this work nevertheless qualifies an excellent example of the category of paintings referred to as Kanbun bijin, literally, "beauties of the Kanbun era." Usually the term refers to images of young women, but does not exclude male youths, as here.The Kanbun era officially lasted about a decade, from 1661 to 1672, but the historical designation is used more expansively to refer to the 1660s to 1680s. Such paintings, almost always anonymous, capture a gorgeously garbed figure elegantly posed against a blank background. The origins of Kanbun bijin paintings can be traced back to genre paintings of the early seventeenth century, which were often populated by large numbers of people enjoying leisurely pursuits such as flower or foliage viewing, picnicking, or indulging in indoor amusements such as board and card games, dancing, plays, among other pastimes. As figures became larger in respect to the outdoor or interior settings, a type of screen with just a small group of large-size figures, with little background detail became more popular. Kanbun bijin paintings of the second half of the seventeenth century represent the culmination of this trend. Such paintings of young women and men also anticipate the emergence of Ukiyo-e paintings and prints focusing on portrayals of women of the demimonde and Kabuki actors.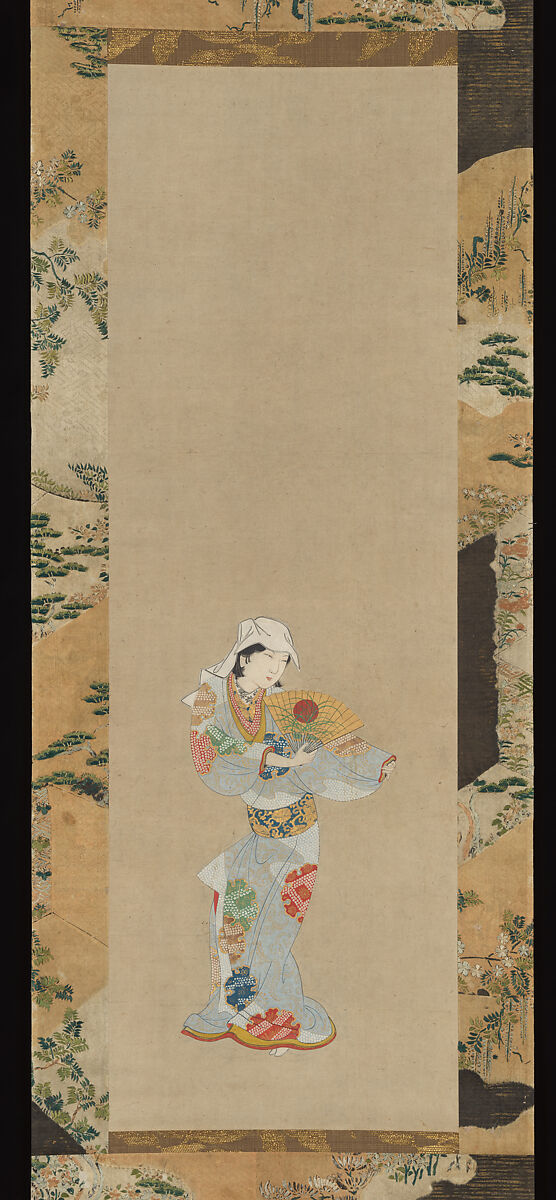 This artwork is meant to be viewed from right to left. Scroll left to view more.