Landscape in Light Colors
Aoki Shukuya 青木夙夜 Japanese
Inscription by Murase Kōtei 村瀨栲亭 Japanese

Not on view
This hanging scroll in light color features a sophisticated landscape evocative of the Chinese Northern Song monumental landscape tradition. The viewer is led by way of a meandering path from the lower right corner into a cluster of four thatched huts situated behind a bulging boulder that supports three luxuriant deciduous trees. The season is autumn. A gushing stream, stemming all the way from the mountain valley in the upper right corner, empties into a pond in the left part of the foreground. Further up in the middle ground is another cluster of three thatched huts, partially obscured by low trees on the imposing boulder in front. The upper half of the scroll is devoted to the depiction of a succession of mountain peaks, shrouded in bands of clouds represented by the negative space of the silk; depth of spatial recession is further suggested by distant mountains in pale washes of light blue in the background, complementing the rising main peaks in the center. Shukuya's landscape is impressive and yet unimposing, thanks to the generally light palette and the subtle modeling of the forms in diluted ink; having studied with Ike no Taiga (1723–1776), a famous Nanga painter, Shukuya likely looked at printed painting manuals that transmitted Chinese literati painters' landscape painting styles into Japan in the eighteenth century.

In the upper right corner an inscription by Murase Kōtei (1744–1819) identifies the artist as Aoki Shukuya and dates the painting to summer of 1799, three years before the artist's death. The inscription also includes a quatrain of seven-character lines that expresses the poet's desire to live as a recluse in the mountains, a theme that was immensely popular amongst Chinese and Japanese literati painters.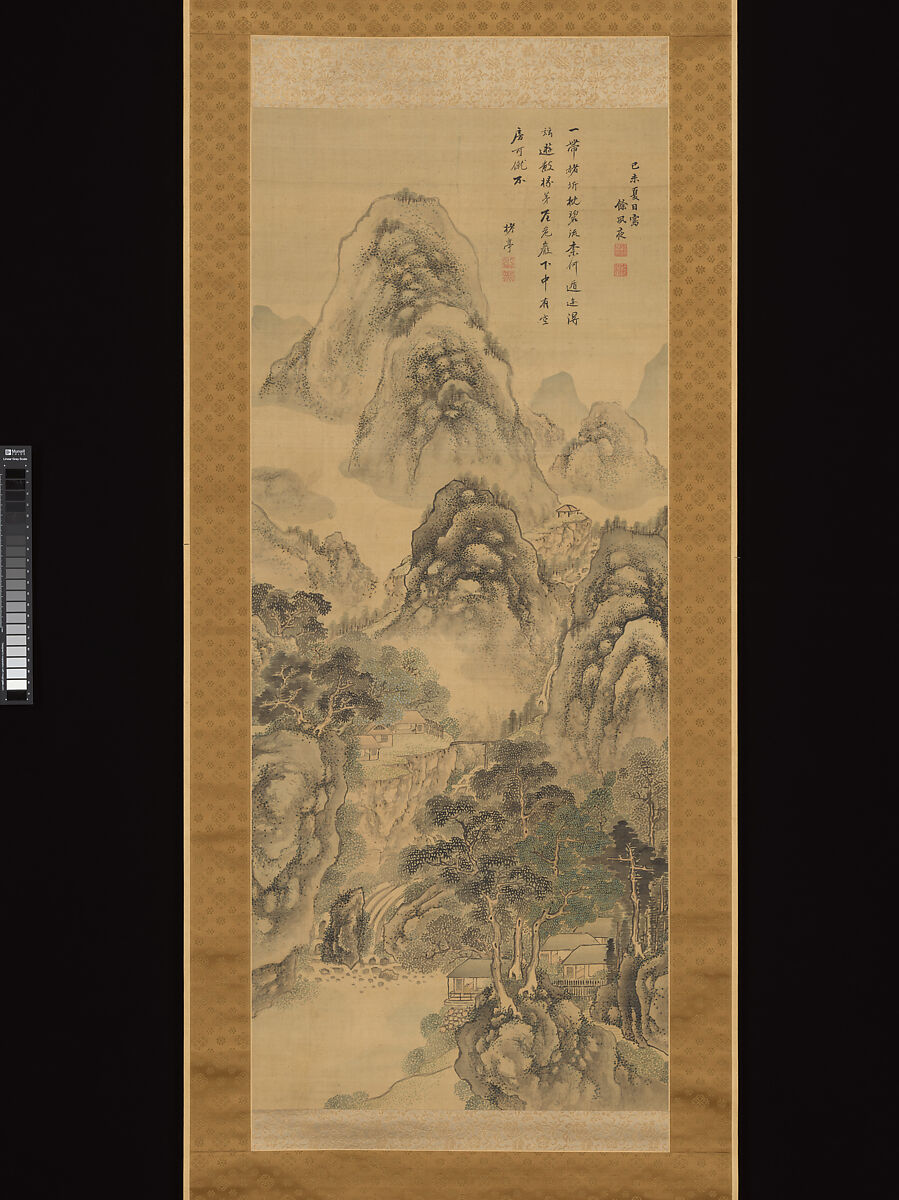 This artwork is meant to be viewed from right to left. Scroll left to view more.