Evening ensemble
Designer Emilio Schuberth Italian

Not on view
Though Rome attracted global attention during its cinematic renaissance in the early 1950s with the films of directors such as Roberto Rossellini and Luchino Visconti, and their Neorealist creations of both Italy and the Italian feminine ideal, a rather identifiable Italian aesthetic existed previous to this period and can be credited to the custom designs of early couturiers like Emilio Schuberth. Schuberth opened his house in 1938 and secured a sizable upper-class clientele with knit separates ensembles for coastal resort stays, and pared-down evening wear in taffetas and organzas for the formality of the Roman urban center. His clothing embodied the concept of la bella figura, an important ideal in both cinematic representations and fashionable aesthetics in the mid-century period. La bella figura communicated Italy's inherent sensuality, grace, and love of leisure, all qualities that would later signify Italian style in global consumption.

Schuberth's designs were equally celebrated and criticized for their ultra-feminine shapes and materials during a period when fashion as a whole mirrored this fragmentation. Inevitably, Schuberth had his fans in the fashion press, including editors from both Vogue and Life magazines, who helped to popularize the "Italian Bob" haircut first exhibited by his mannequins in 1953.

This gown, one of Schuberth's more tailored creations, is an exquisite example of the rather simple architectural line that would later influence minimalists like Giorgio Armani and Miuccia Prada. Its voluptuous pink and purple silk taffeta tiers and black lace trim communicate the ostentatious sensuality of Italian style without sacrificing the craftsmanship of traditional couture.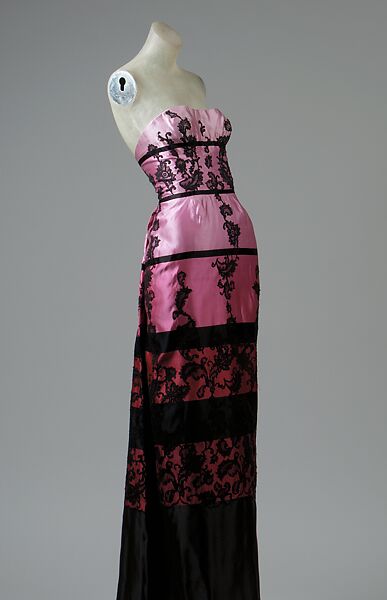 This artwork is meant to be viewed from right to left. Scroll left to view more.