Evening dress
Design House G & E Spitzer Austrian

Not on view
This ball gown from a collection of dresses associated with the duke of Cumberland's wife, Thyra, princess of Denmark, and his daughters merges the aesthetics of the French haute couture with the technical mastery of a renowned dressmaking establishment of early-twentieth-century Vienna. G. and E. Spitzer, along with the houses of Christoff von Drecoll and Griinbaum, furnished the Viennese upper classes with gowns reflecting the most recent Parisian trends.

This example, with its raised waistline, vestigial drapery evoking an earlier monobosom bodice, and columnar silhouette with a faint S-curve, conforms to the styles of I9I0 at such venerable houses as Paquin, Doucet, and Worth. These firms, not as avant-garde as that of Paul Poiret (whose innovations were embraced by the Viennese intelligentsia), reflected the regal conservatism of the Hapsburg court. In this instance scrolling "bizarre" motifs in silk floss and the application of bugle beads lined with pure gold create a particularly sumptuous effect. Because of the uncommon purity of the metal, the beading's brilliance contributes an uncanny freshness to the gown's appearance.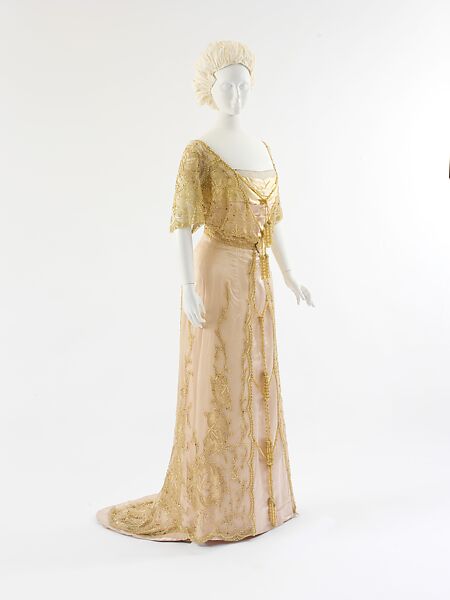 This artwork is meant to be viewed from right to left. Scroll left to view more.