The Three Graces (recto); Four putti engaging in various activities (verso)
Christoph Murer Swiss

Not on view
This striking and beautifully preserved sheets belongs to a group of early drawings, all executed in the same technique on prepared paper, by Christoph Murer (1558-1641), the leading designer and painter of stained-glass windows in early seventeenth-century Switzerland.


Treating the classical subject of the Three Graces, this work exhibits a spectacular handling of dark gray wash and white gouache to model the female body; against the mid-tone of the prepared paper, the parallel striations and cross-hatching of opaque white yield a remarkable sense of plasticity and volumetric form. The same technique and qualities are found in several other works by Murer: Mercury Waking the Arts from War-Induced Sleep, dated 1583 (Graphische Sammlung, Zurich); Head Studies (Kupferstichkabinett, Berlin); Allegory of Charity (Kupferstichkabinett Basel); and Dancing Couple (private collection). (This last sheet, which relates to Murer's series of woodcuts known as The Ball, shares with the present drawing the same provenances from no later than 1918 until at least 1976.) This group of drawings bears the impact of the artist's direct exposure to the work of Tobias Stimmer (1539-1584), in whose Strasbourg workshop Murer spent a couple of years, from roughly 1583 to Stimmer's death in 1584. The young artist may have been inspired, in part, by his master's own depiction, in half length, of Three Graces, also executed in black ink and white gouache on gray paper (Kupferstichkabinett, Berlin). Dürer's well-known engraving Four Nude Women (Bartsch 75; MMA 17.37.29 and 19.73.86) surely also served as a model for Murer.

The putti on the verso find close comparison in a drawing by Murer of twenty such figures, engaged in similar activities, in Indianapolis, as well as in the putti that appear as flanking figures in various examples of his stained-glass designs (see, for example, MMA 1995.298). Although Murer's mature draftsmanship is somewhat looser, the same approach to rendering facial features, hair, and contours can be seen.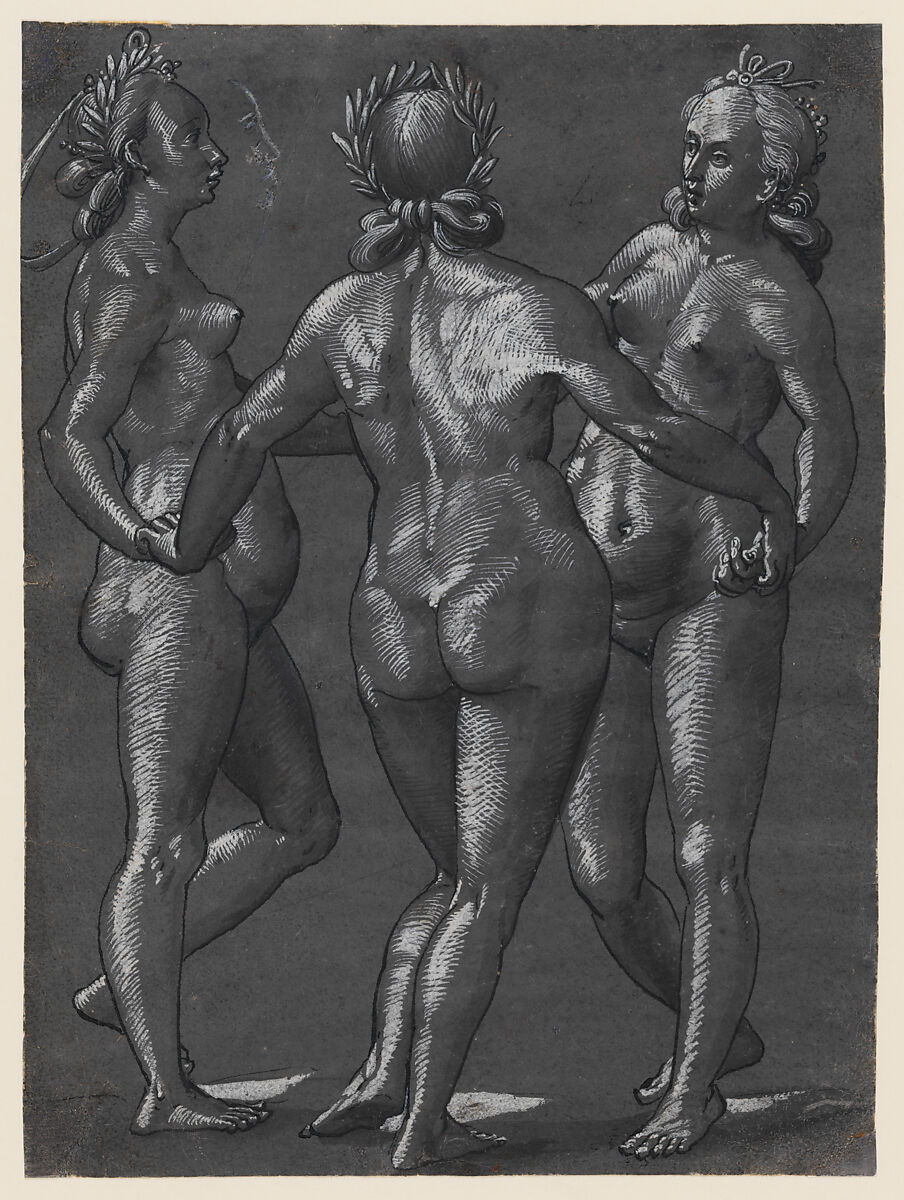 This artwork is meant to be viewed from right to left. Scroll left to view more.