On loan to The Met The Met accepts temporary loans of art both for short-term exhibitions and for long-term display in its galleries.
Armor for the German Joust of Peace, made for Philip I of Castile (1478–1506)
On view at The Met Fifth Avenue in Gallery 371
In late medieval and Renaissance Europe, it was customary for the eldest sons of noble families to begin combat training at an early age. Philip I (1478–1506), who started wearing armor when he was six years old, received this example as a teenager. It is specially designed for the joust of peace, a friendly match in which contestants on horseback used lances to unseat each other or strike their opponent's shield or armor. The joust, typically fought before an audience as part of festivities, nevertheless remained perilous. This masterfully shaped helmet is bolted to the torso defense and would immobilize the head inside. The shaffron prevented the horse from seeing an opponent's lance and shying away from combat.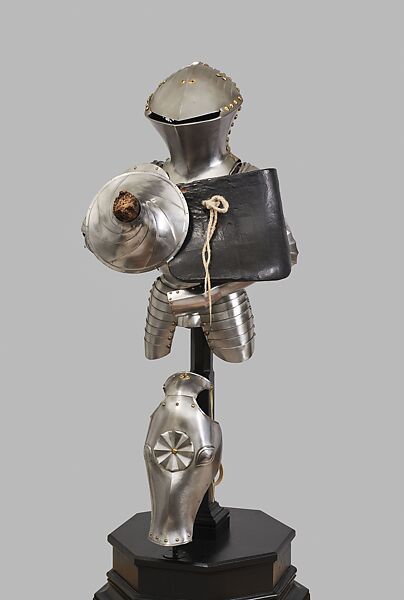 This artwork is meant to be viewed from right to left. Scroll left to view more.