Frank Johnson, Leader of the Brass Band of the 128th Regiment in Saratoga, with his wife, Helen
Auguste Edouart French

Not on view
Silhouettes must have first appeared in England in about 1700, when William and Mary reportedly had their profiles done. By the 1720s, silhouettes—or shades as they were known in Great Britain—had become an established novelty, and by the end of the century their popularity had spread to France. By the end of the eighteenth century, a few French silhouettists had introduced profiles to the United States; however, it was not until the summer of 1839 that Auguste Edouart, the most prolific silhouettist ever to work in the United States, arrived in New York.

Driven from France by hard times under Napoleon, Edouart first immigrated to England in 1815, where he worked as a French teacher and made portraits of animals in wax. In 1825, he cut his first silhouette, supposedly at a dinner party in response to a dare to produce a better profile than one owned by his host; many more silhouettes of English men and women followed. Upon his arrival in New York, Edouart traveled to Saratoga where he was to spend five summers and created hundreds of silhouettes of vacationers, those of Frank and Helen Johnson among them. Edouart's delicate rendering of Johnson's trumpet is typical of his meticulous work. During his extensive travels throughout the United States, Edouart cut silhouettes of many eminent Americans, creating a visual record of the period. His last silhouette was cut on August 16, 1845.

The artist set sail on the "Oneida" with the intention of returning to France in 1849. The ship was wrecked off the coast of Guernsey, and Edouart escaped the disaster with ten albums of British silhouettes and six albums of American silhouettes; approximately forty albums were lost. Edouart gave all of his surviving silhouettes to the Lukis family, who cared for him until he was well enough to return to France. Eventually, all but one of the albums were broken up and sold to descendants of the sitters. The 861 unsold silhouettes were purchased by the Reverend Glenn Tilley Morse of Newburyport and bequeathed to the Metropolitan Museum in 1950.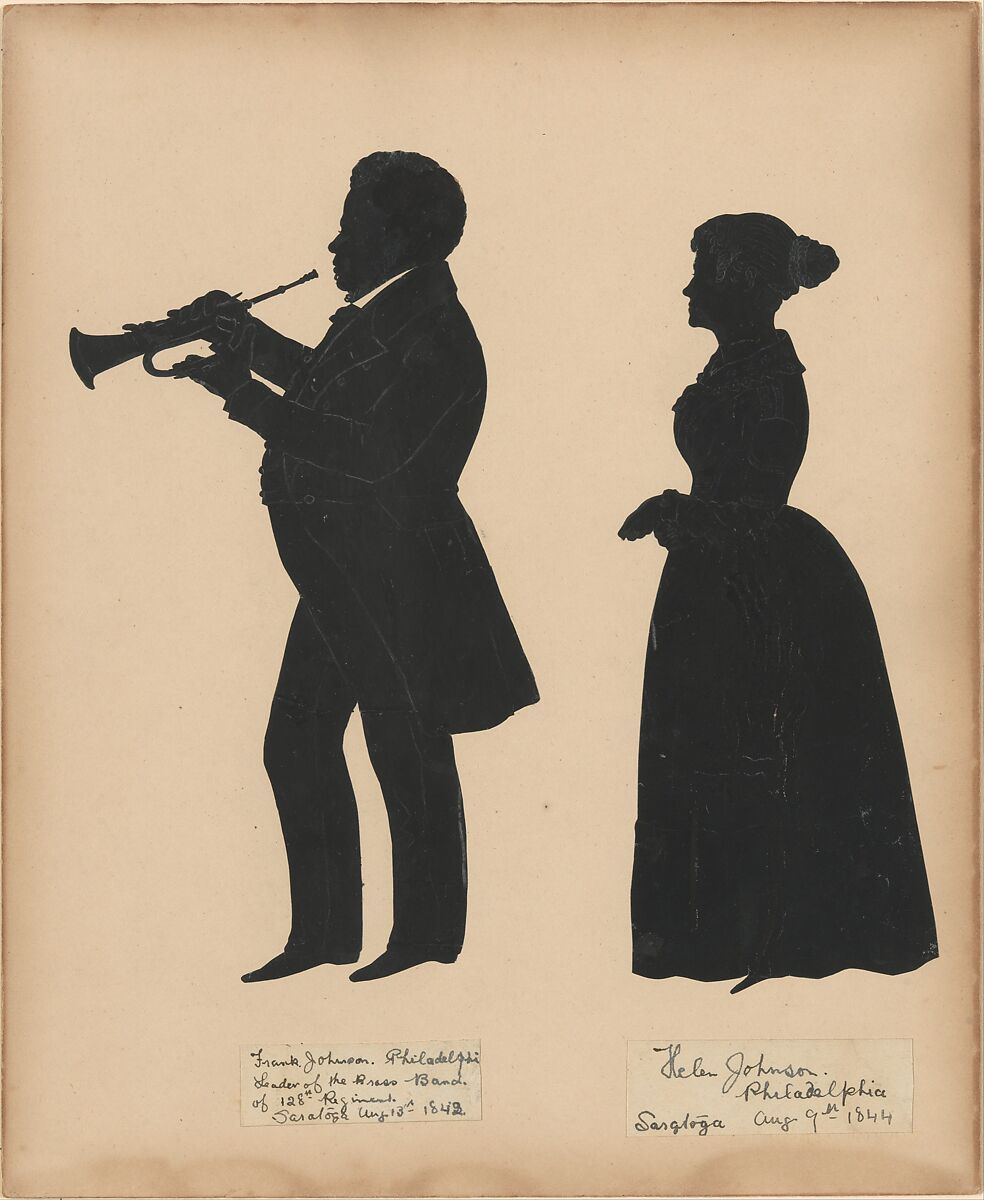 This artwork is meant to be viewed from right to left. Scroll left to view more.