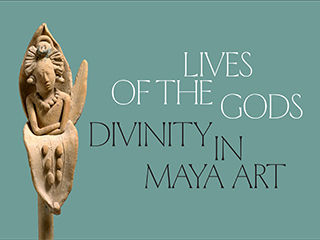 Lives of the Gods: Divinity in Maya Art
Listen to exhibition curators discuss a who's who of Maya gods, hear Classic Mayan inscriptions read aloud, and learn stories from speakers of Poqomchi', one of many Mayan languages in use today.
Para acceder el guión del audioguía en español, haga click aquí.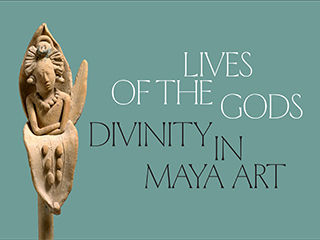 NARRATOR: Welcome to the Audio Guide for Lives of the Gods: Divinity in Maya Art, an exhibition of over 100 landmark works by Maya artists of the Classic period. These masterpieces on view trace the life cycles of Maya gods, from the moment of their creation to their dazzling transformations - into blossoming flowers, fearsome creatures of the night, and celestial beings. JOANNE PILLSBURY: There was a very powerful sense of the reciprocal relationships between humanity and gods. OSWALDO CHINCHILLA: The whole exhibition basically is about the Maya gods and how they originated and how they were believed to have come about in the world. It can be challenging for us, because it's a very different story. NARRATOR: These stories offer clues to how the ancient Maya answered fundamental spiritual questions: How did the Maya give shape to their deities? And how did they communicate and relate to the divine? Guiding you are the exhibition's curators and a linguist who reads classic Maya texts and speaks the Maya language Poqomchi'. Each will provide insights on a world in which the divine, human, and natural realms are interconnected. Thank you for listening. This Audio Guide is supported by Bloomberg Philanthropies. *** 600. INTRODUCCIÓN NARRADOR: Bienvenidos a la audioguía Las vidas de los dioses: la divinidad en el arte maya, exhibición de más de cien piezas emblemáticas de artistas mayas del periodo Clásico. Estas obras de arte trazan el ciclo de vida de los dioses mayas, desde el momento de su creación hasta sus extraordinarias transformaciones en relucientes flores, temibles criaturas nocturnas o seres celestiales. JOANNE PILLSBURY: [00:06:16] Había un sentimiento muy poderoso de reciprocidad en las relaciones entre los humanos y los dioses. OSWALDO CHINCHILLA: [07:41] Básicamente, la exhibición trata //sobre los dioses mayas, cómo se originaron y cómo se creía //que habían //llegado //al mundo. //Para nosotros ha sido un reto, porque esta historia es muy distinta a otras. NARRADOR: Estas historias nos brindan claves para entender cómo respondieron los antiguos mayas preguntas espirituales fundamentales. ¿Qué formas les otorgaron a sus dioses?, ¿cómo se comunicaban y relacionaban con lo divino? Los encargados de esta audioguía son los curadores de la exhibición, así como una lingüista que lee inscripciones mayas clásicas y que habla poqomchi', idioma maya contemporáneo. Cada uno de ellos ofrece aquí su visión sobre un mundo donde lo divino, lo humano y lo natural están conectados entre sí. Gracias por escucharnos. Esta audioguía fue patrocinada por Bloomberg Philanthropies.
View Transcript
Playlist

600. Introduction

601. Kimbell Censer Stands

602. Izapa Stela

603. Kimbell Vessel with a Mythological Frieze

604. Conch Shell Trumpet

605. Vmfa Vessel

606. Captives as Jaguar Gods

607. Water and Rain

608. Eccentric Flints

609. Codex Style Plate

610. Maize Whistle

611. Scribe

612. Panel with Royal Women

613. Piedras Negras Throne