Attend Your Next Virtual Meeting in Style with these Ten Lavish Backgrounds
If you're stuck at home, you may be looking to shake up your work-from-home routine right about now. Spruce up your next staff meeting with one of The Met's iconic interiors or elegant artworks and be the envy of your colleagues. We've hand-picked ten of our favorites from throughout the Museum to get you started.
Here are the instructions to set the images below as your background on Zoom, Microsoft Teams, and Snap Camera.
---
Damascus Room (detail), A.H. 1119/A.D. 1707. Syria, Damascus. Wood (poplar) with gesso relief, gold and tin leaf, glazes and paint; wood (cypress, poplar, and mulberry), mother-of-pearl, marble and other stones, stucco with glass, plaster ceramic tiles, iron, brass, 22 ft. 1/2 in. x 16 ft. 8 1/2 in. (671.6 x 509.2 cm), D. from inside front entrance to back wall 26 ft. 4 3/4 in. (804.2 cm). The Metropolitan Museum of Art, Gift of The Hagop Kevorkian Fund, 1970 (1970.170)
With over forty stanzas of poetry covering the walls, the Damascus Room is any literary geek's dream. This richly decorated winter reception chamber, or qa'a, would have been situated in the house of a wealthy Damascene family from the late Ottoman period. The poetry inscribed on the walls tells us that the patron may have been part of the religious elite who claimed to be directly descended from the Prophet Muhammad.
Learn more about the Damascus Room.
George A. Schastey (1839–1894) and George A. Schastey & Co. (1873–97). Architectural woodwork and paneling (detail), 1881–82. American. New York, United States. Satinwood, purpleheart, mother-of-pearl, silver-plated brass, mirrored glass, marble, and reproduction upholstery. The Metropolitan Museum of Art, Gift of The Museum of the City of New York, 2008 (2009.226.18)
"All right, Mr. DeMille, I'm ready for my close-up." This intricately designed dressing room comes from the West 54th Street home of Arabella Worsham, who later sold the property to John D. Rockefeller fully furnished. Rockefeller made very few changes under his fifty-plus years of ownership, making it one of the best-preserved interiors from late-nineteenth-century New York City.
Learn more about the Worsham-Rockefeller Dressing Room.
Wentworth House (detail), 1695–1700. American. Portsmouth, New Hampshire, United States. Wood, oak, pine. The Metropolitan Museum of Art, New York, Purchase, Sage Fund, 1926 (26.290)
Settle into this cozy room from the Wentworth House for your next meeting. The original owner of this house, John Wentworth, was a bona fide renaissance man; he worked as a merchant, a sea captain, and even as lieutenant governor of New Hampshire. This early Colonial home is one of the largest domestic interiors surviving from this period.
Learn more about the Wentworth Room.
The Varengeville Room (detail), ca. 1736–52 (with later additions). 18 ft. 3 3/4 in. x 23 ft. 2 1/2 in. x 40 ft. 6 1/2 in. (5.58 x 7.07 x 12.36 m). The Metropolitan Museum of Art, New York, Purchase, Mr. and Mrs. Charles Wrightsman Gift, 1963 (63.228.1)
Sometimes, more is more. Channel your inner French monarch in this luxurious interior, originally from one of the private residences of the Hôtel de Varengeville, which still stands today. This elaborately decorated study is inspired by the Rococo style that was in vogue in eighteenth-century France.
After a design by Robert Adam, British, Scottish, 1728–1792. Dining Room from Lansdowne House (detail), 1766–69. 17 ft. 11 in. x 24 ft. 6 in. x 47 ft. (5.46 x 7.47 x 14.33 m). The Metropolitan Museum of Art, New York, Purchase, Rogers Fund, 1931 (32.12)
If you didn't have a chance to check out our newly reimagined British Galleries yet, don't sweat it. Before coming to The Met, this room from the Lansdowne house was a meeting place for Whig social and political circles in the eighteenth and nineteenth centuries. The owner, William Petty-Fitzmaurice, Earl of Shelburne, flaunted his wealth and status by filling the room with ancient Greek and Roman marble statues that he had acquired in Italy. (At The Met, they're plaster casts.)
There's a revolution in your teapot: Learn more about the British Galleries in the Primer.
Cuxa Cloister (detail), ca. 1130–40. Catalan. Benedictine monastery of Saint-Michel-de-Cuxa, near Perpignan, France. Marble, 90 x 78 ft. (27.4 x 23.8 m). The Metropolitan Museum of Art, New York, The Cloisters Collection, 1925 (25.120.398–.954)
Imagine taking in the fresh air and feeling the sun on your skin in this peaceful courtyard at The Met Cloisters. Much of the stonework of this cloister comes from the Benedictine monastery of Saint-Michel-de-Cuxa. In its original location, this cloister was used as a space for meditation and reading aloud—we encourage you to do the same from home!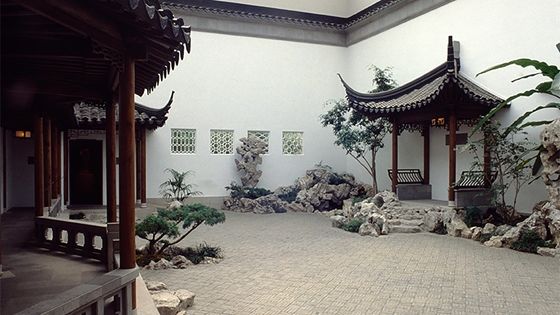 The Astor Chinese Garden Court (detail), 17th-century style. Ming dynasty (1368–1644). China. Taihu rocks, granite terrace, ceramic tile flooring, roof tiles, and door frames, various woods (nan wood columns, pine beams, gingko latticework), brass fittings. The Metropolitan Museum of Art, New York, Purchase, The Vincent Astor Foundation Gift, 1981
Get inspired in the Astor Chinese Garden Court. This feature was constructed for the Museum in 1980 by Chinese craftsmen using traditional materials and woodworking techniques. Chinese gardens always feature four essential elements—water, stone, plants, and architecture—and represent the opposing forces of yin and yang in the universe.
Leon Levy and Shelby White Court
This peristyle court evokes the style of an atrium that you might find in a Roman villa. The center of the court is filled with a myriad of ancient Roman sculptures that span the first century B.C. to the third century A.D. A glass roof allows these magnificent objects to be viewed in natural light.
Jan Steen (Dutch, 1626–1679). The Dissolute Household (detail), ca. 1663–64. Oil on canvas, 42 1/2 x 35 1/2 in. (108 x 90.2 cm). The Metropolitan Museum of Art, New York, Purchase, The Jack and Belle Linsky Collection, 1982 (1982.60.31)
If you've somehow managed to keep everything under control, introduce some chaos to your next meeting or cocktail hour with The Dissolute Household. Jan Steen packs his canvas—part "I Spy," part prophecy of misfortune for this family—with clues signaling an ominous fate awaiting the characters in this painting. Read more about the symbols Steen uses.
Utagawa Hiroshige (Japanese, 1797–1858). Teahouse at Hirokōji (detail), ca. 1835–42. Woodblock print; ink and color on paper, 9 7/8 in. x 14 1/2 in. (25.1 x 36.8 cm). The Metropolitan Museum of Art, New York, Purchase, Rogers Fund 1919 (JP1166)
This print from the great print master Utagawa Hiroshige depicts patrons at a teahouse at Hirokoji. A technological advancement from a century prior made colorful prints like this one possible—before, woodblock printing was primarily used to reproduce written texts. Polychrome prints, or nishiki-e, were made by using separate carved blocks, one for each color, and could be reproduced thousands of times over for wide distribution.
Learn more about Ukiyo-e woodcut prints.
---
More from the Blogs
---