Visiting Guide
Over the course of eighty years of warfare, finally concluded in 1648, the northern provinces of the Netherlands achieved independence from Spain and established the Dutch Republic. In this officially Protestant state, artists could not rely on church or court commissions; instead, they developed a recognizably modern art market that encouraged experimentation and led to the emergence of new secular kinds of painting, such as landscape and still life.
Dutch paintings were among the first works purchased by The Met after its founding in 1870. Subsequent gifts and purchases built one of the world's great collections of Dutch art, focused on three towering figures: Rembrandt van Rijn, Frans Hals, and Johannes Vermeer. There are, of course, blind spots in the story these particular acquisitions tell. Colonialism, slavery, and war—major themes in seventeenth-century Dutch history—are scarcely visible here, and only one picture painted by an early modern Dutch woman has entered the collection over the course of nearly 150 years.
This exhibition presents The Met's fabled seventeenth-century Dutch paintings in a new light. Famous works appear in dialogue with others long kept in storage, and pictures usually shown in separate parts of the Museum—including paintings from the Robert Lehman Collection—are united in a thematic arrangement that emphasizes the controversies that animated the era, whether about religion or realistic depictions of the human body. The exhibition title comes from an address the Dutch artist Philips Angel gave in 1641, in which he promoted painting's ability to imitate nature. Gathering together realist and idealist works, icons of the Museum and remarkable rediscoveries, this presentation brings back to life seventeenth-century debates about art, faith, and consumption.
---
Faces of a New Nation
The Dutch Republic emerged out of a revolution against Spanish imperialism and the imposition of the Catholic faith. In the process, the once politically and culturally unified Netherlands split into two states—the independent and officially Protestant Dutch Republic, and the Spanish Netherlands, roughly corresponding to modern Belgium, which remained Catholic. Flooded with refugees from war and religious persecution, the Dutch Republic was a nation of great social mobility and diversity. Those who could afford to commission portraits used them to express their identities and status through costume, accessories, and coats of arms. Portraiture offered artists not only a ready source of income, but also the chance to experiment, devising new ways to express individuality and the ties of affection between couples and family members.
A slider containing 11 items.
Press the down key to skip to the last item.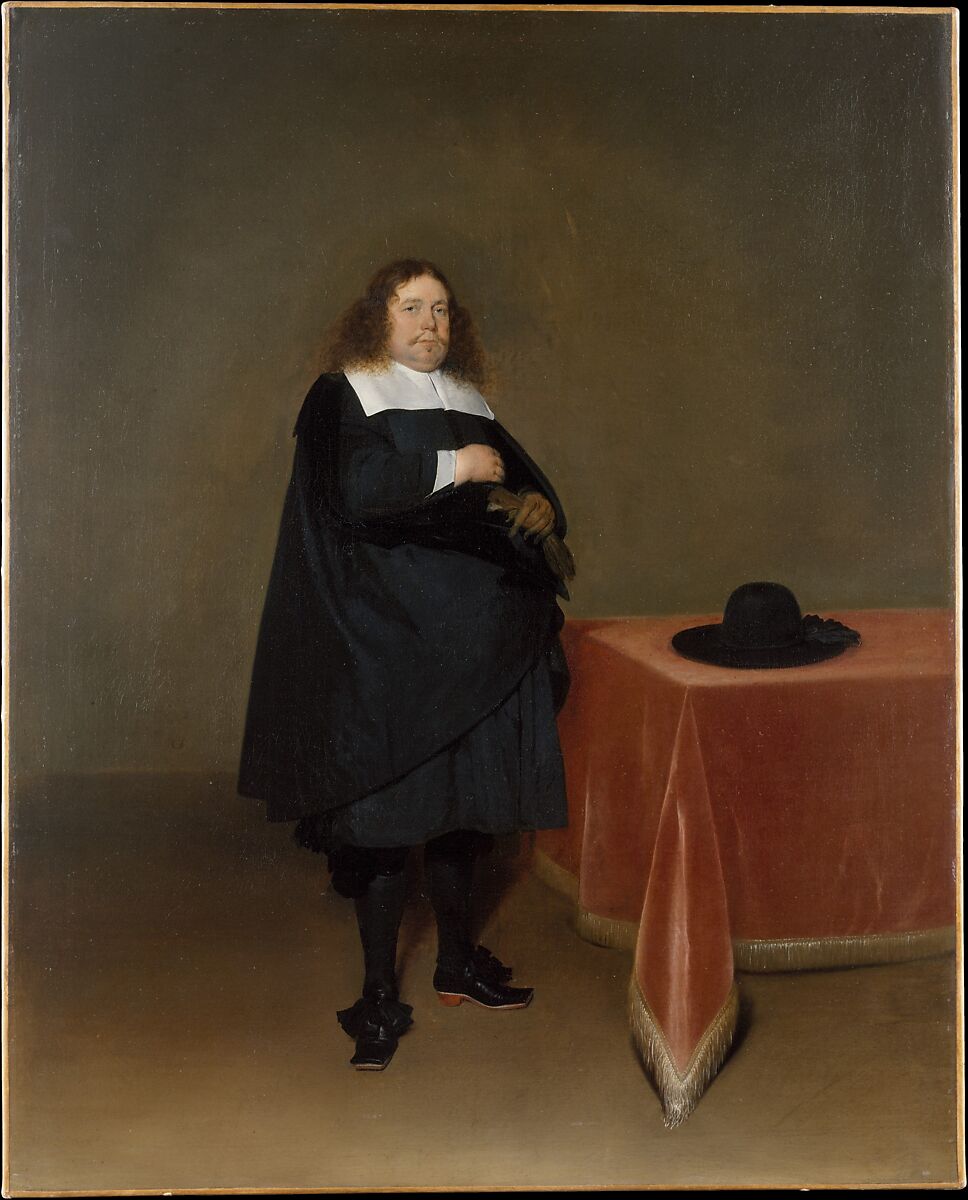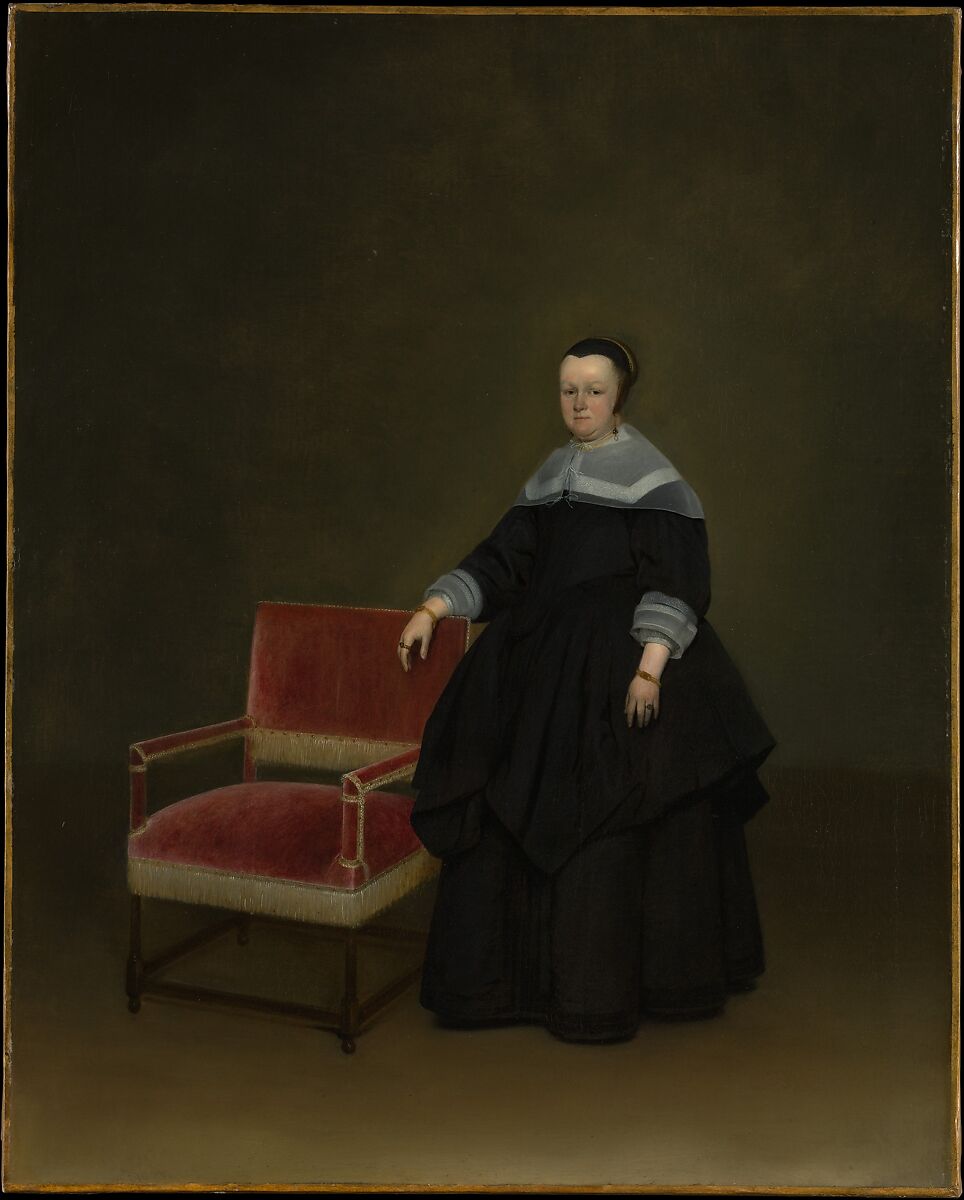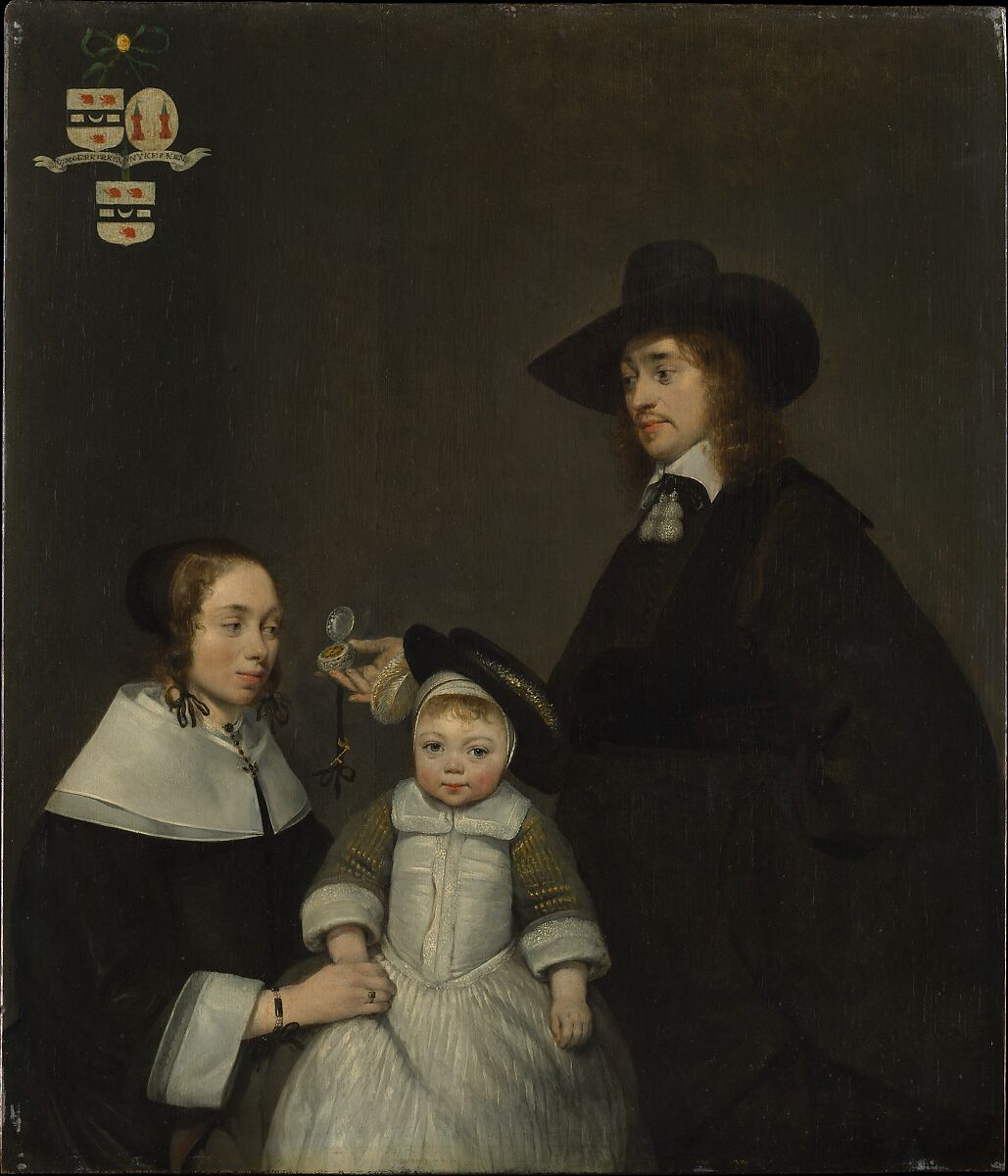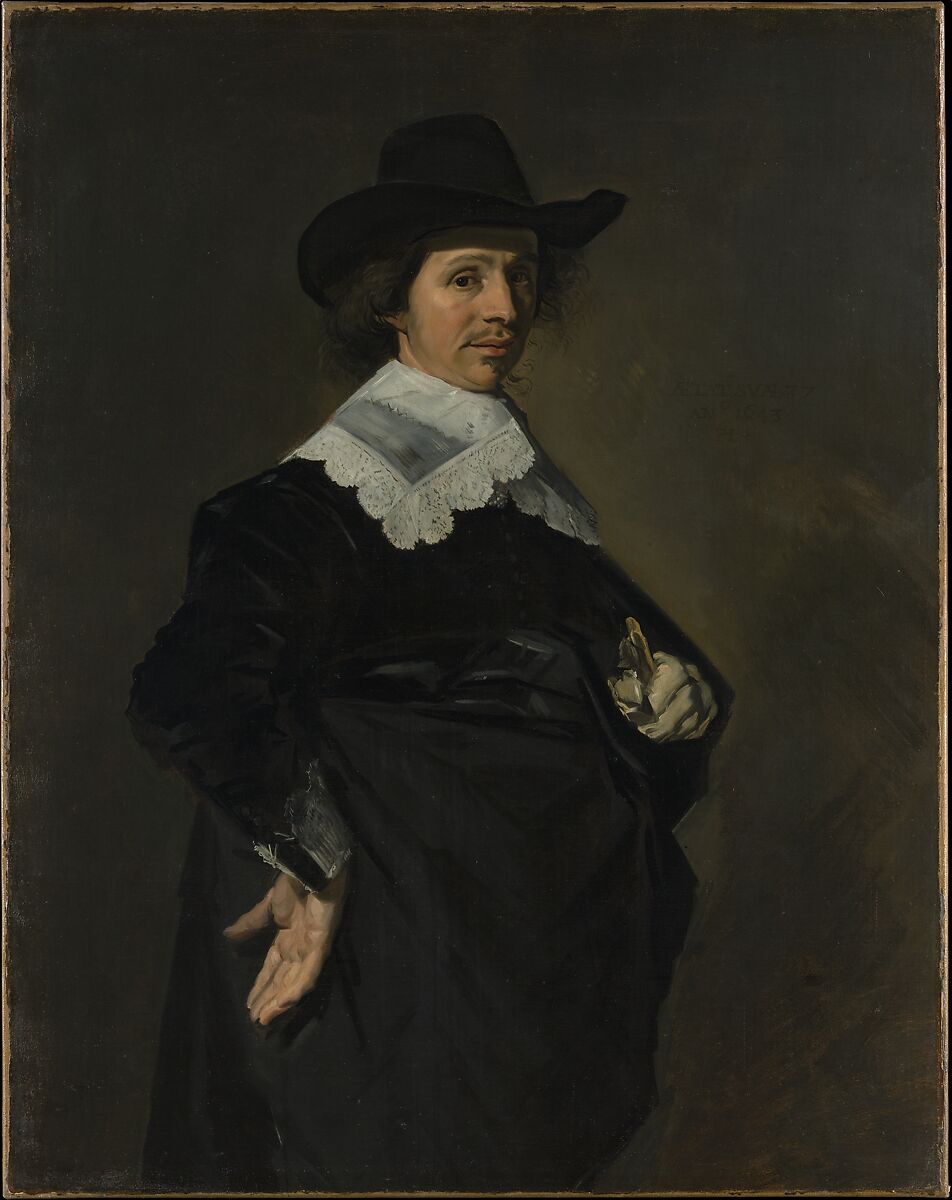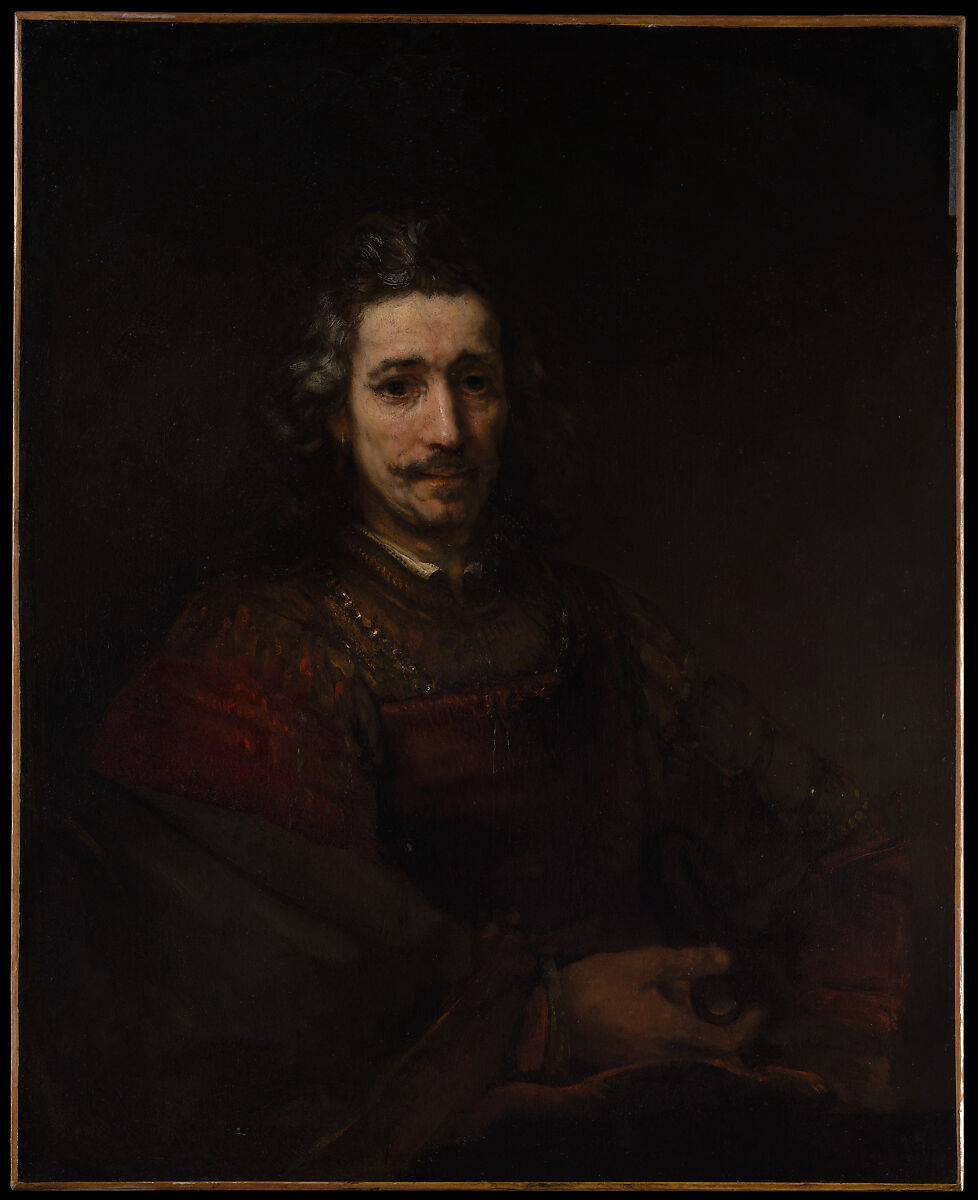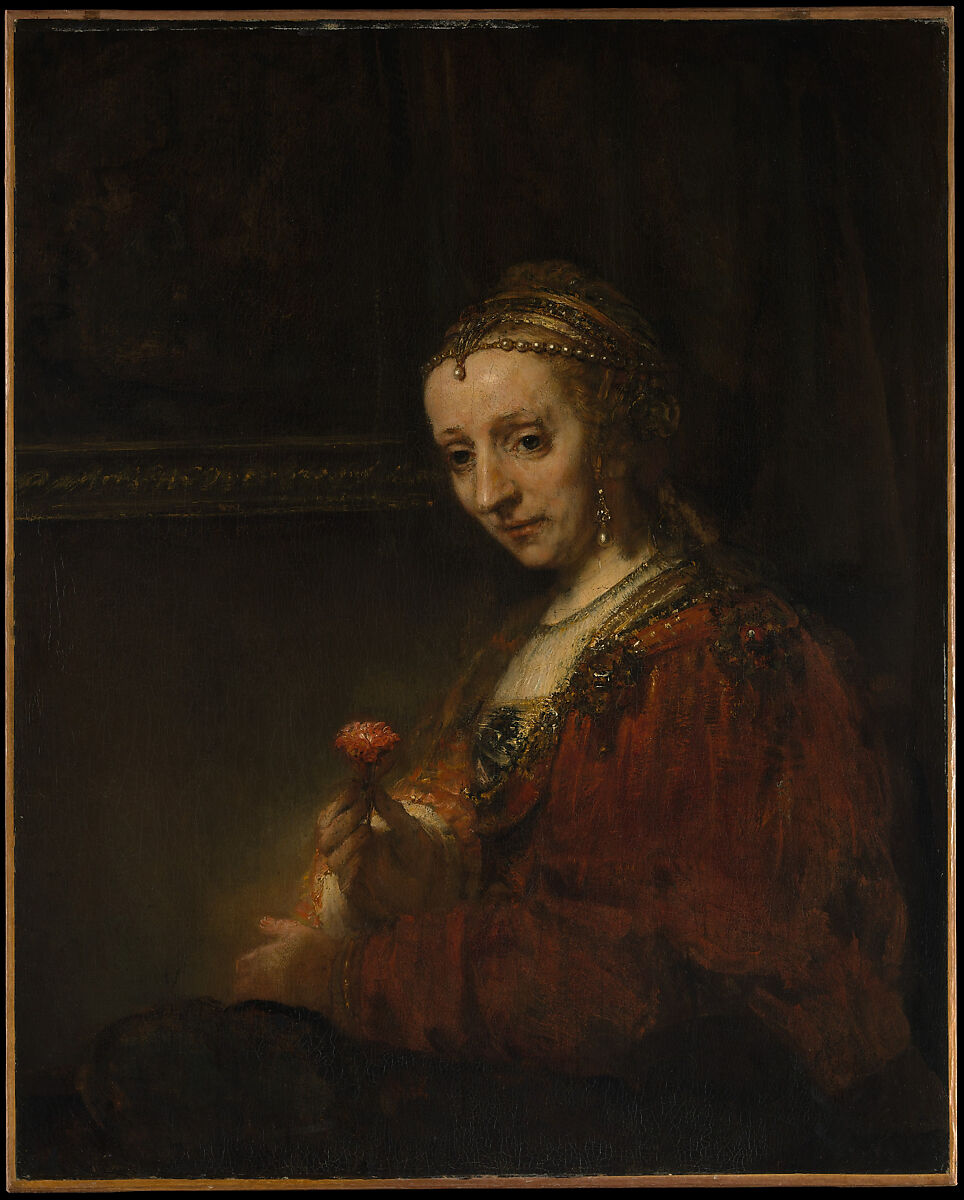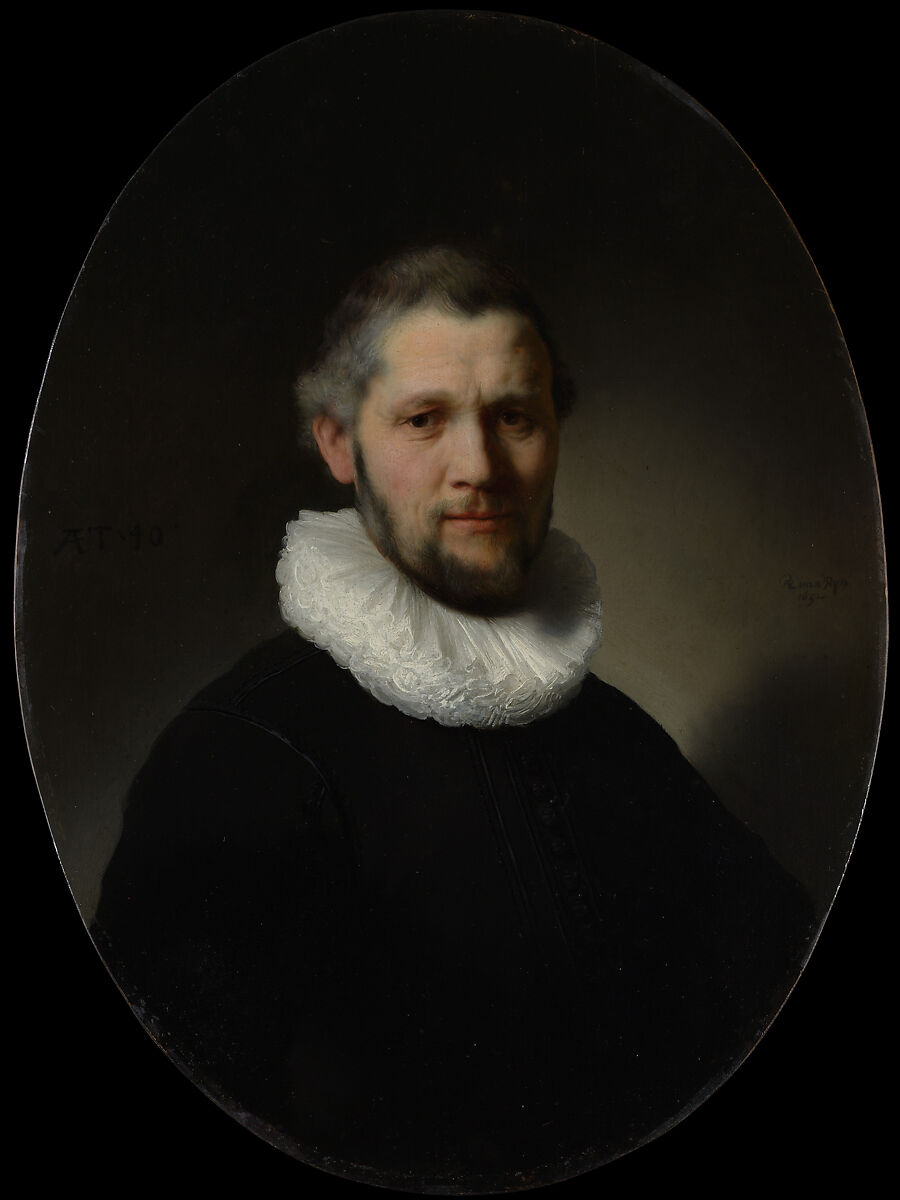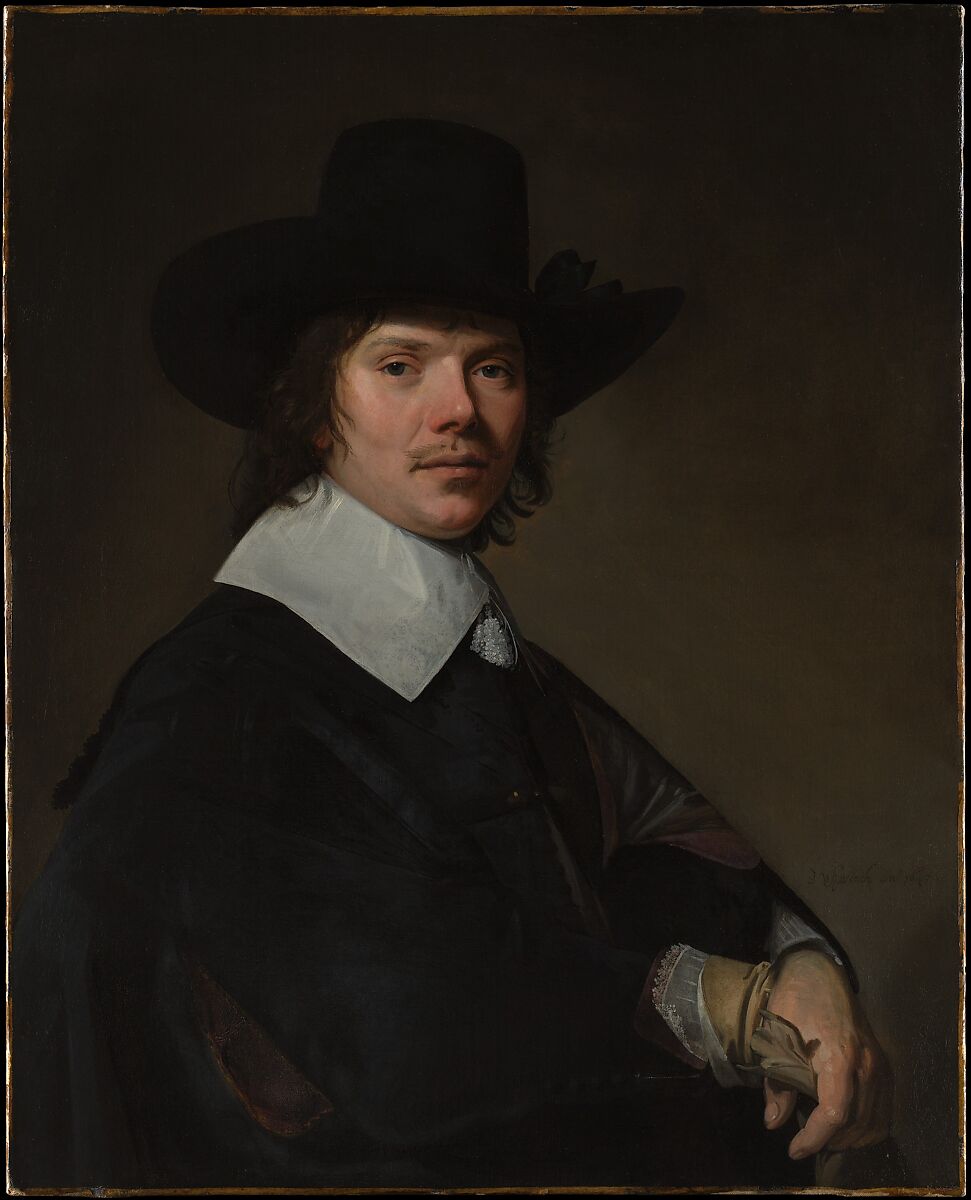 ---
Questions of Faith
The Dutch Revolt began in 1566 with an outburst of violence that included the wholesale destruction of religious art in churches throughout the Netherlands (events known as the Iconoclasm). In the officially Protestant Dutch Republic that gained independence over the following decades, devotion focused on scripture, ostensibly without the mediation of images, and churches were whitewashed and stripped of paintings, sculpture, and stained glass. Nonetheless, a substantial portion of the population, including prominent citizens and artists such as Vermeer, remained Catholic. The paintings gathered in this section—ranging from views of the reformed interiors of Protestant churches to images of Catholic devotion, intended for the private veneration of the Virgin Mary—reflect the religious diversity of the Dutch Republic.
A slider containing 6 items.
Press the down key to skip to the last item.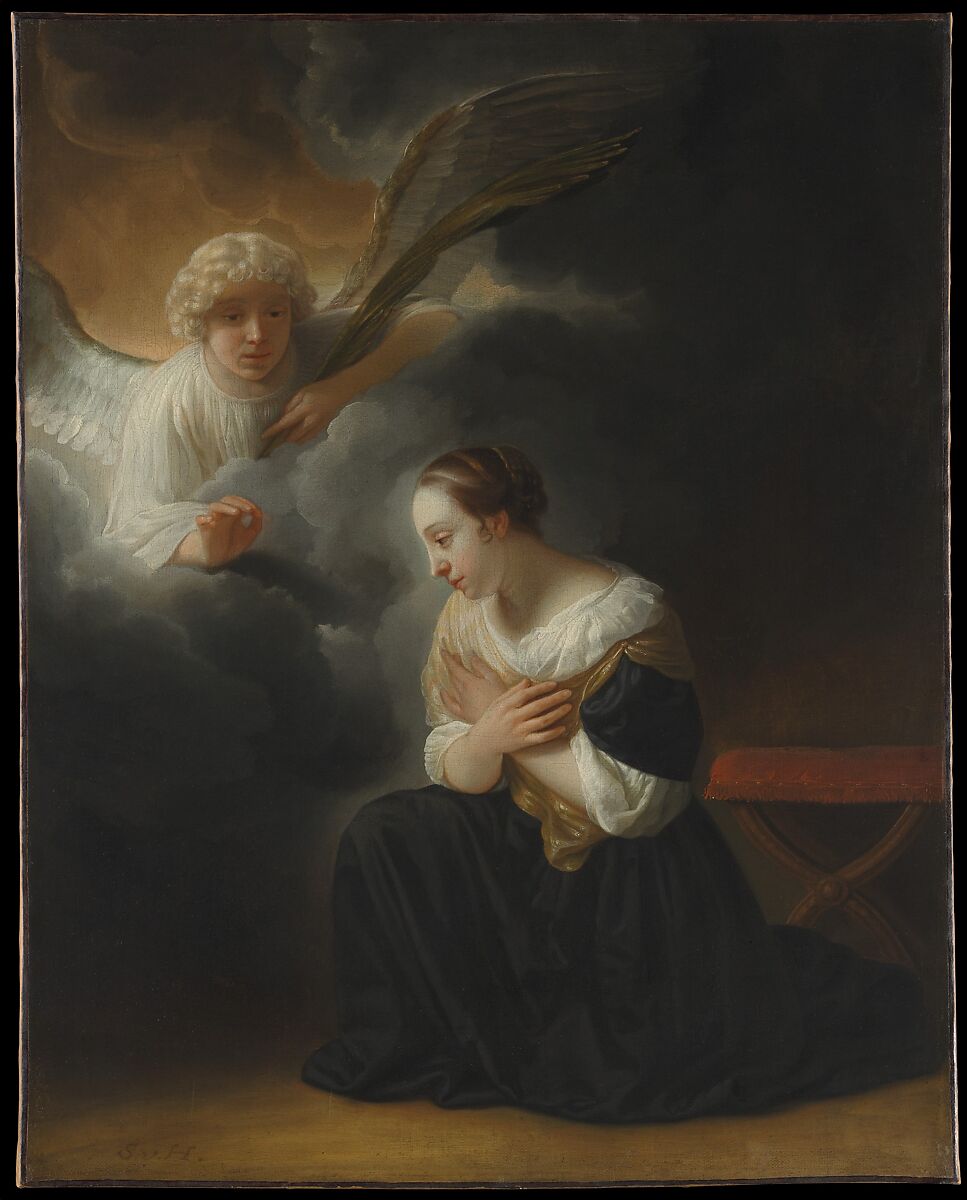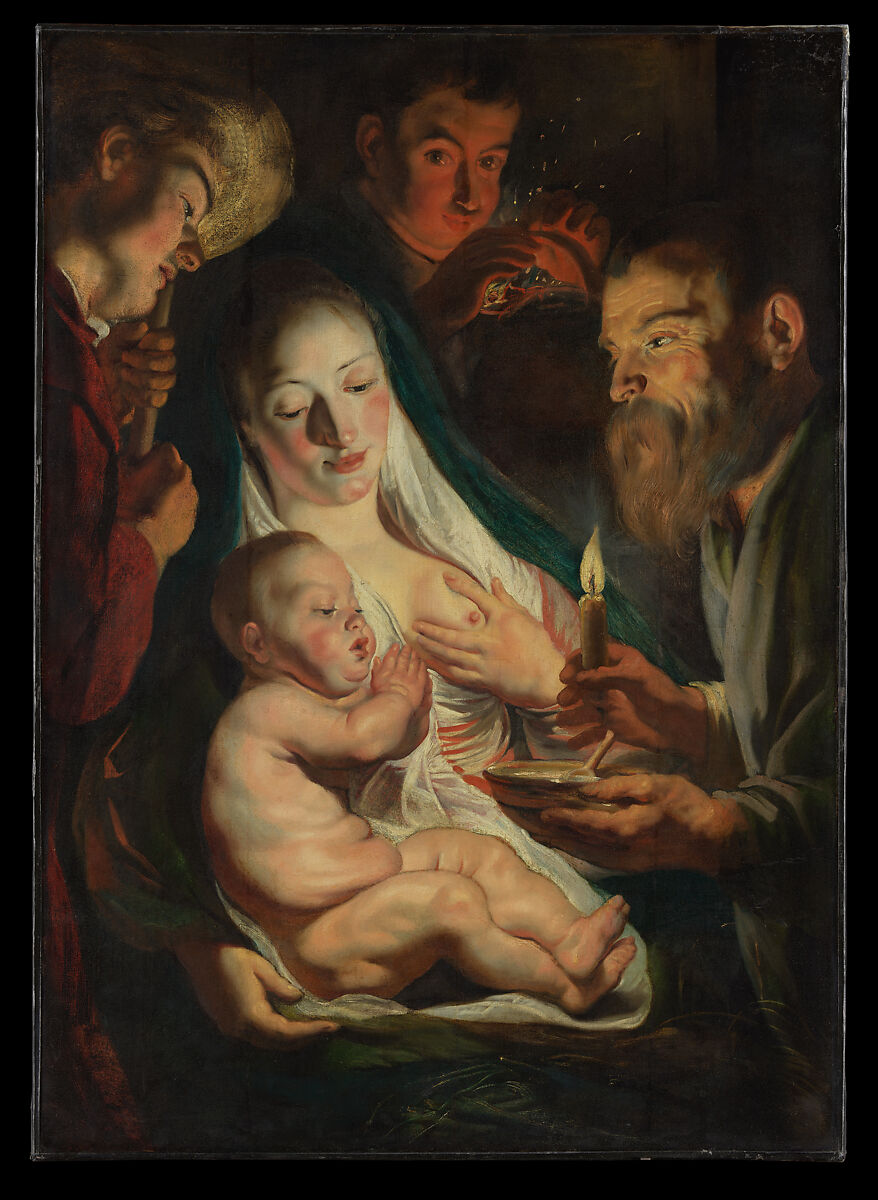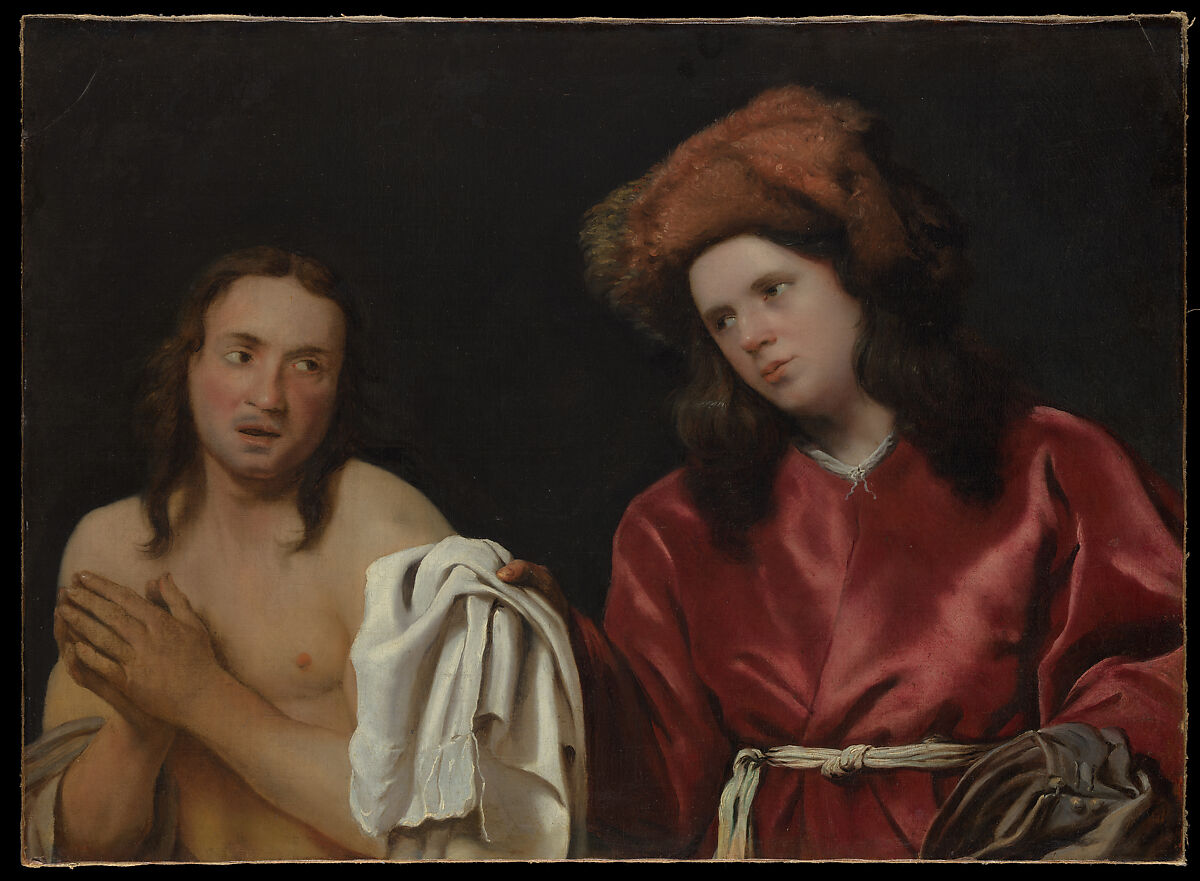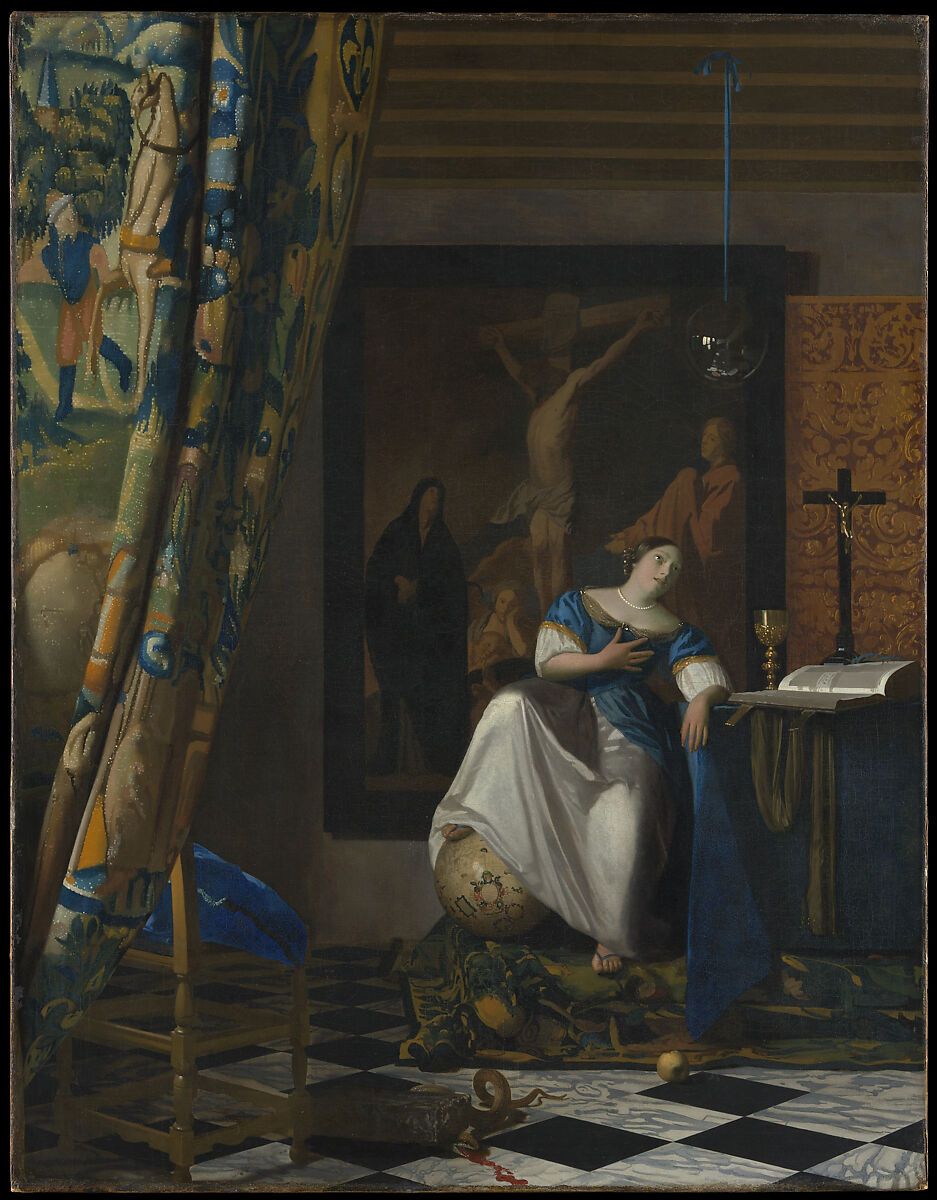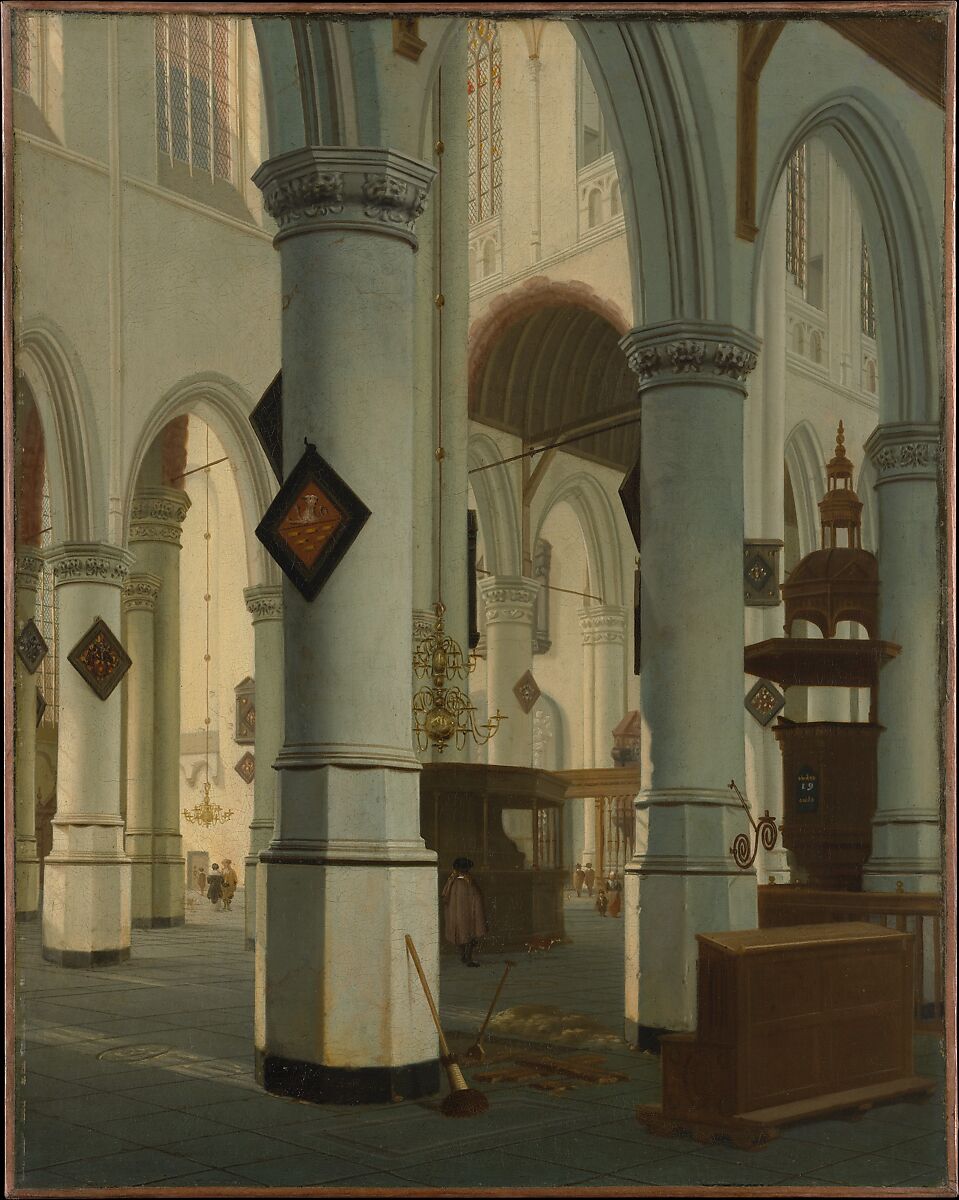 ---
Staking a Claim
The flat terrain of the Netherlands provided the unlikely inspiration for the birth of independent landscape painting in Europe, where it had previously functioned as a setting for religious or historical storytelling. Seventeenth-century Dutch painters embraced the broad vistas and dramatic skies of their home turf, transforming ordinary fields and harbors into meditations on the relationship between people and their environment. Other artists traveled abroad or used their imaginations to conjure more exotic landscapes that appealed to a nation of traders and colonizers. As the mercantile class increasingly adopted the trappings of the aristocracy, they decorated their estates with images that expressed an ideal of land ownership and rural abundance.
A slider containing 12 items.
Press the down key to skip to the last item.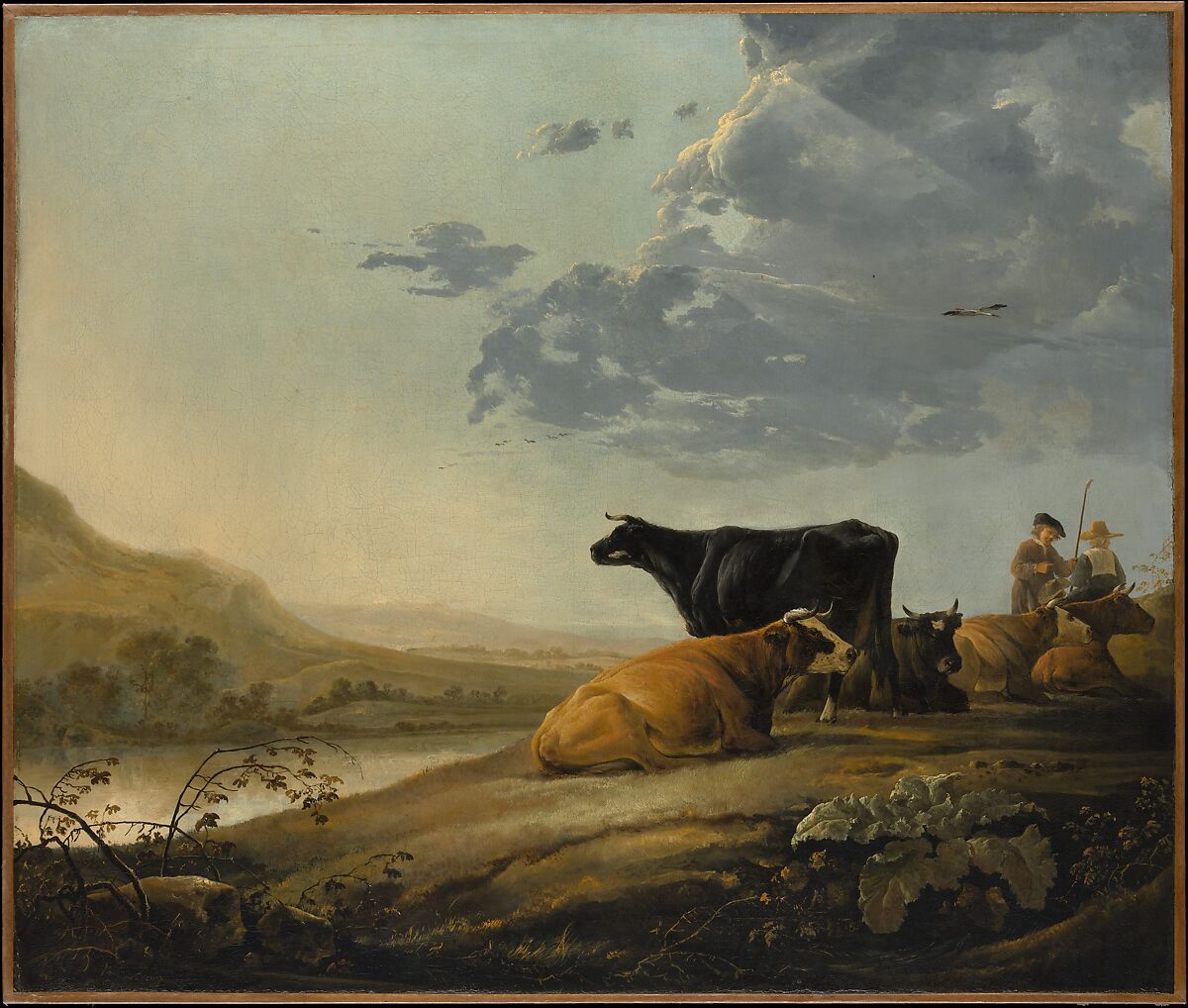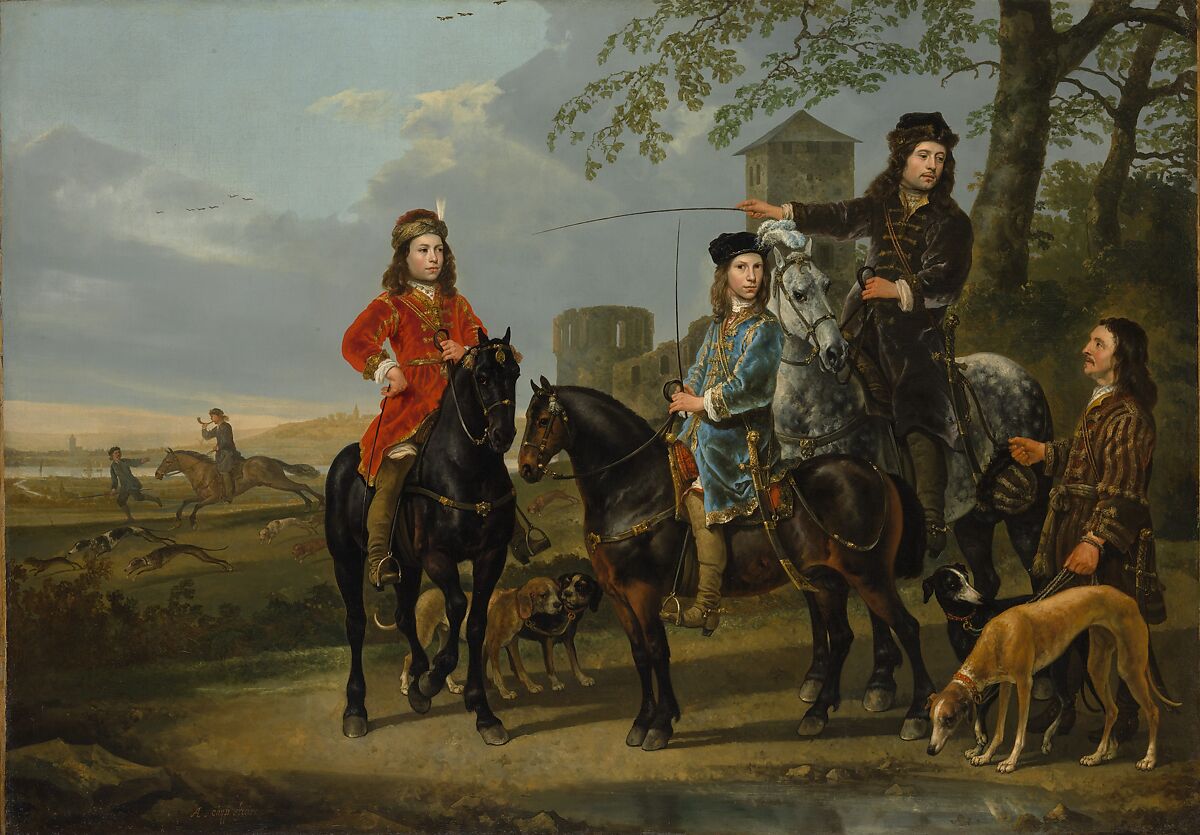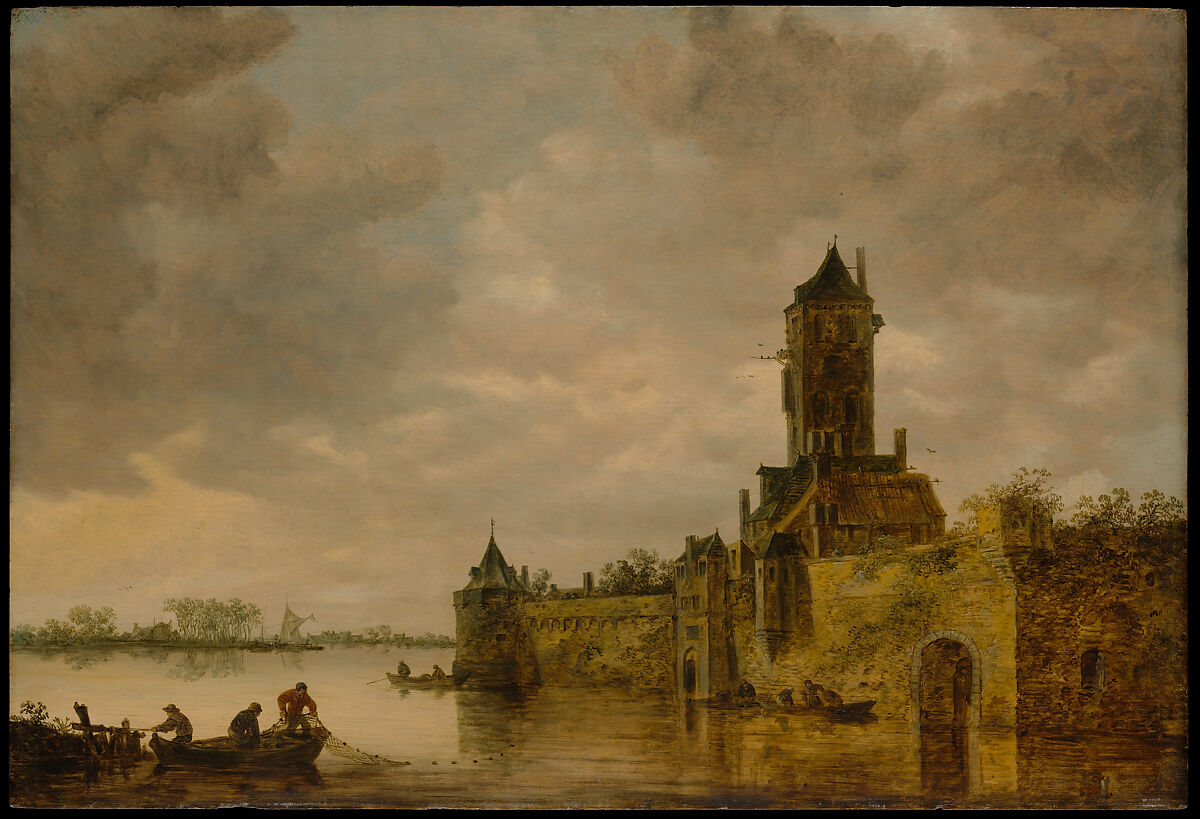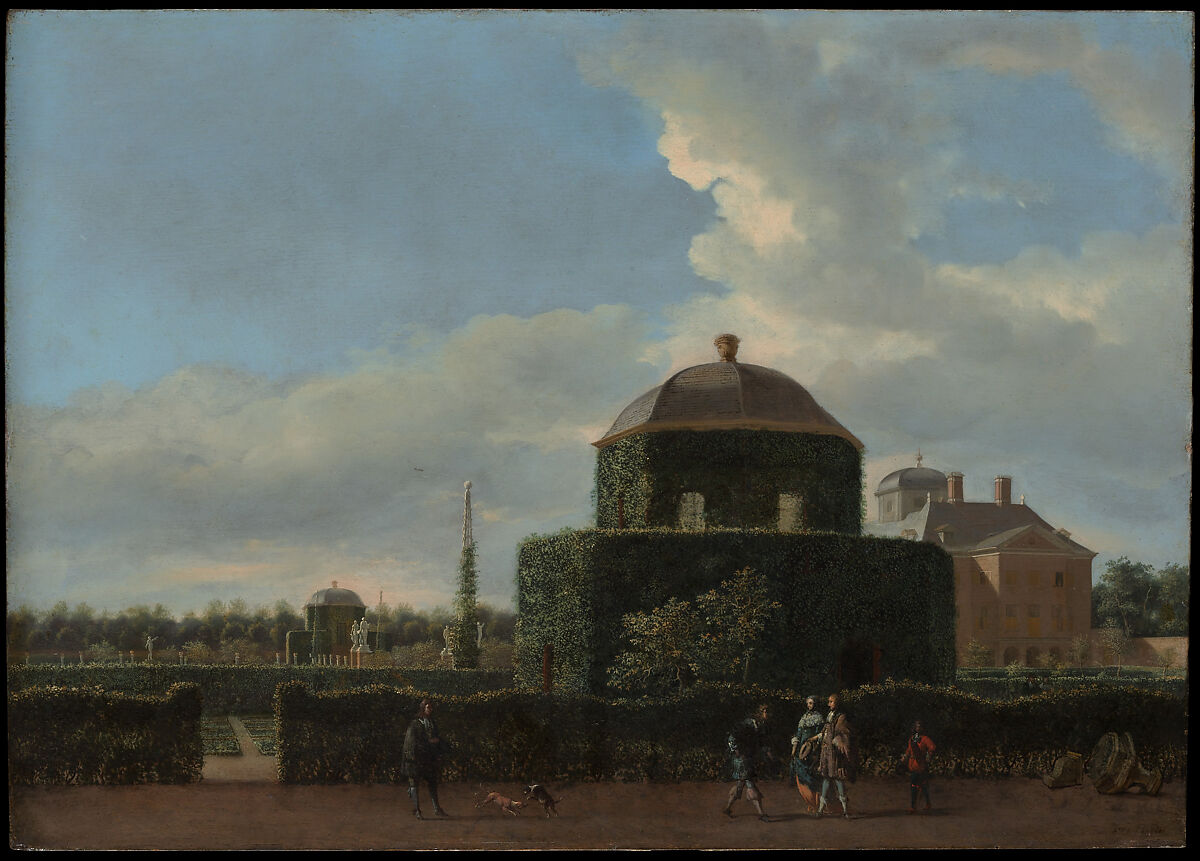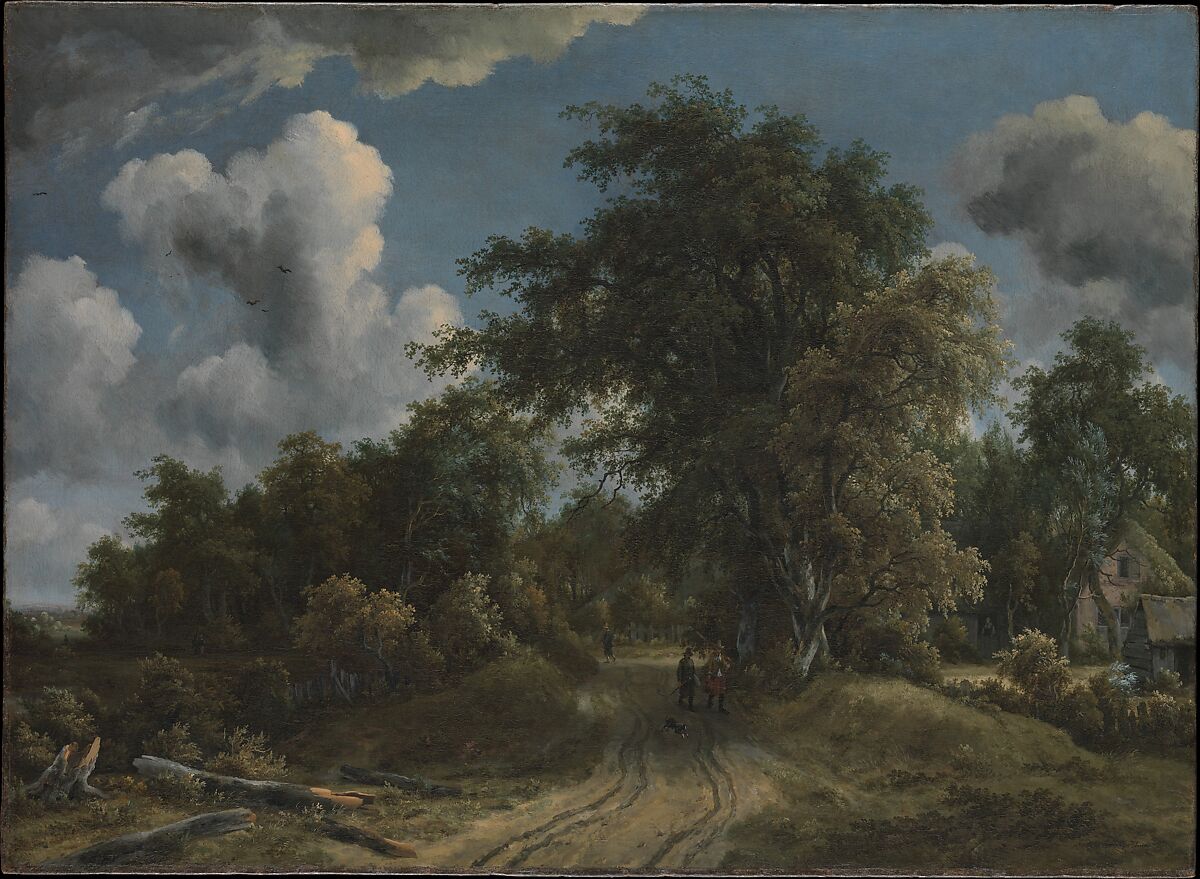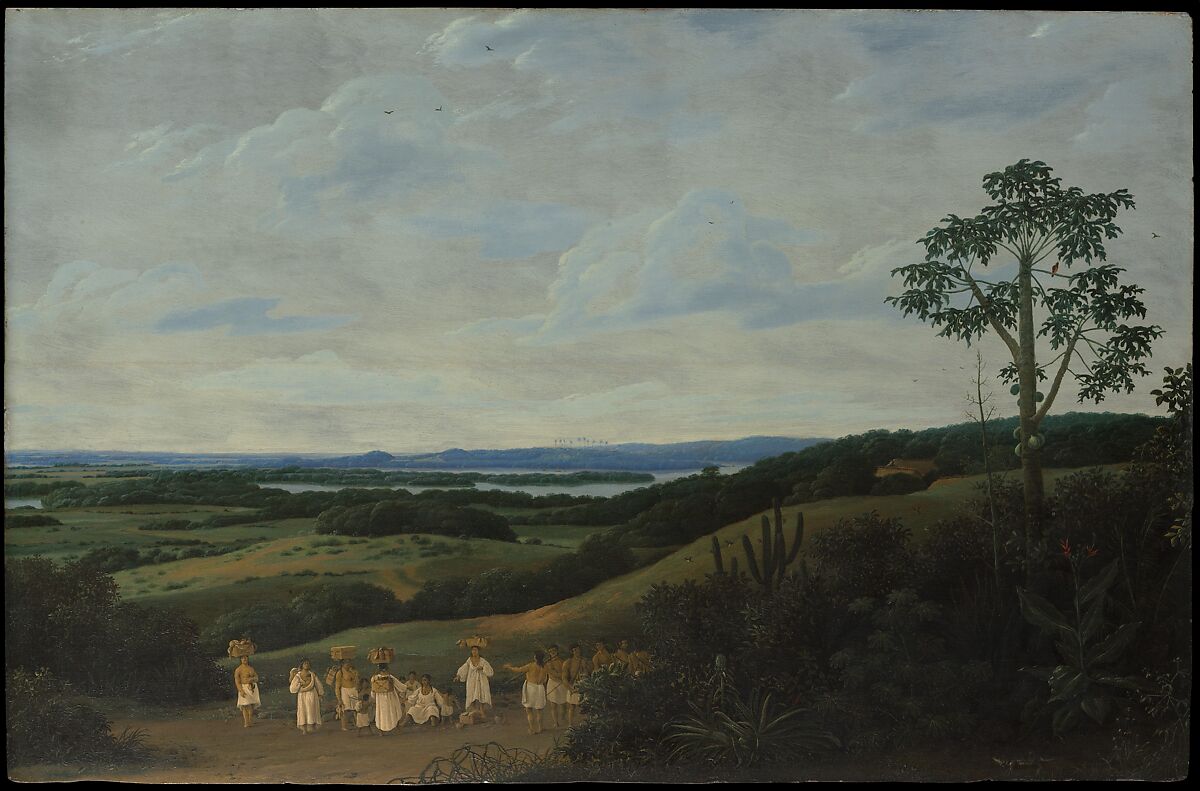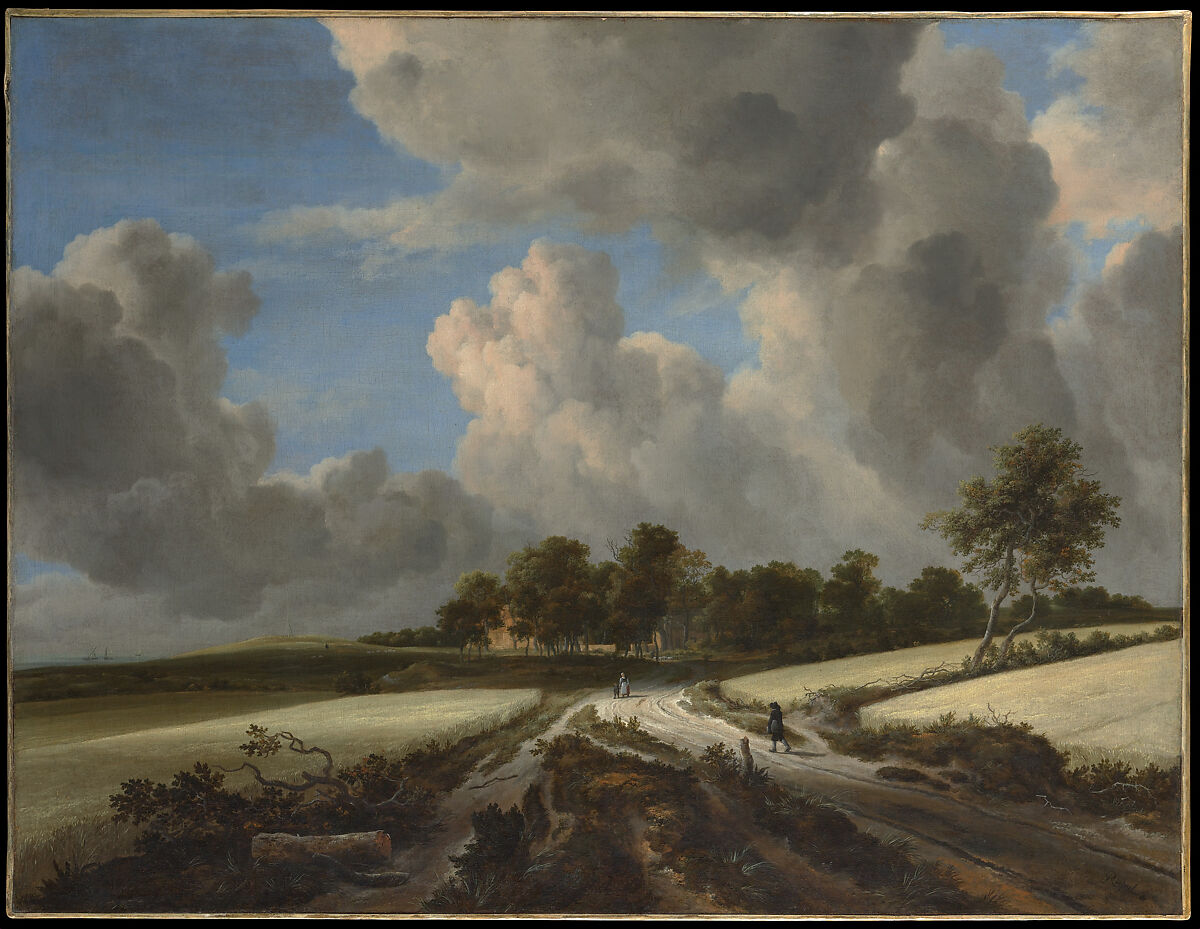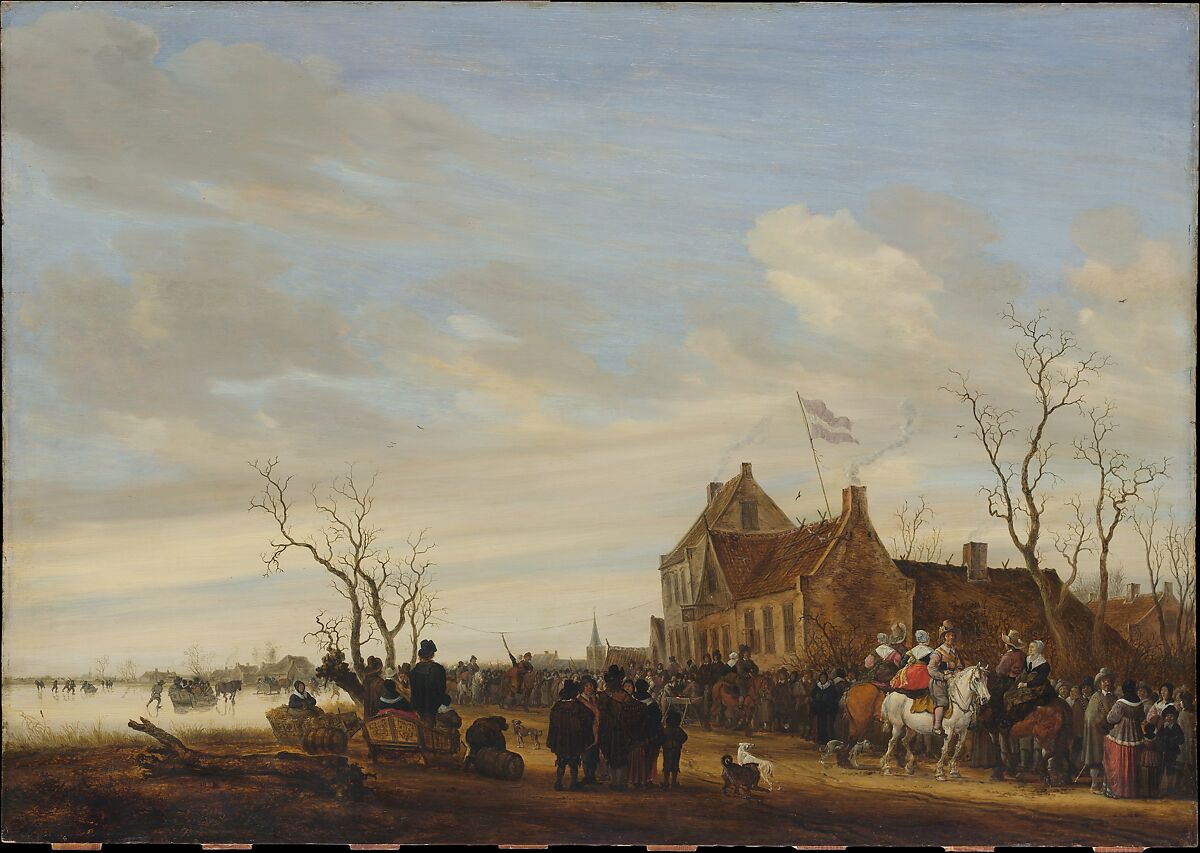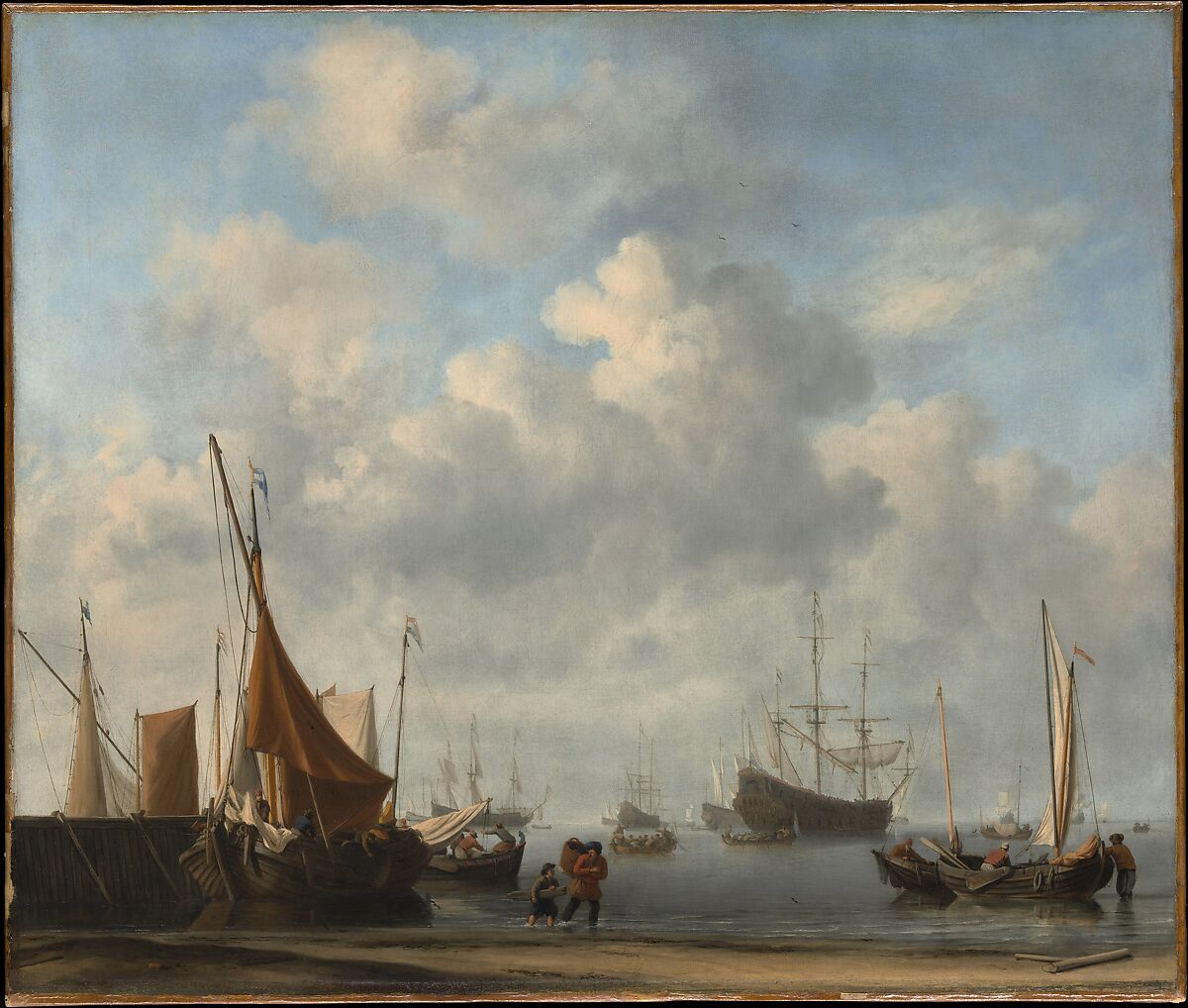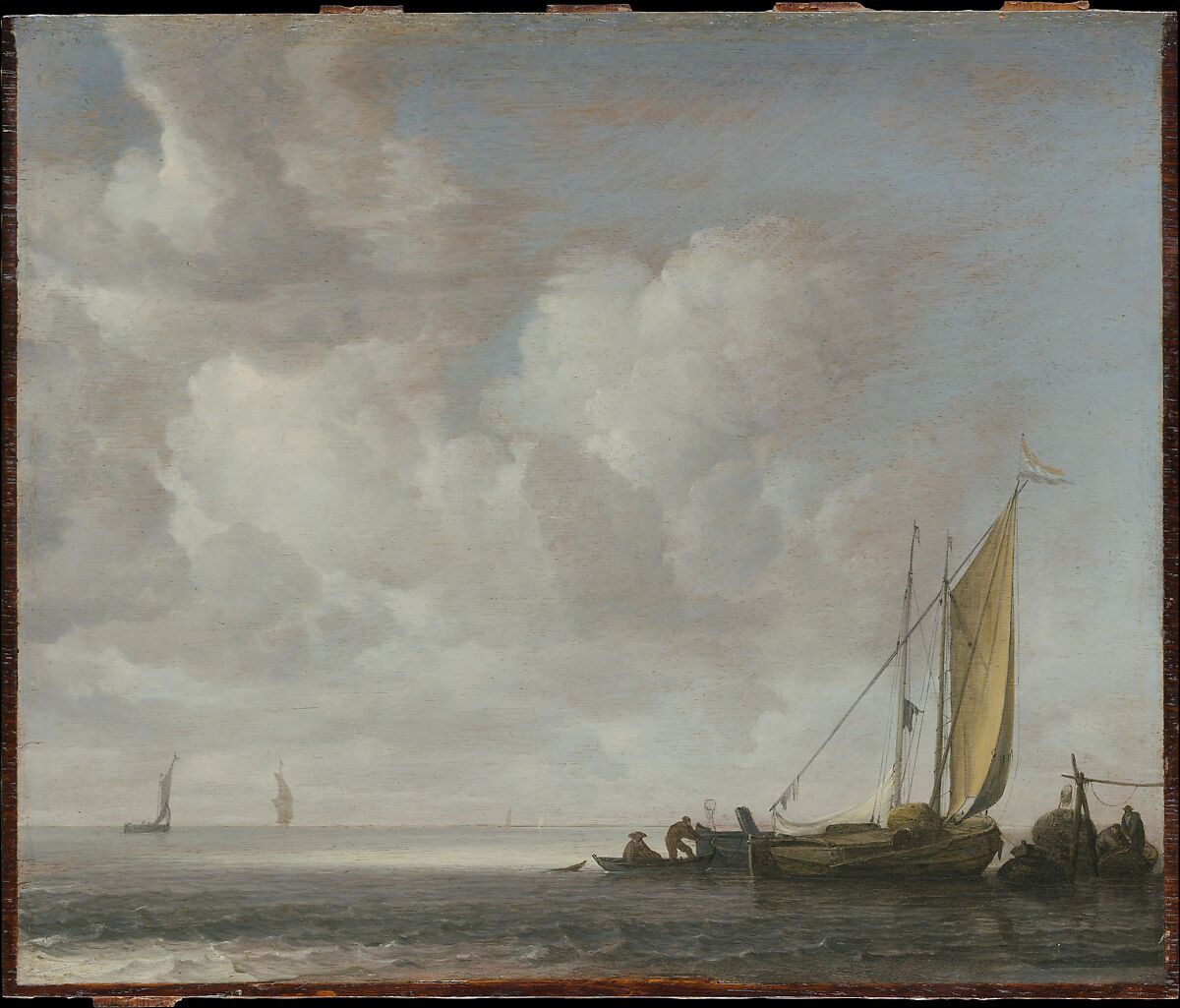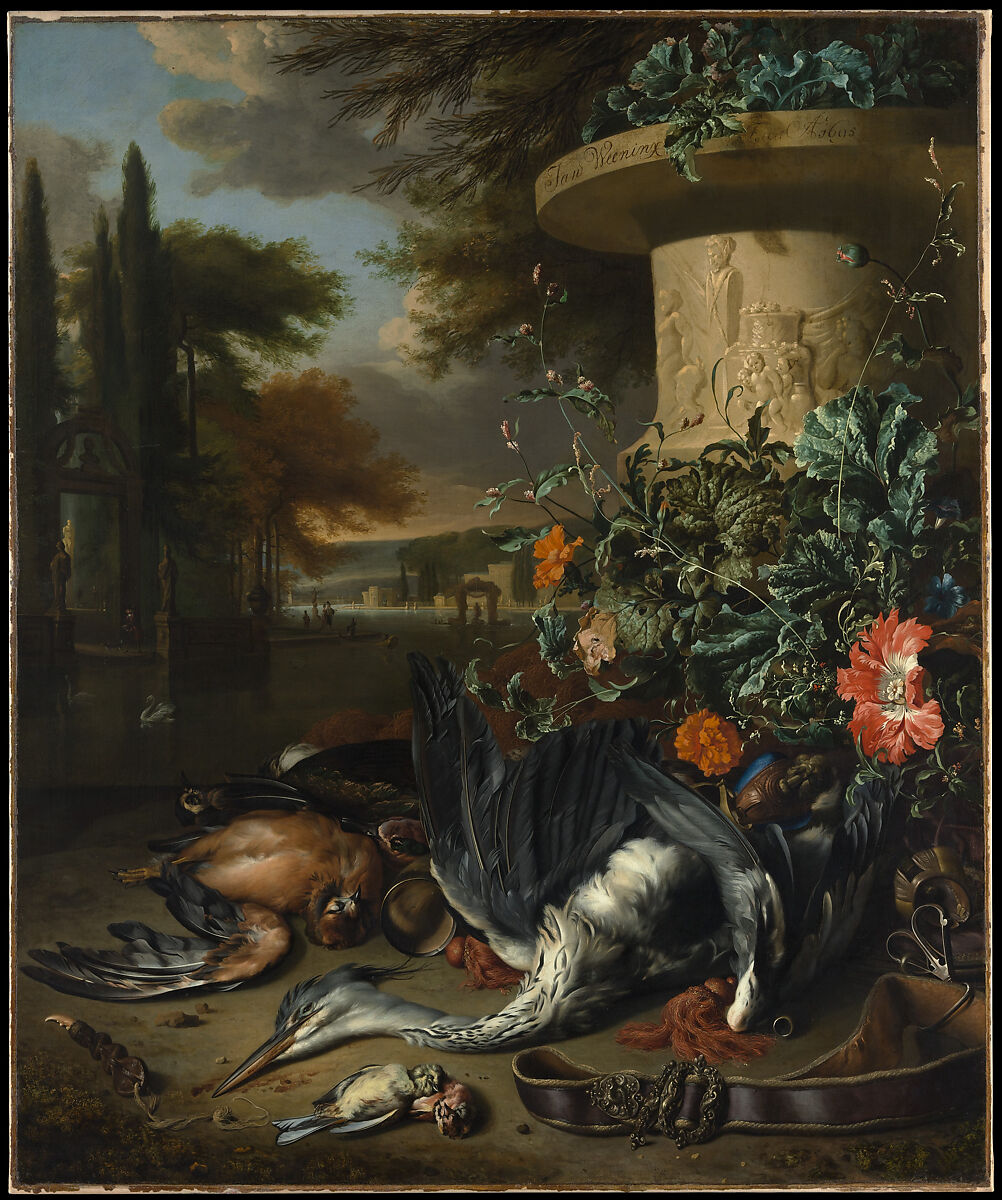 ---
Masters, Pupils, Rivals
I do not want to deny that I once had a special preference for [Rembrandt's] manner; but at that time I had hardly begun to understand the infallible rules of art. I found it necessary to recant my error and to repudiate his.
—Gerard de Lairesse, 1707
No figure has dominated the story of seventeenth-century Dutch painting like Rembrandt van Rijn. Celebrated from an early age, he established a large studio in Amsterdam with many pupils who emulated his manner. A number of these students, such as Gerrit Dou and Nicolaes Maes, eventually succeeded in creating independent styles and successful careers of their own. As Rembrandt aged, his art fell out of fashion, and he became the target of idealist critics, including some of his former followers and admirers. Although he died in poverty, Rembrandt's work was rediscovered by eighteenth-century collectors and has remained coveted ever since.
A slider containing 7 items.
Press the down key to skip to the last item.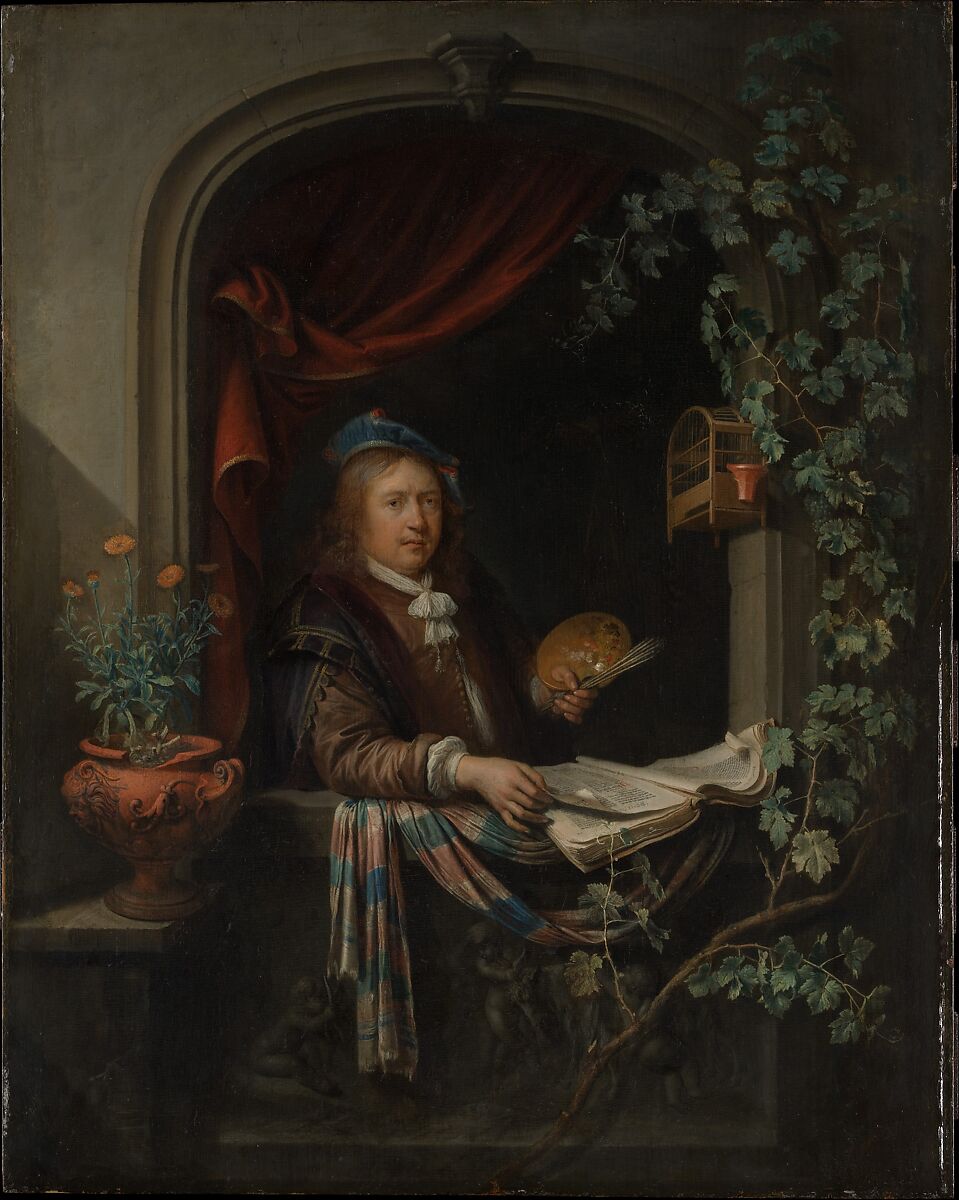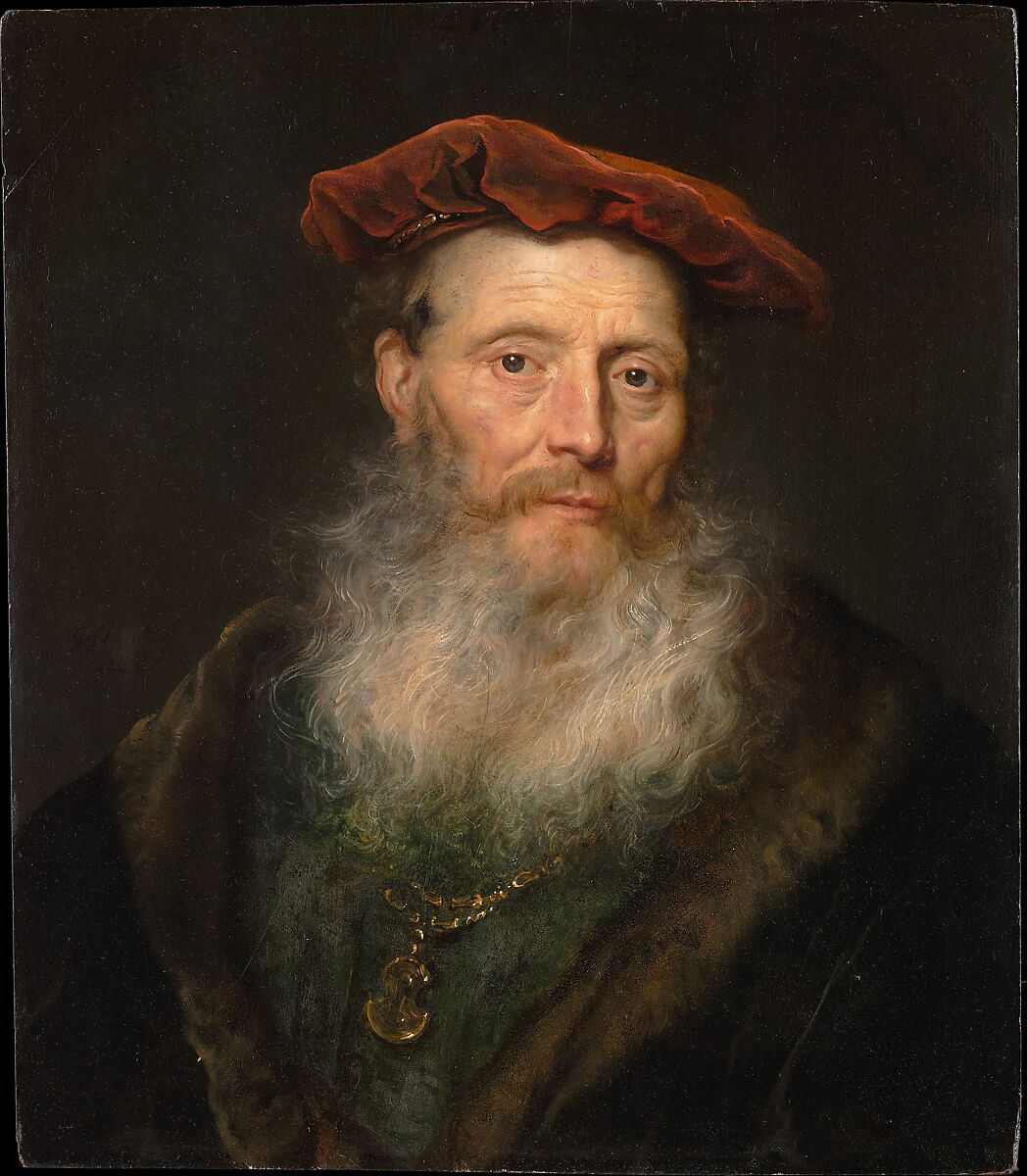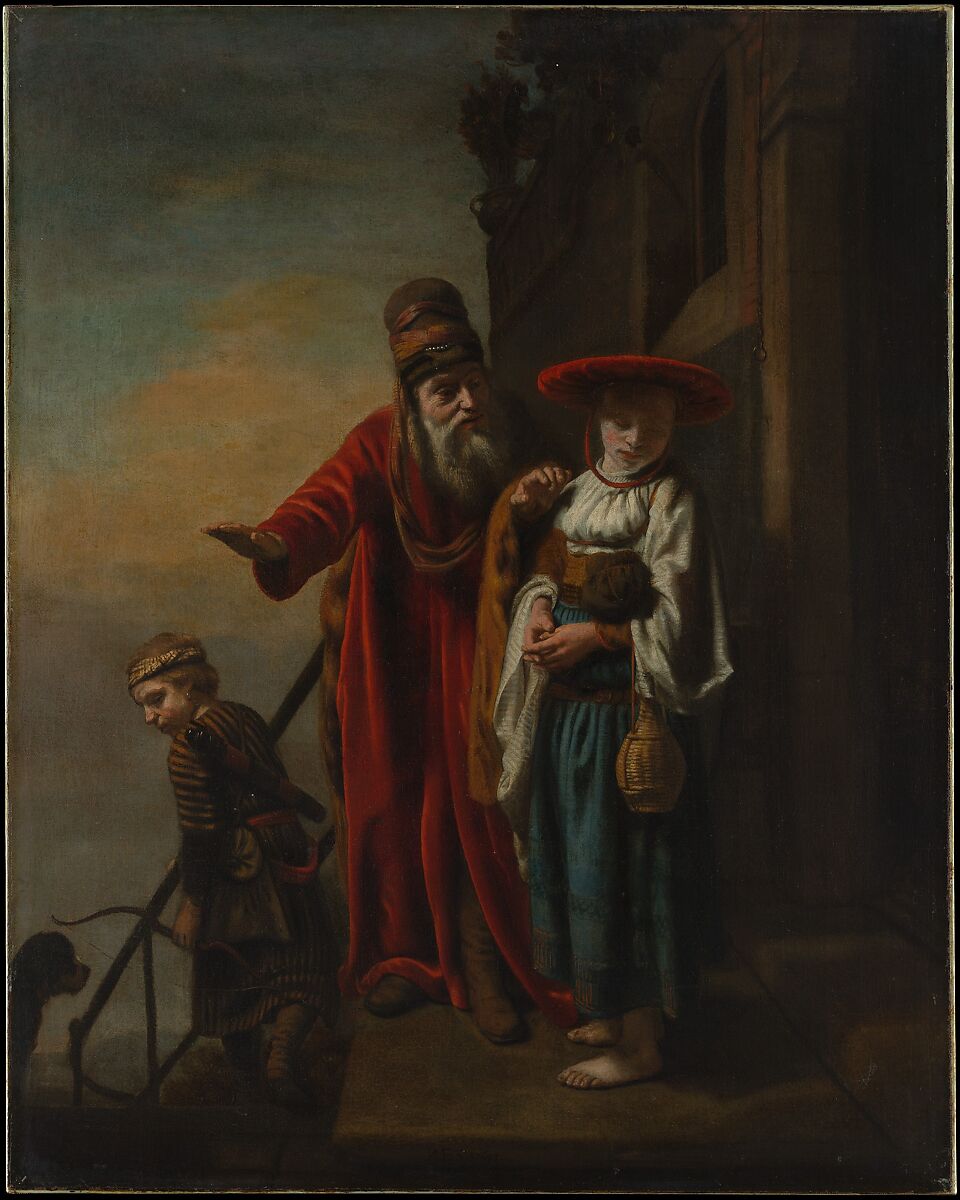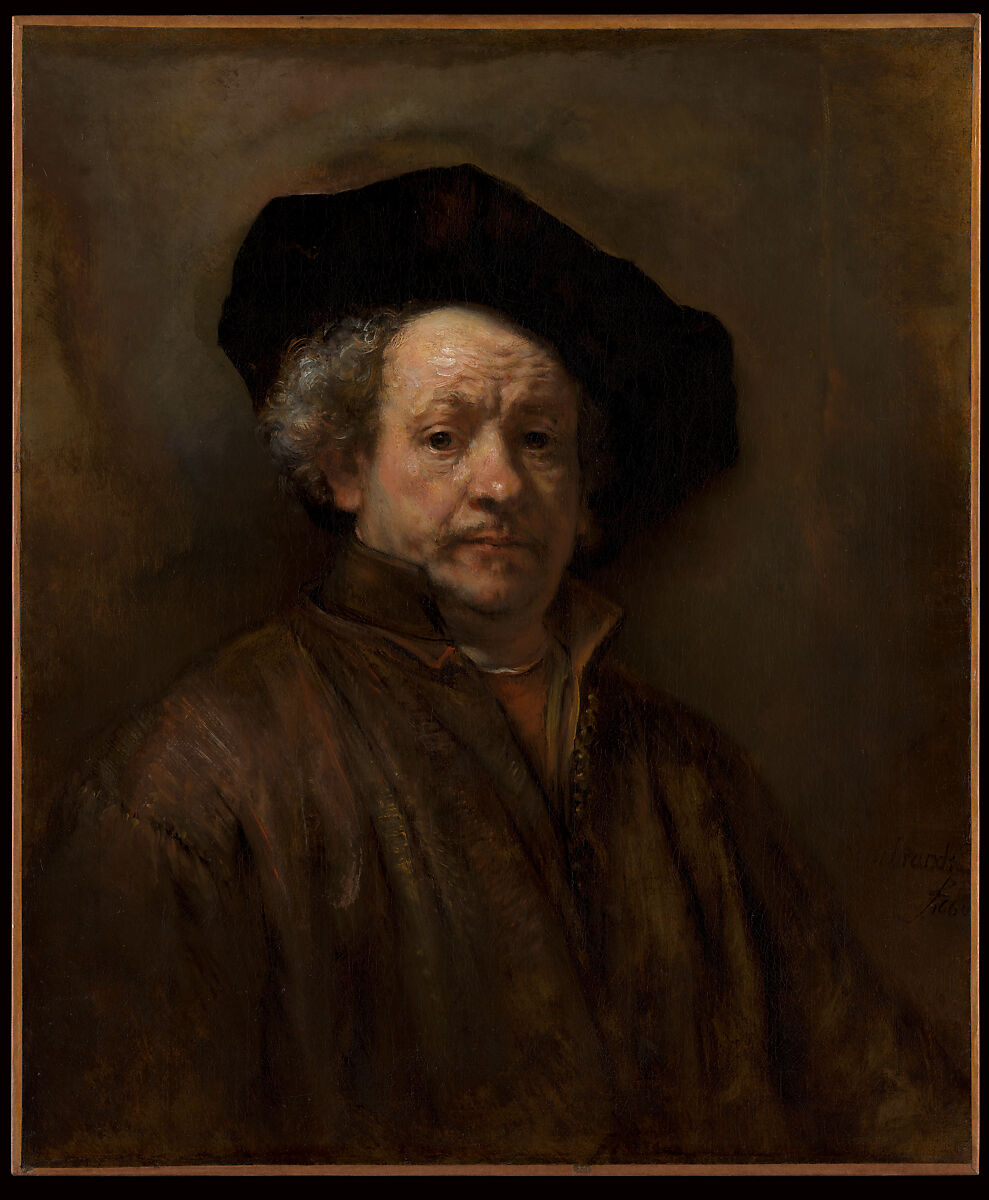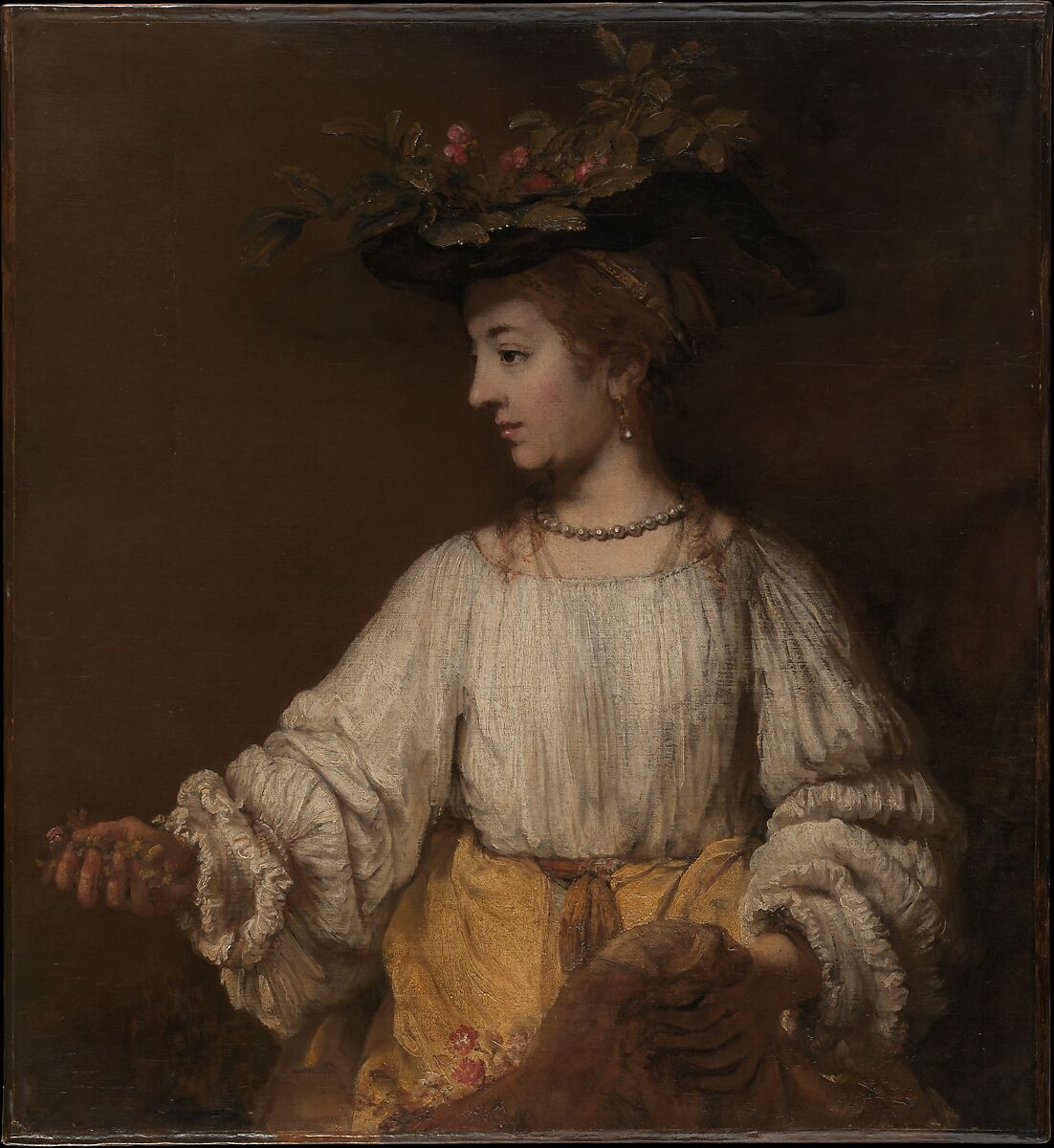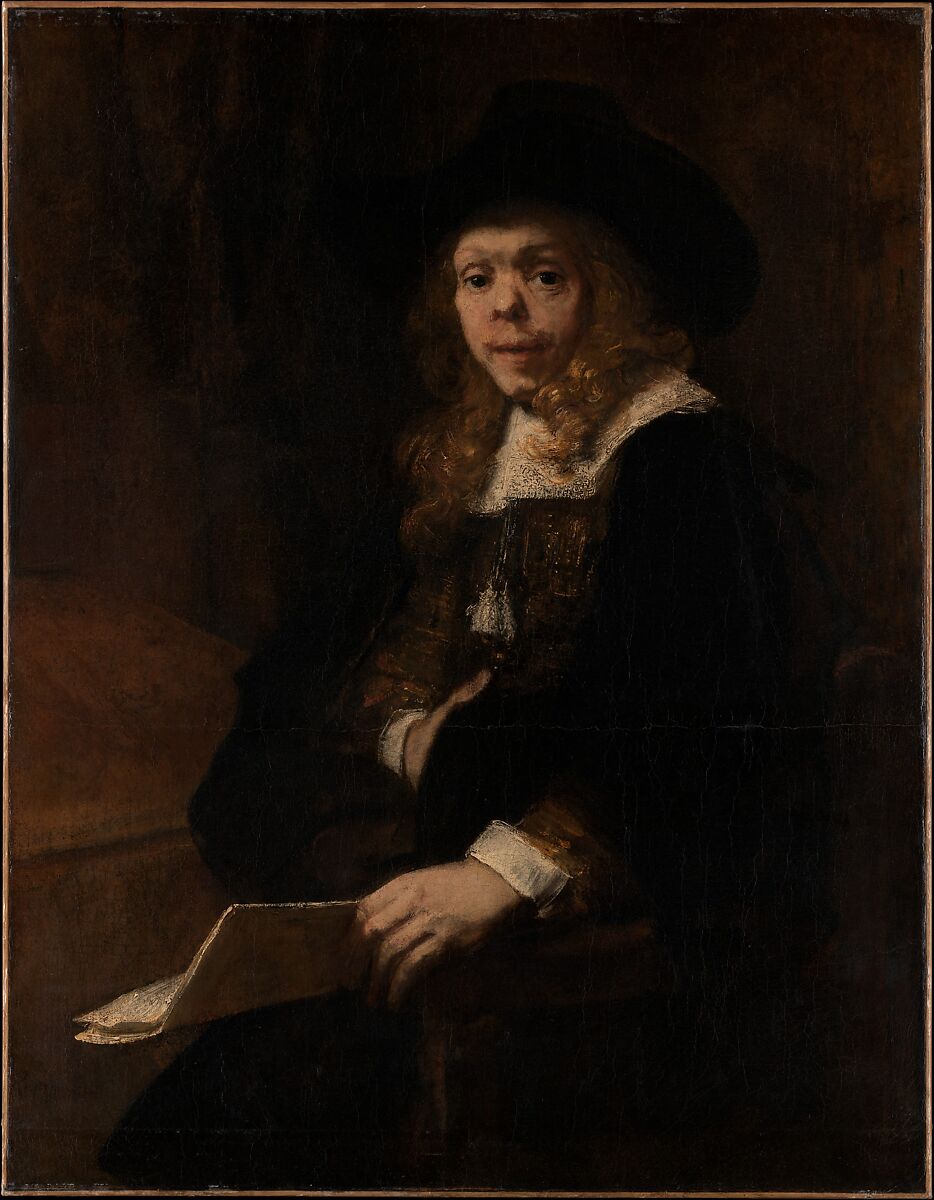 ---
Comic Painting
We hardly see a beautiful hall or fine apartment of any cost that is not decorated with pictures of beggars, bordellos, taverns, tobacco smokers, musicians, dirty children on their pots, and other things more filthy and worse.
—Gerard de Lairesse, 1707
Although the paintings in this section were expensive commodities destined for discerning patrons, their subject matter is down-to-earth and, in some cases, lewd. In the first half of the seventeenth century especially, Dutch collectors reveled in scenes of carousing and misbehavior, particularly among the lower classes. Scholars debate the degree to which such paintings reinforced a sense of moral and social superiority in the viewer or simply provided a good laugh. As the Dutch elite adopted more of the tastes and behaviors of French aristocratic culture later in the century, this coarse and comic subject matter began to fall out of fashion.
A slider containing 5 items.
Press the down key to skip to the last item.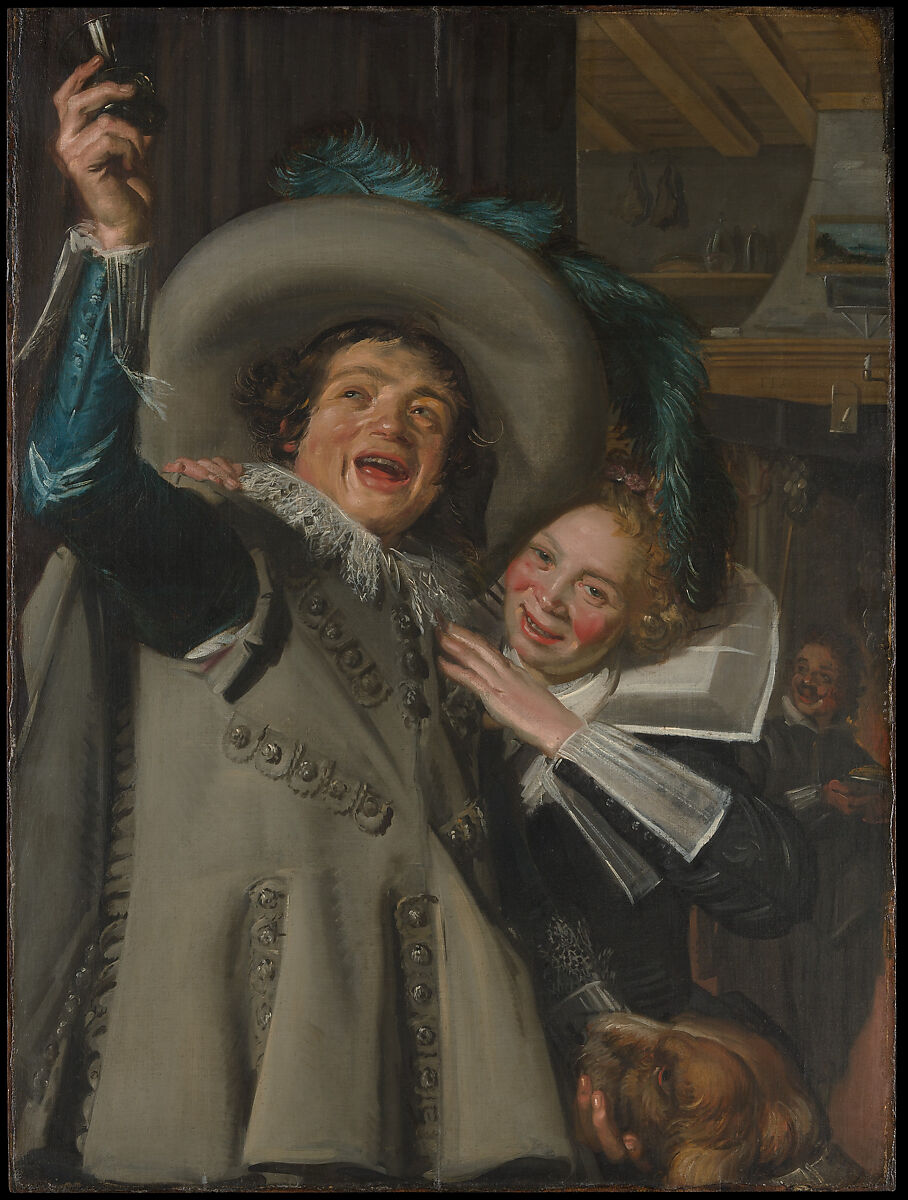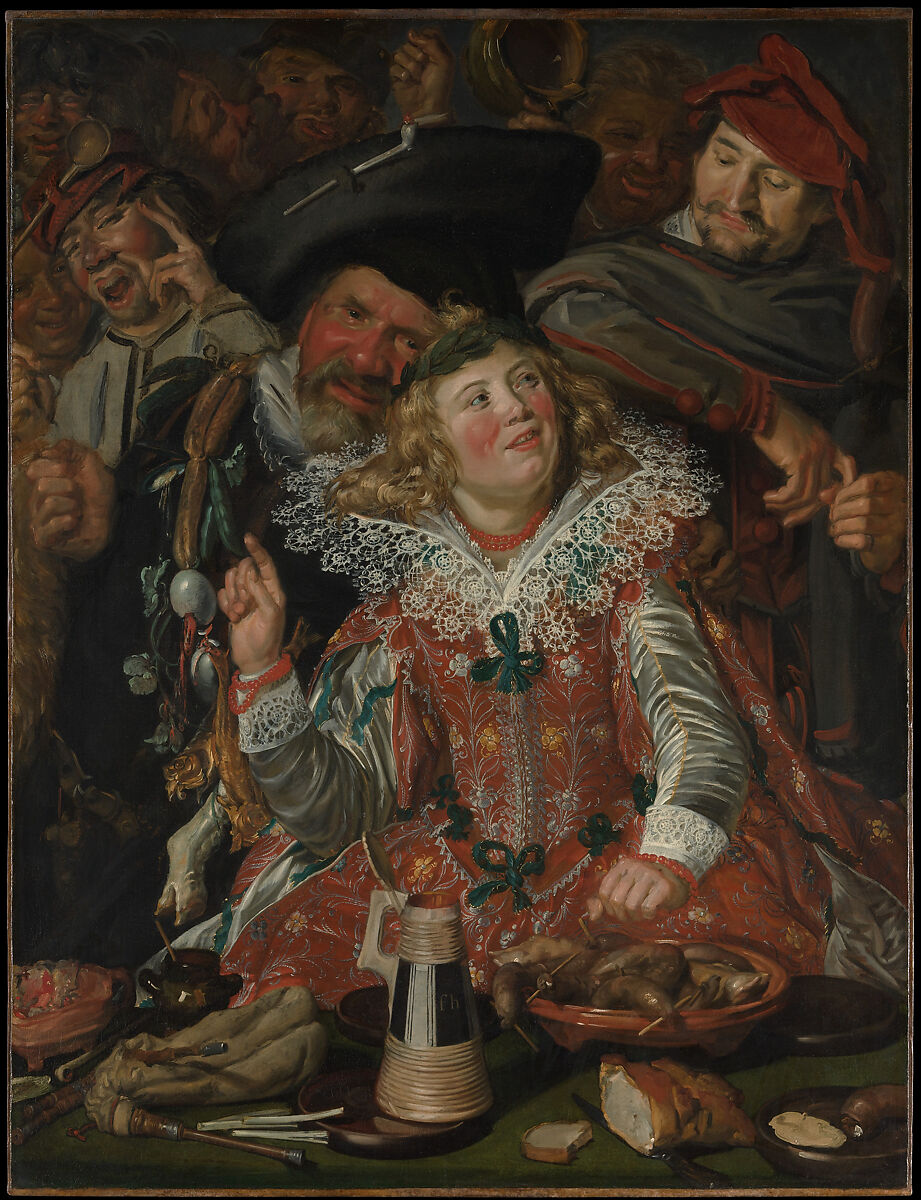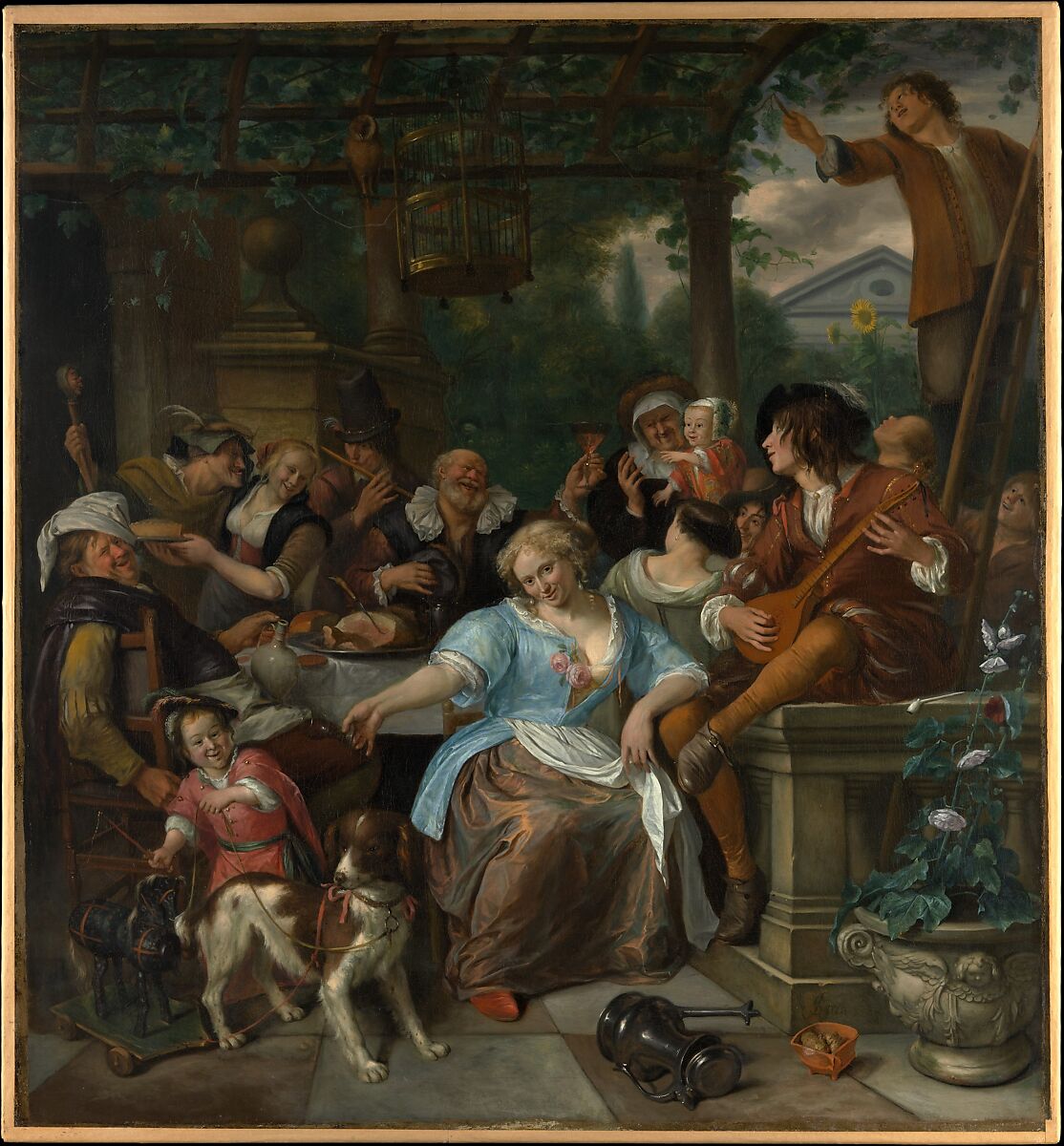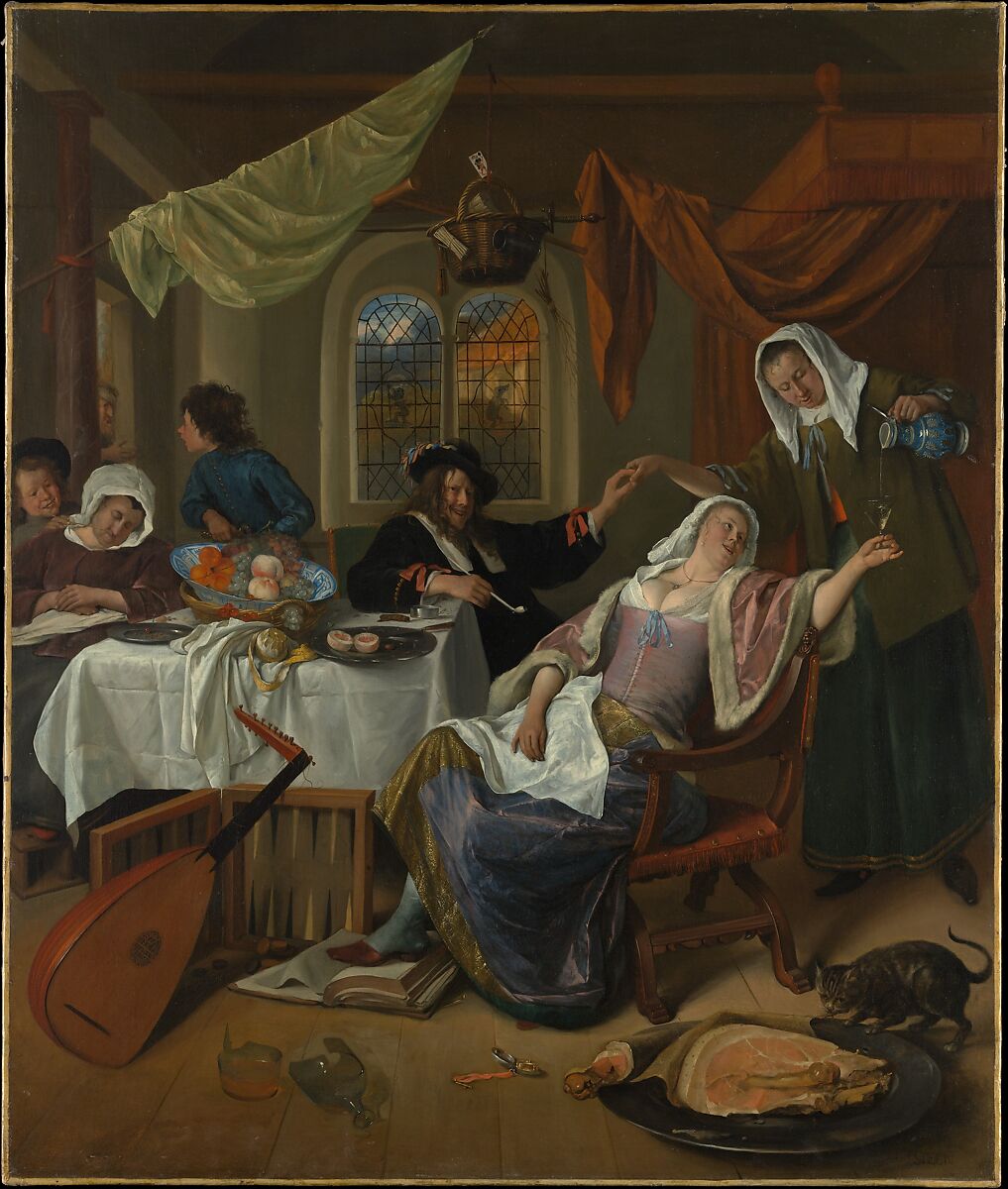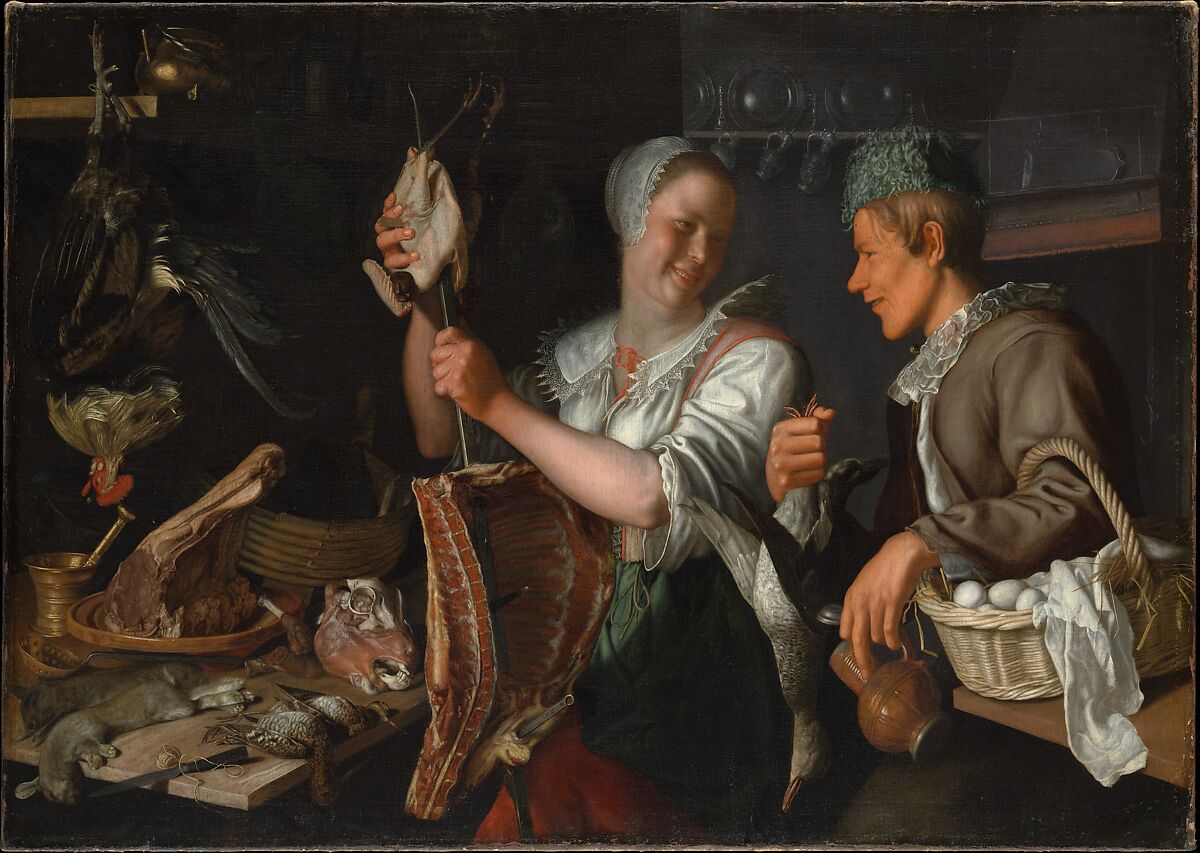 ---
Contested Bodies
[Rembrandt] chose no Greek Venus as his model / But rather a washerwoman or a treader of peat from a barn / And called this whim "imitation of nature."
—Andries Pels, 1681
History painting, depicting episodes from classical myth and the Bible, was the most prestigious category of art by seventeenth-century standards. It required artists to master the depiction of the human form, considered to be the basic building block of visual storytelling. Nonetheless, Dutch painters took divergent approaches to depicting the body. Some assimilated their figures to a classical ideal, based more on ancient sculpture than on close observation of live models. Others, most notoriously Rembrandt, populated their history paintings with ordinary-looking people who seemed to have stepped right off the street and into the artist's studio.
A slider containing 5 items.
Press the down key to skip to the last item.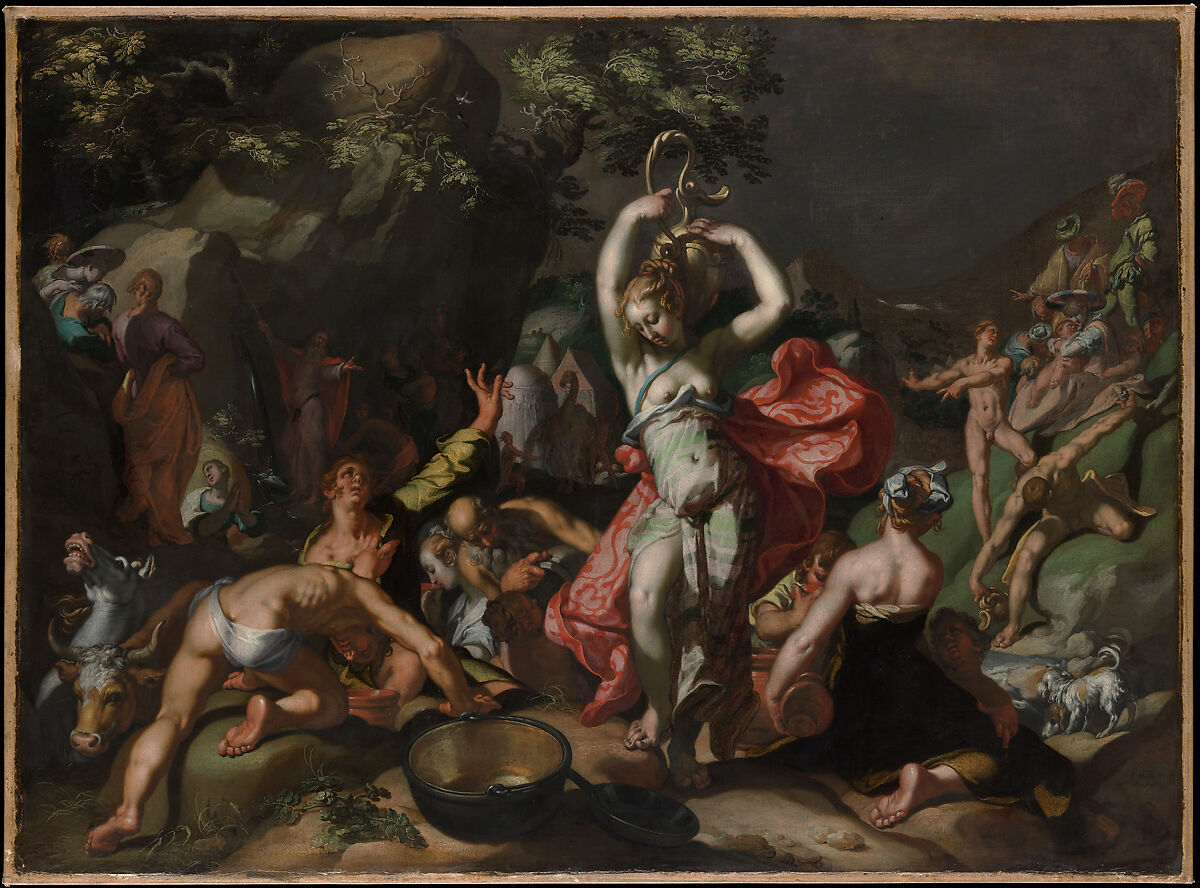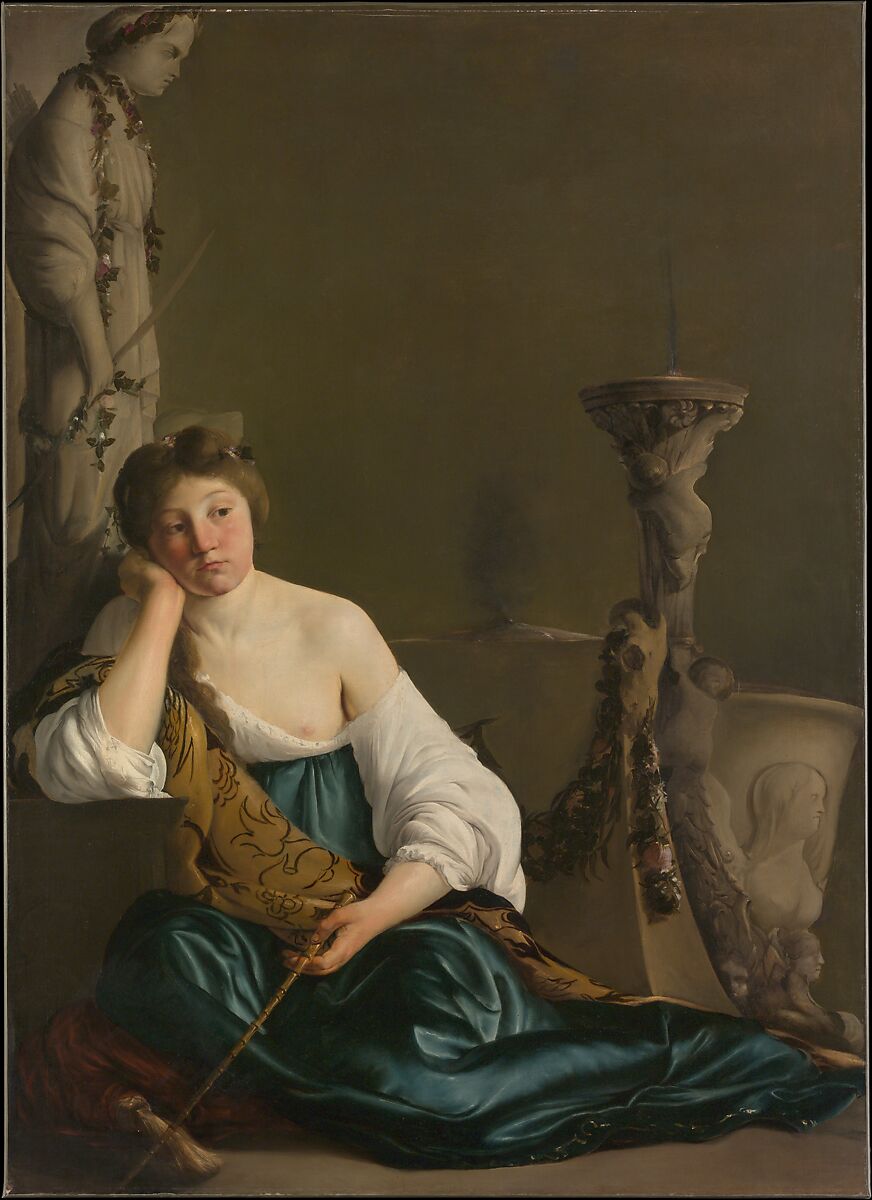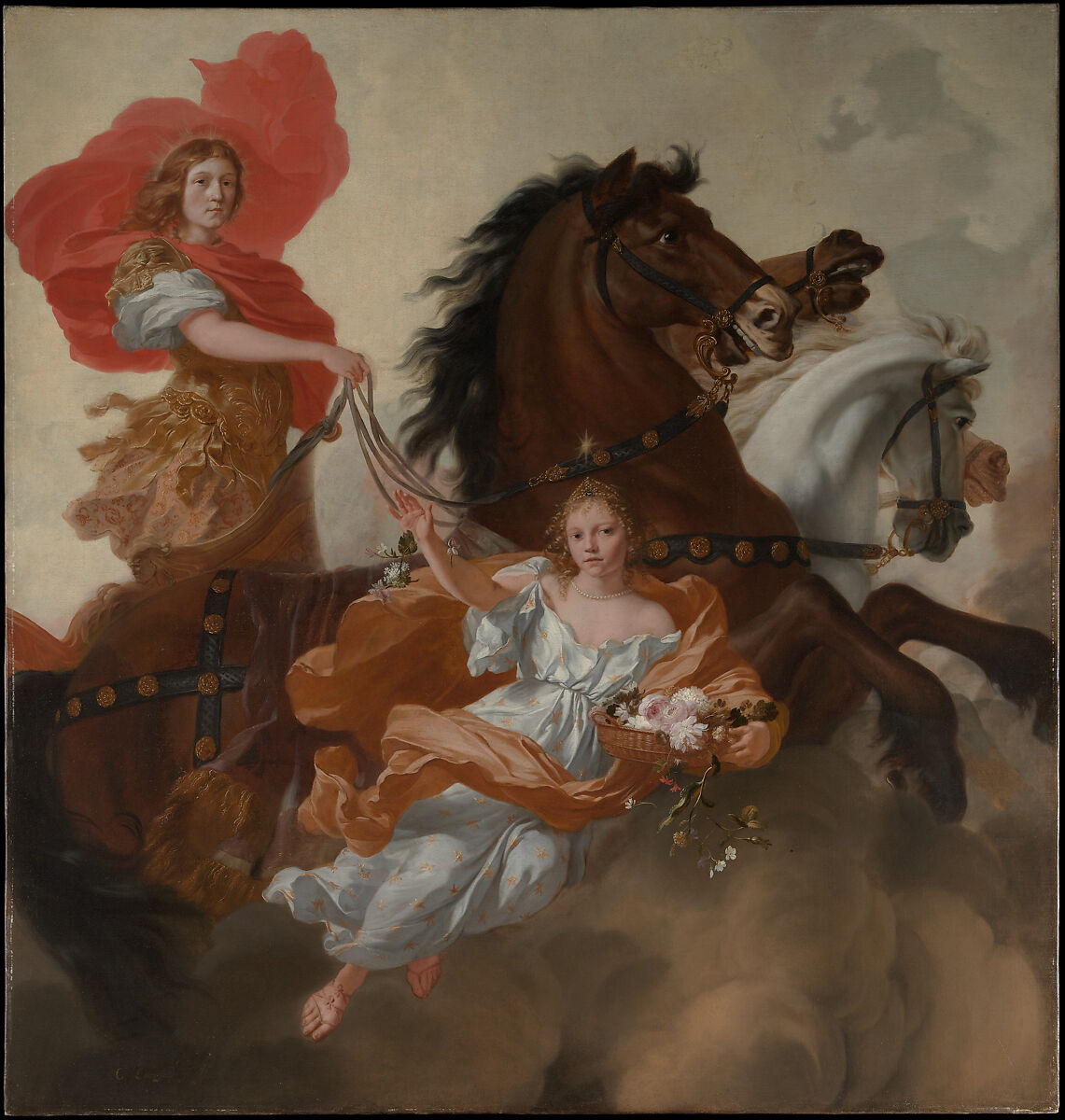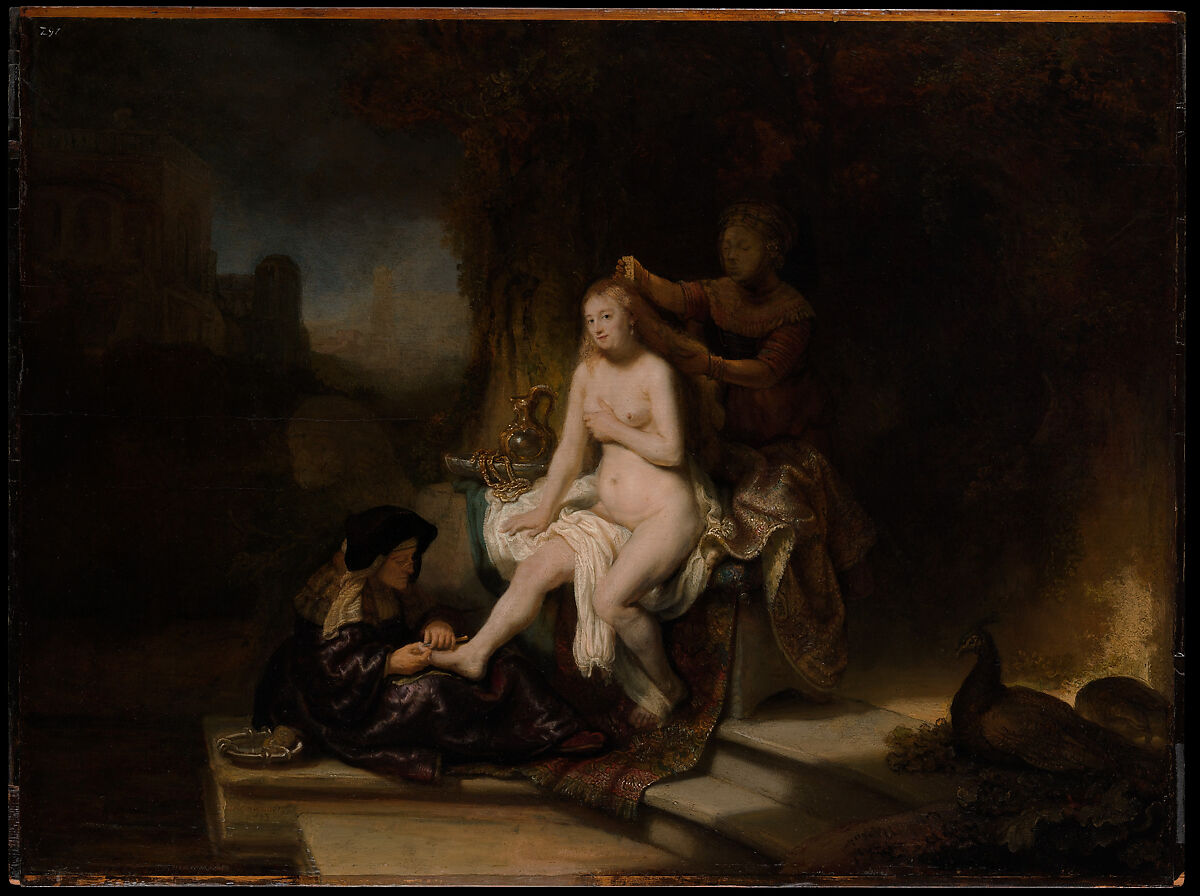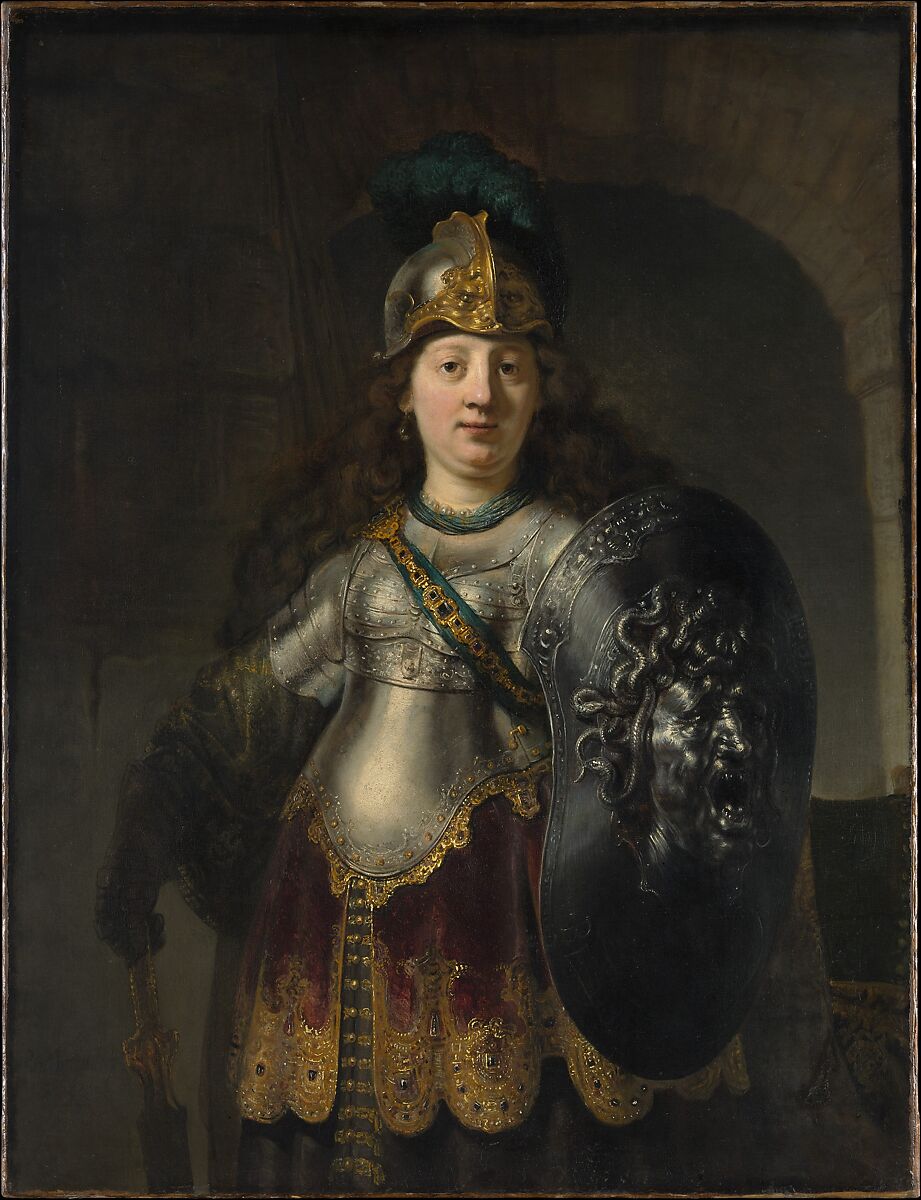 ---
Eloquent Things
Like landscape painting, still life was a new and experimental genre that reached great heights in seventeenth-century Dutch painting. Artists used still life to convey a variety of messages about human vanity or the pleasures of conspicuous consumption and imported luxuries. The depiction of foods and objects, even the most humble, provided artists the opportunity to display their illusionistic skills. Some still life painters worked in close dialogue with scientists as they applied a new rigor to observation of the natural world. As images of things without people, still life paintings pictured the bounty provided by newly established Dutch trade routes and the Republic's economic success, while omitting the human cost of colonial warfare and slavery.
A slider containing 8 items.
Press the down key to skip to the last item.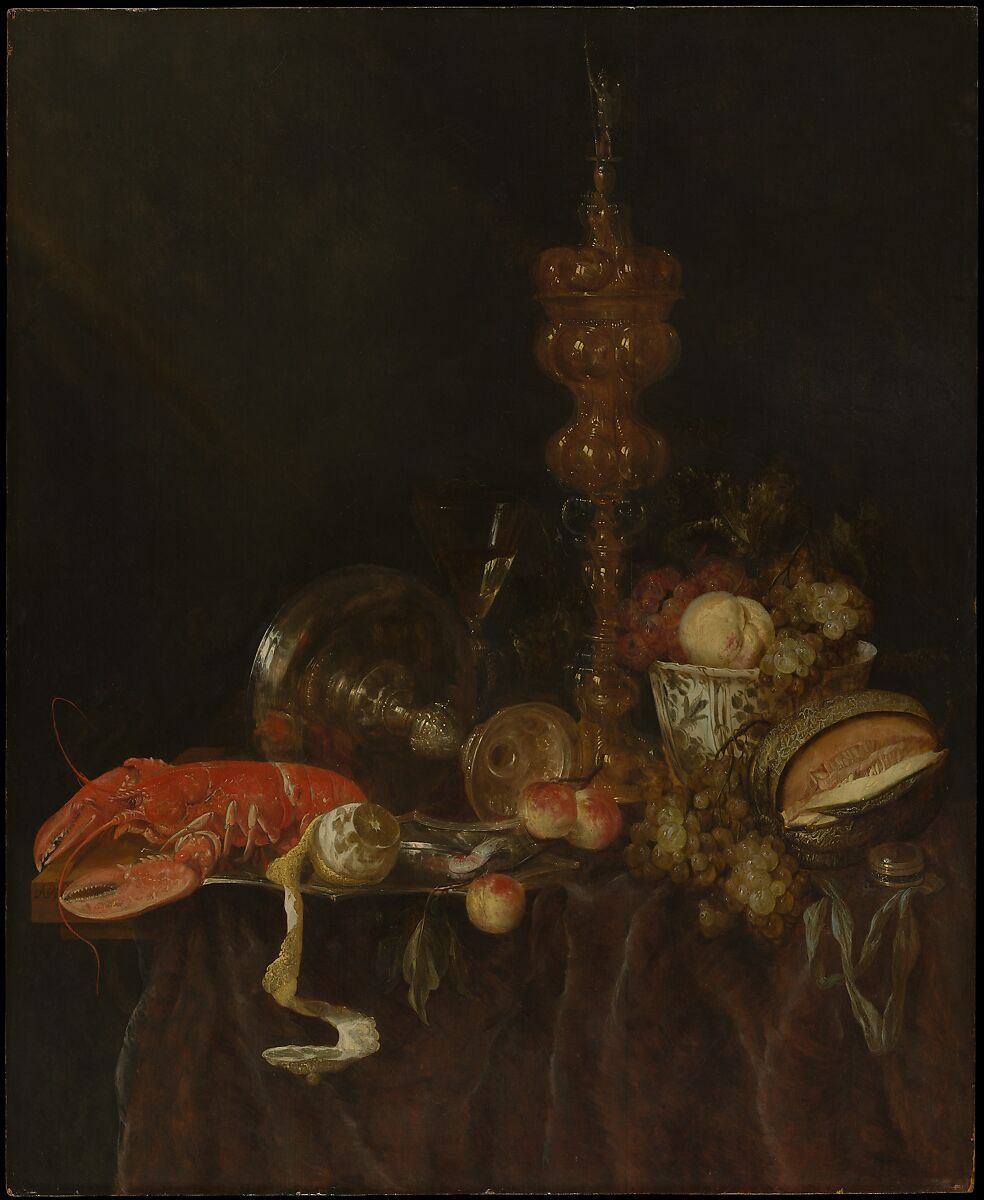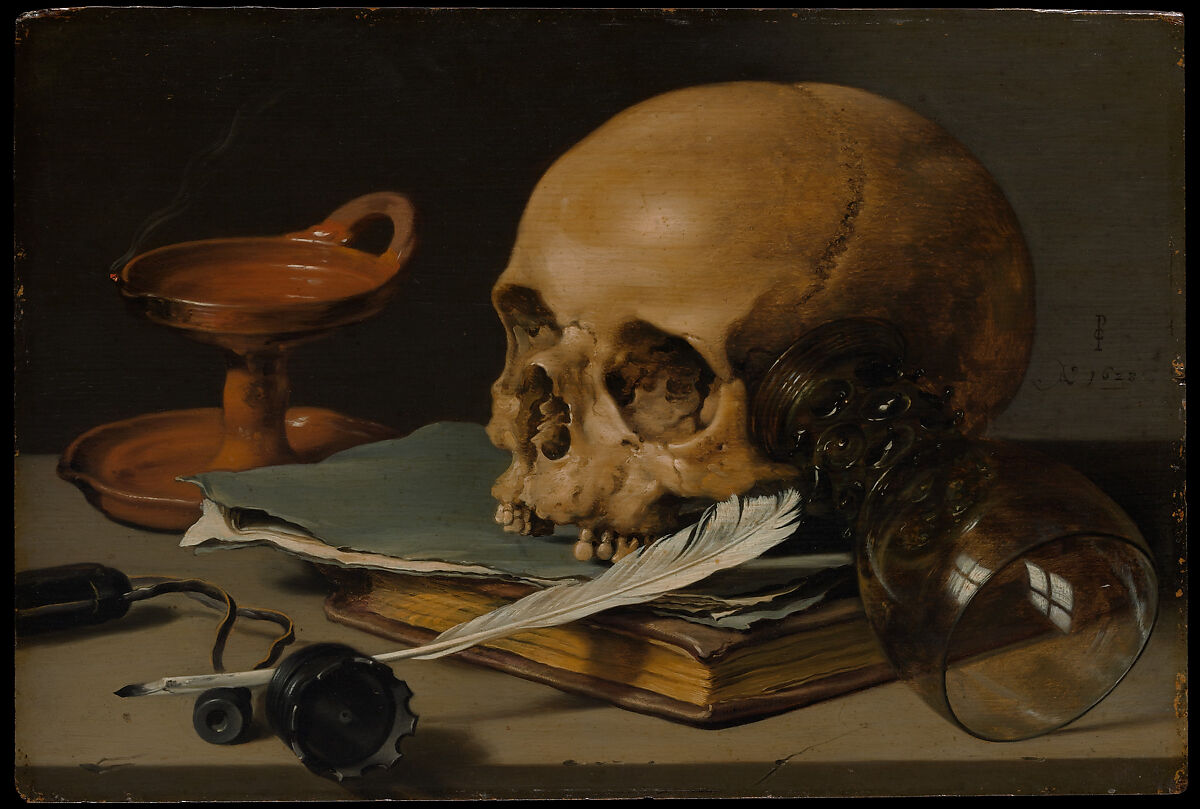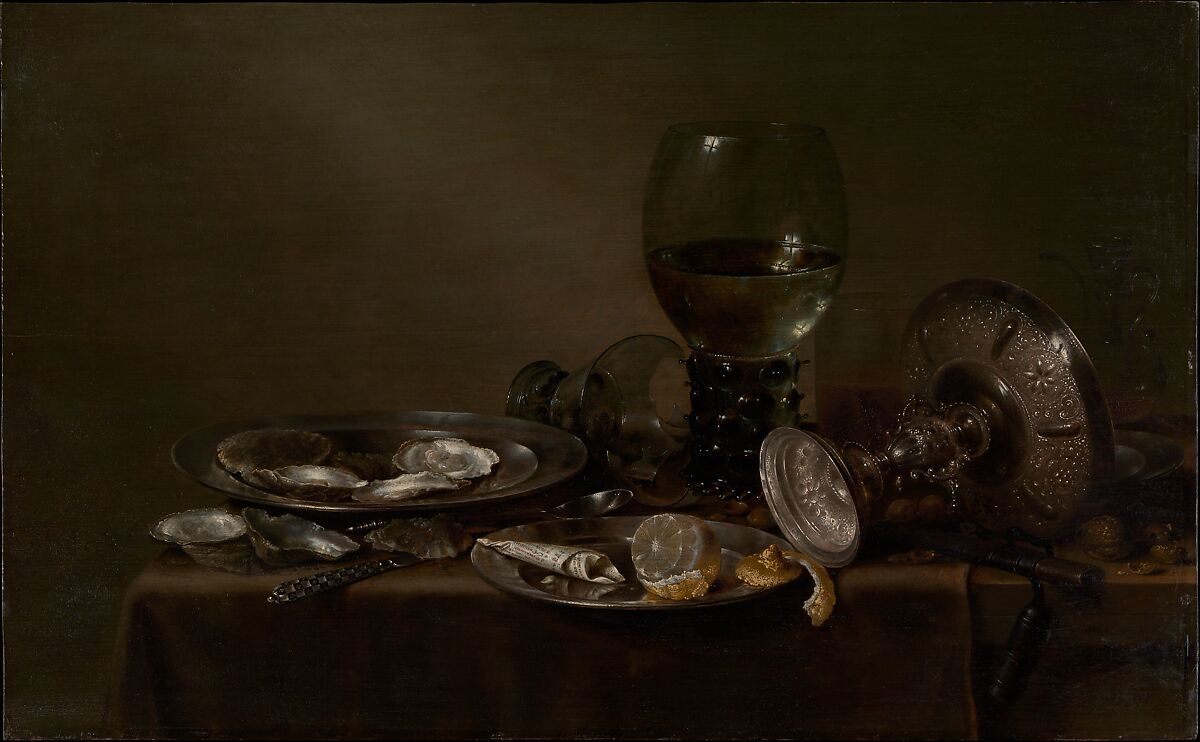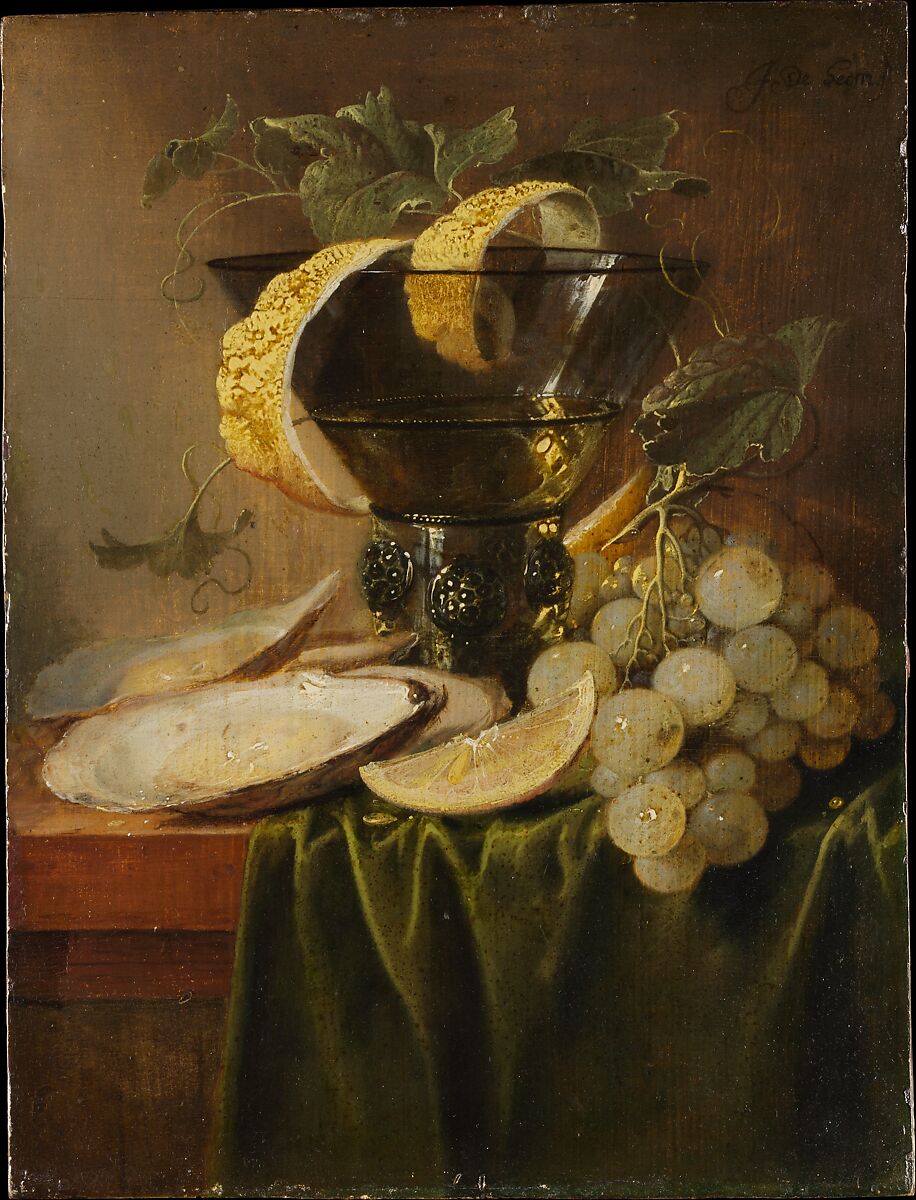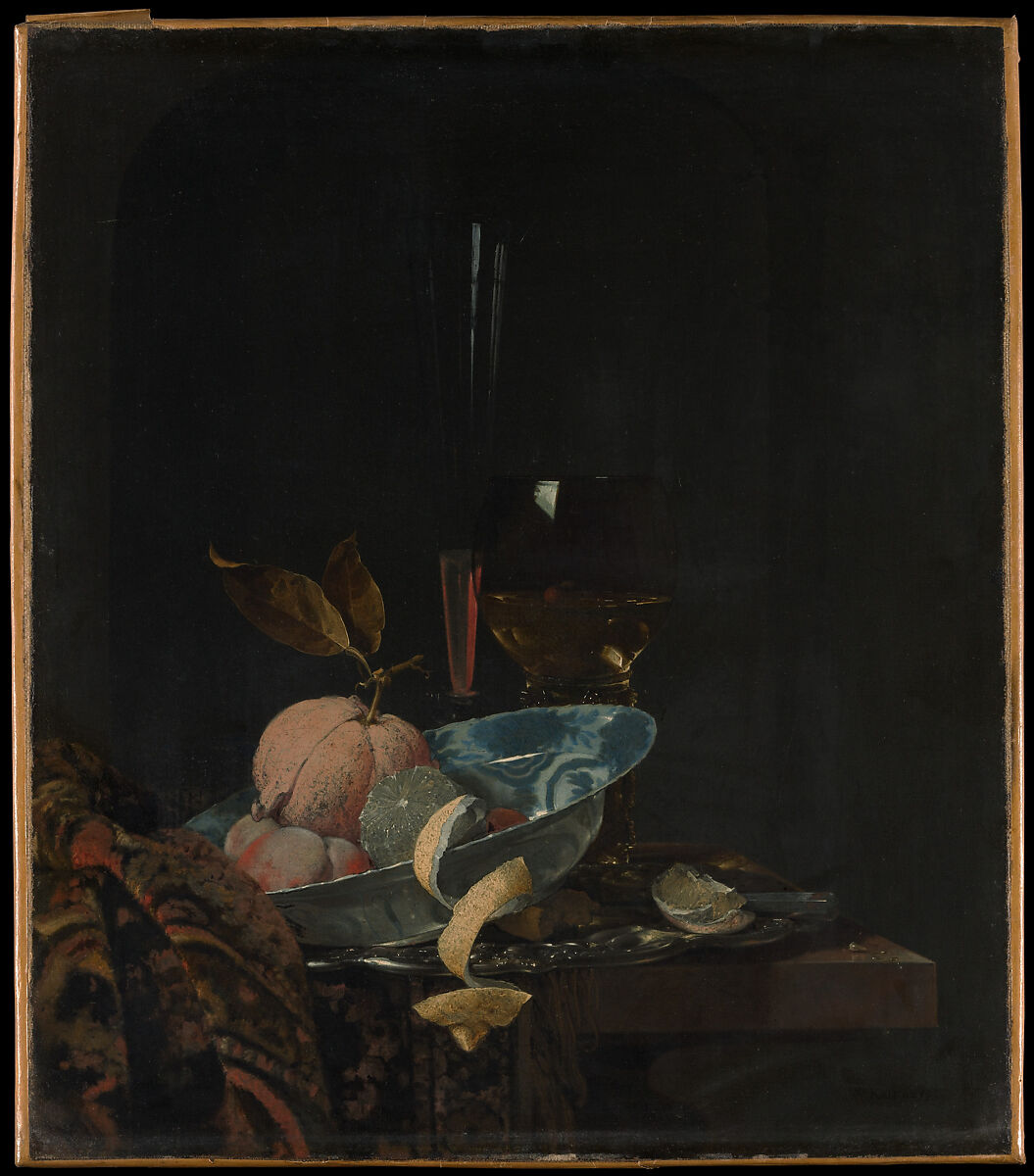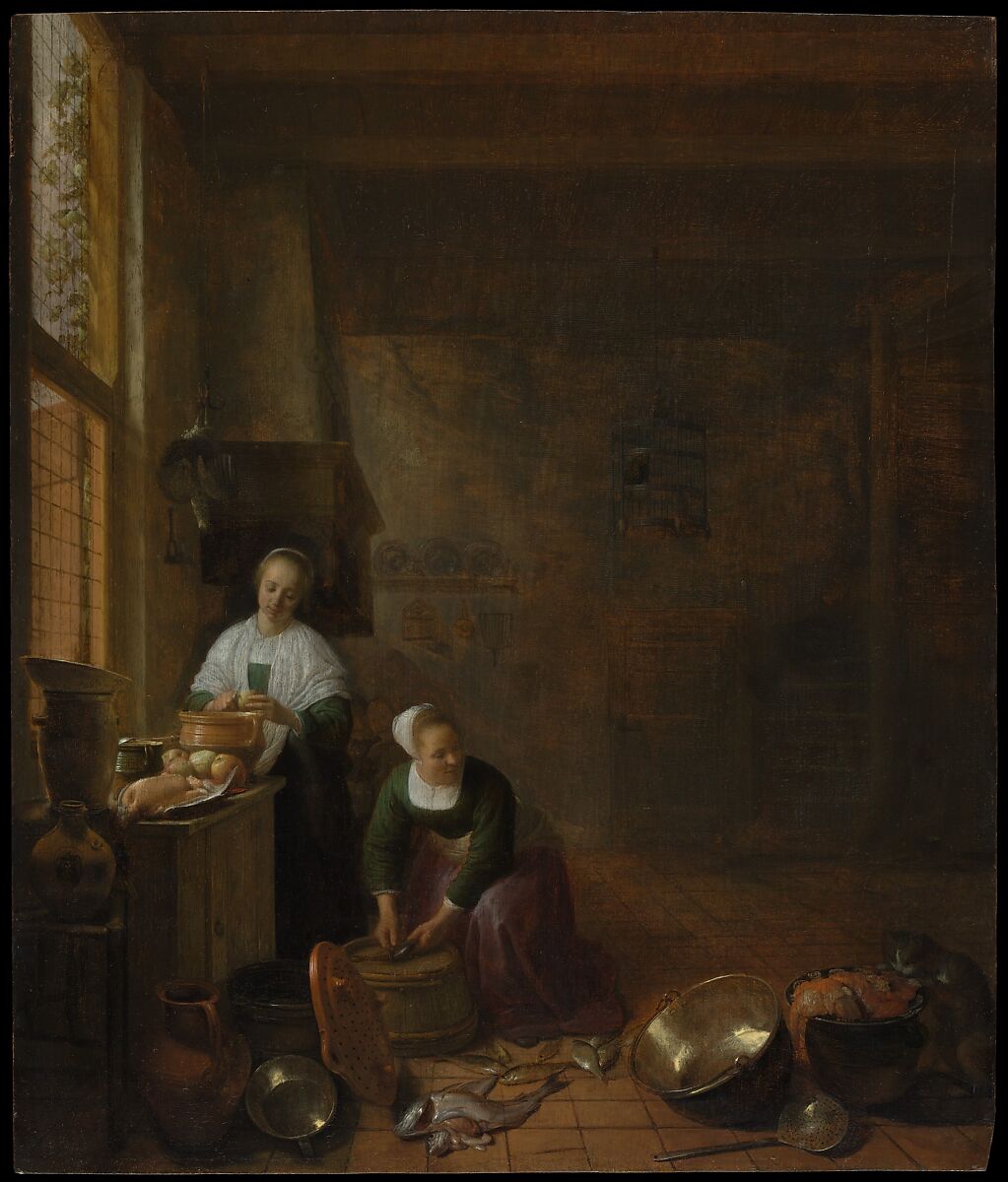 ---
Lives of Women
At his death in 1679, the Dutch painter Jan van de Cappelle left behind a collection of 135 drawings by Rembrandt depicting vrouwenleven, or "lives of women." This term encapsulates one of the major themes of seventeenth-century Dutch art: the everyday activities of women observed while keeping house, getting dressed, or caring for children. This section moves up the social ladder of the Dutch Republic, from Rembrandt's housekeeper to Gerard ter Borch's beautifully dressed younger sister, to explore how Dutch artists depicted this novel subject matter.
A slider containing 5 items.
Press the down key to skip to the last item.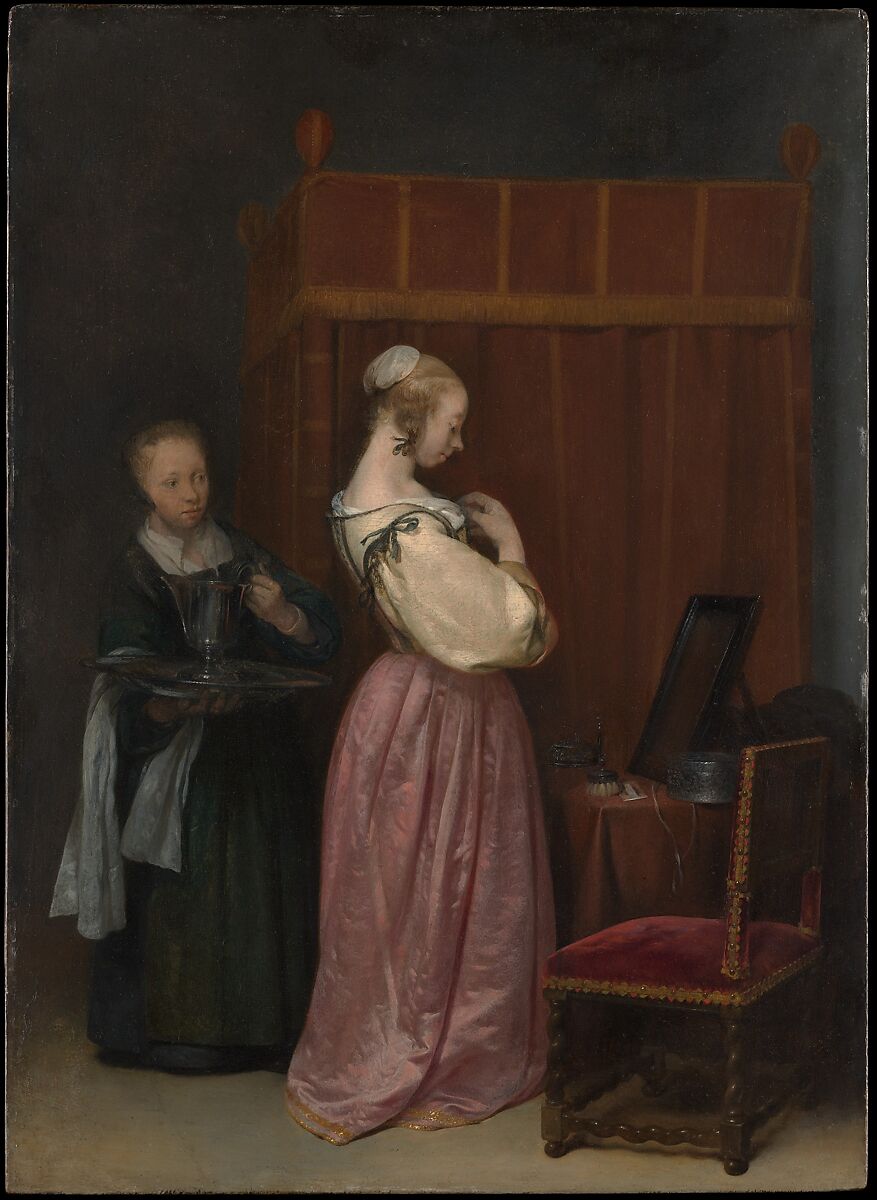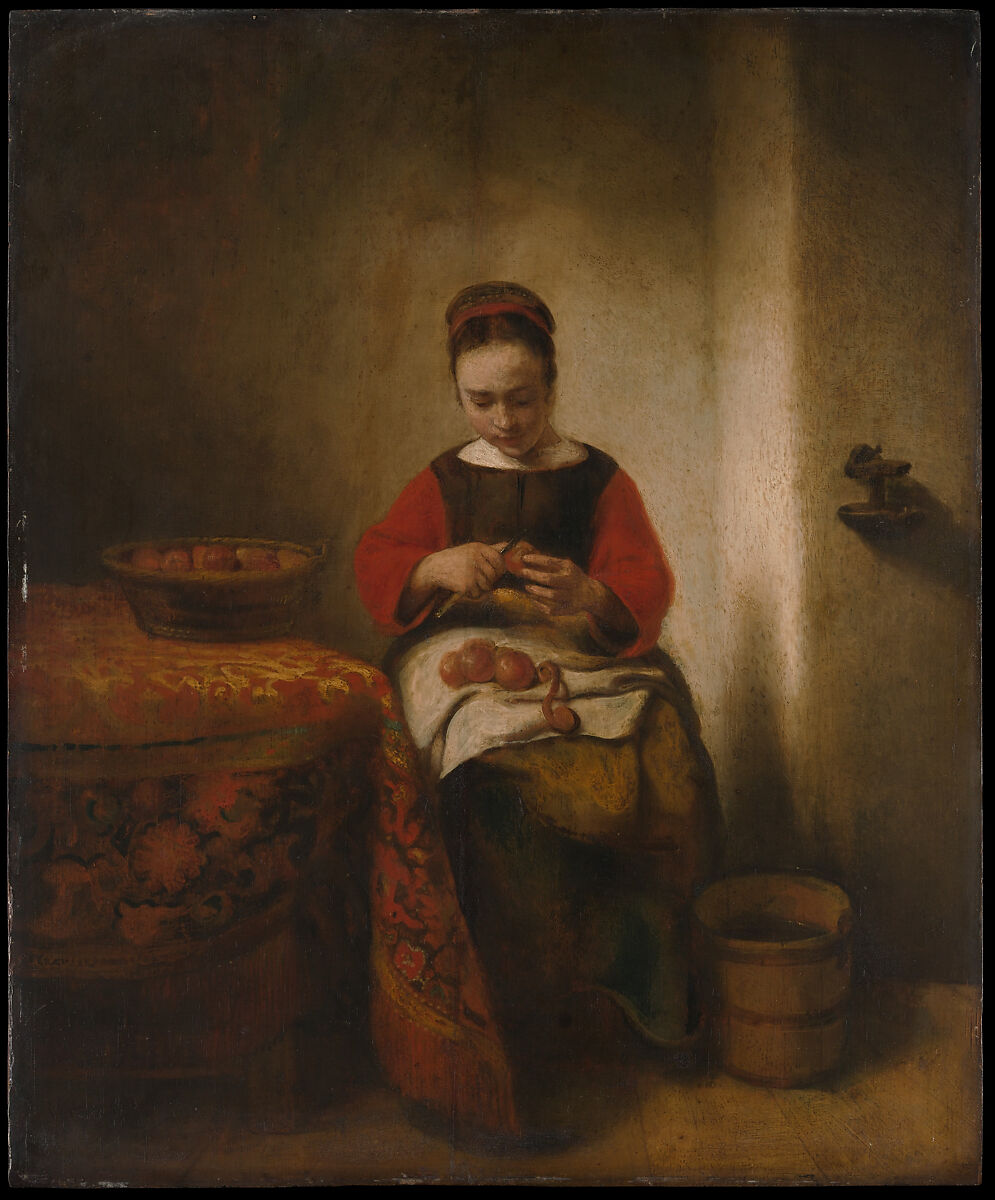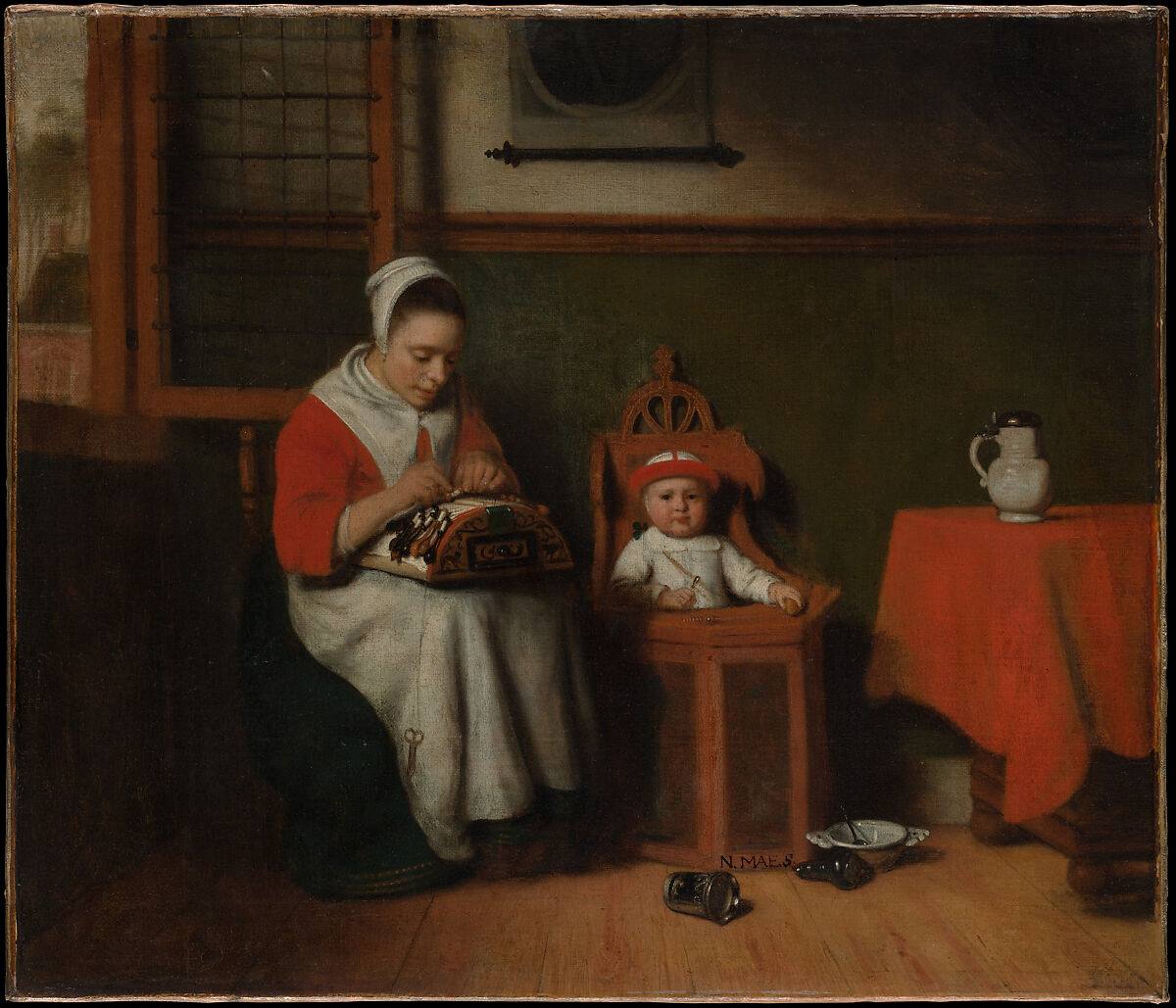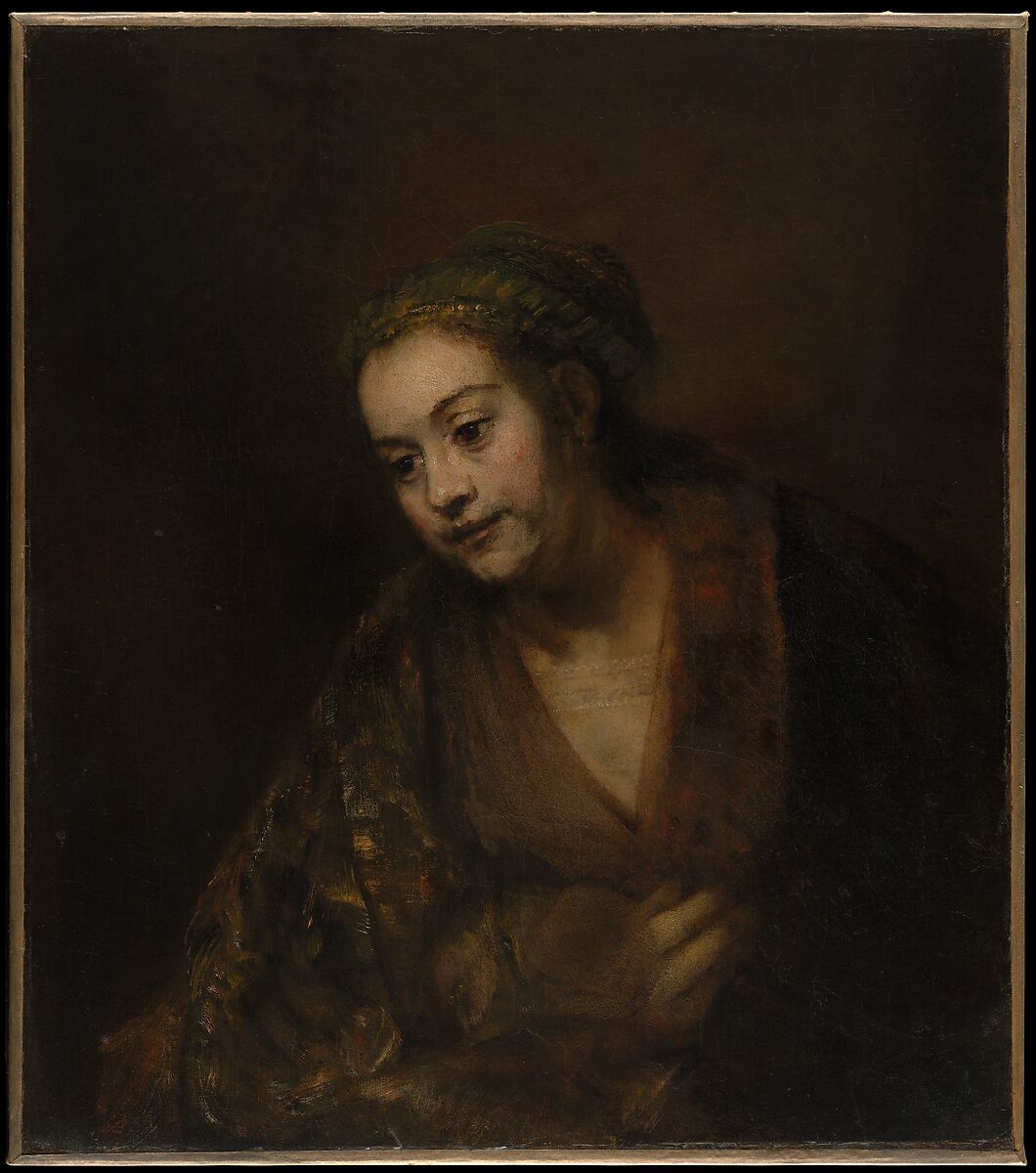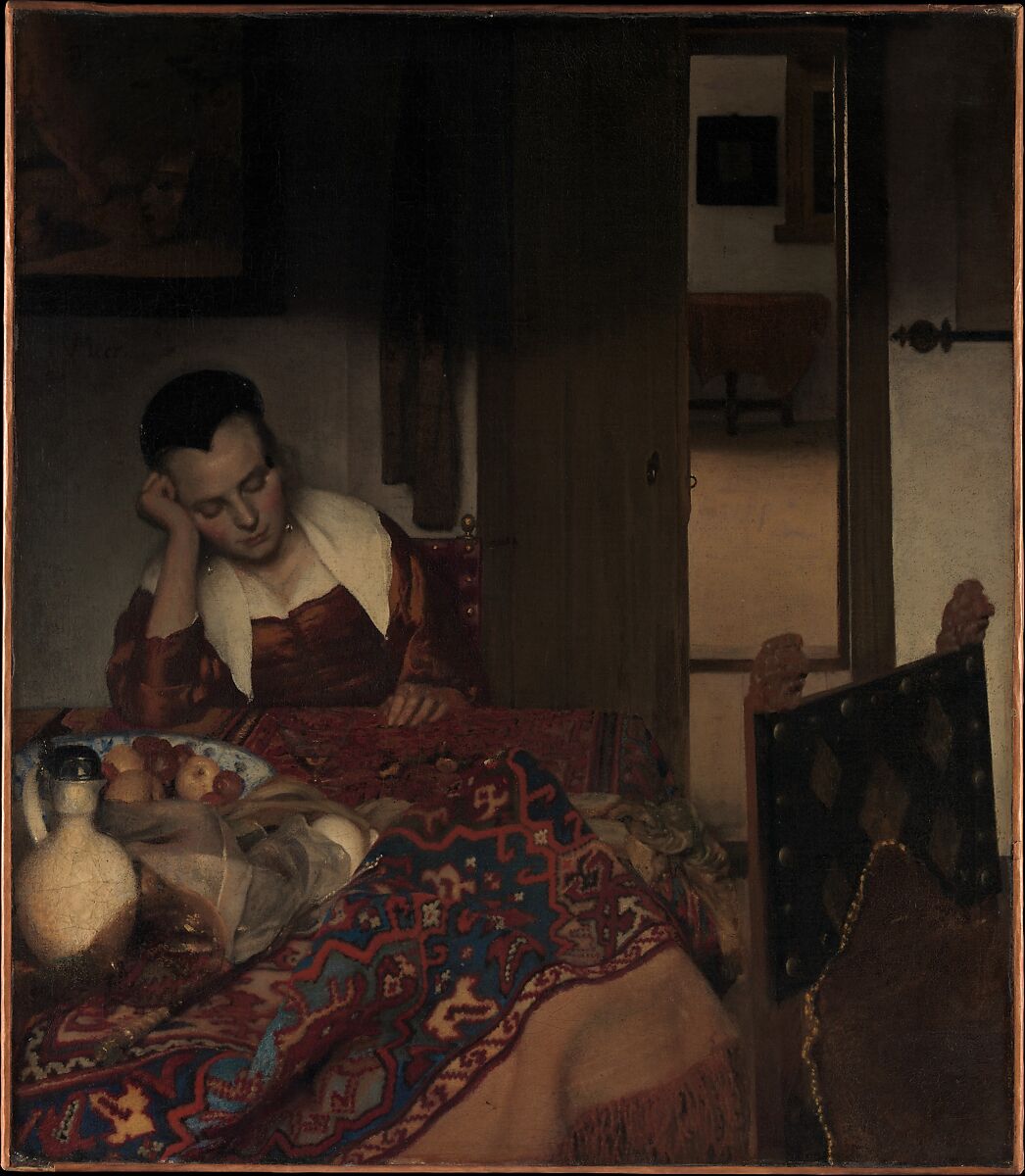 ---
Behind Closed Doors
The second half of the seventeenth century witnessed major political changes in the Dutch Republic that profoundly affected painting. The peaceful period following the Treaty of Münster in 1648, which ended eighty years of war with Spain, brought wealth to Dutch merchants, fueling their emulation of aristocratic manners and mores. Amorous pursuits and the civilized leisure of the well-to-do became the subject of so-called high-life genre paintings that broke with the coarse and rowdy humor of earlier scenes of everyday life. Gerard ter Borch and Pieter de Hooch pioneered this new form of domestic tableau, whose greatest interpreter would be Vermeer.
A slider containing 8 items.
Press the down key to skip to the last item.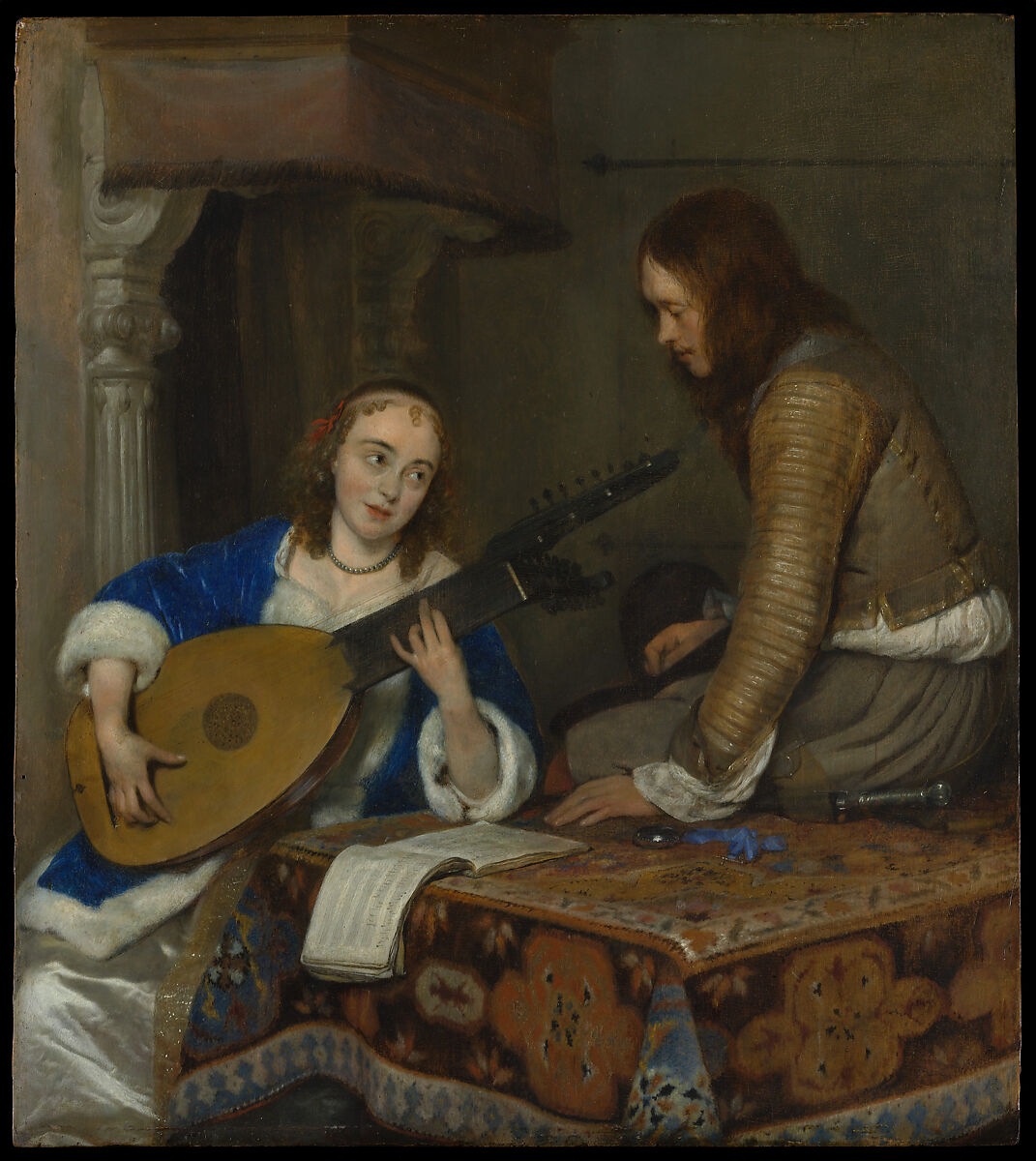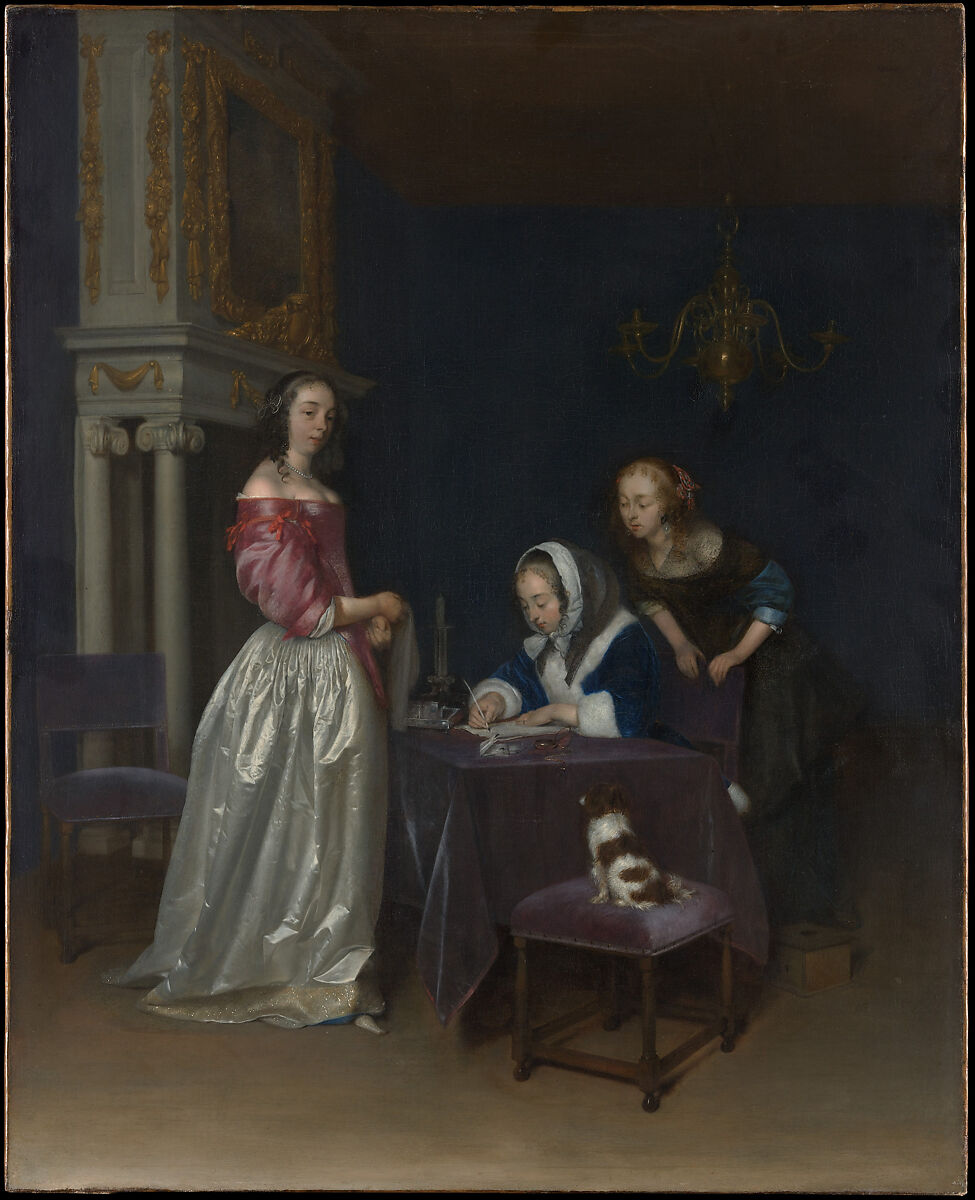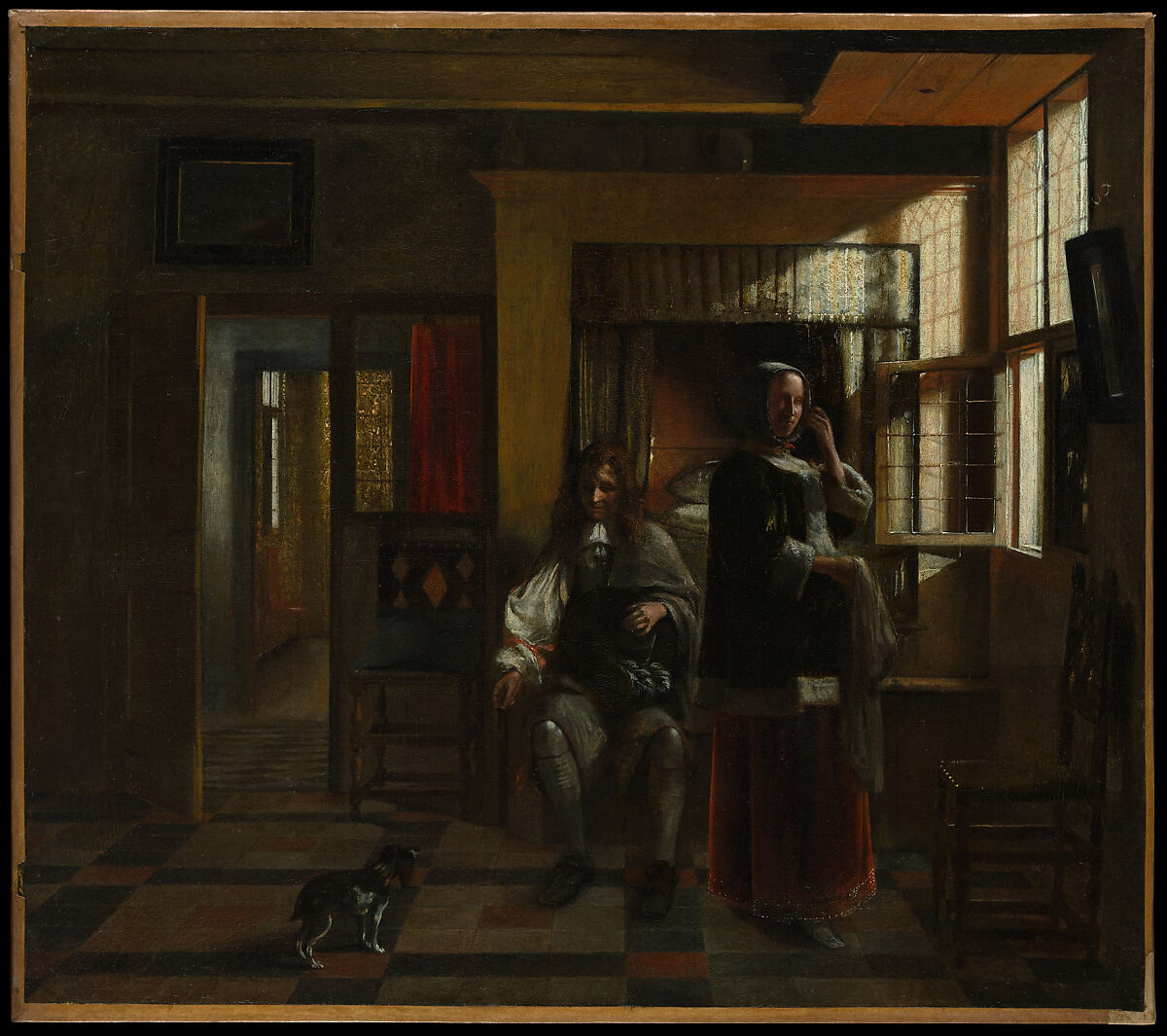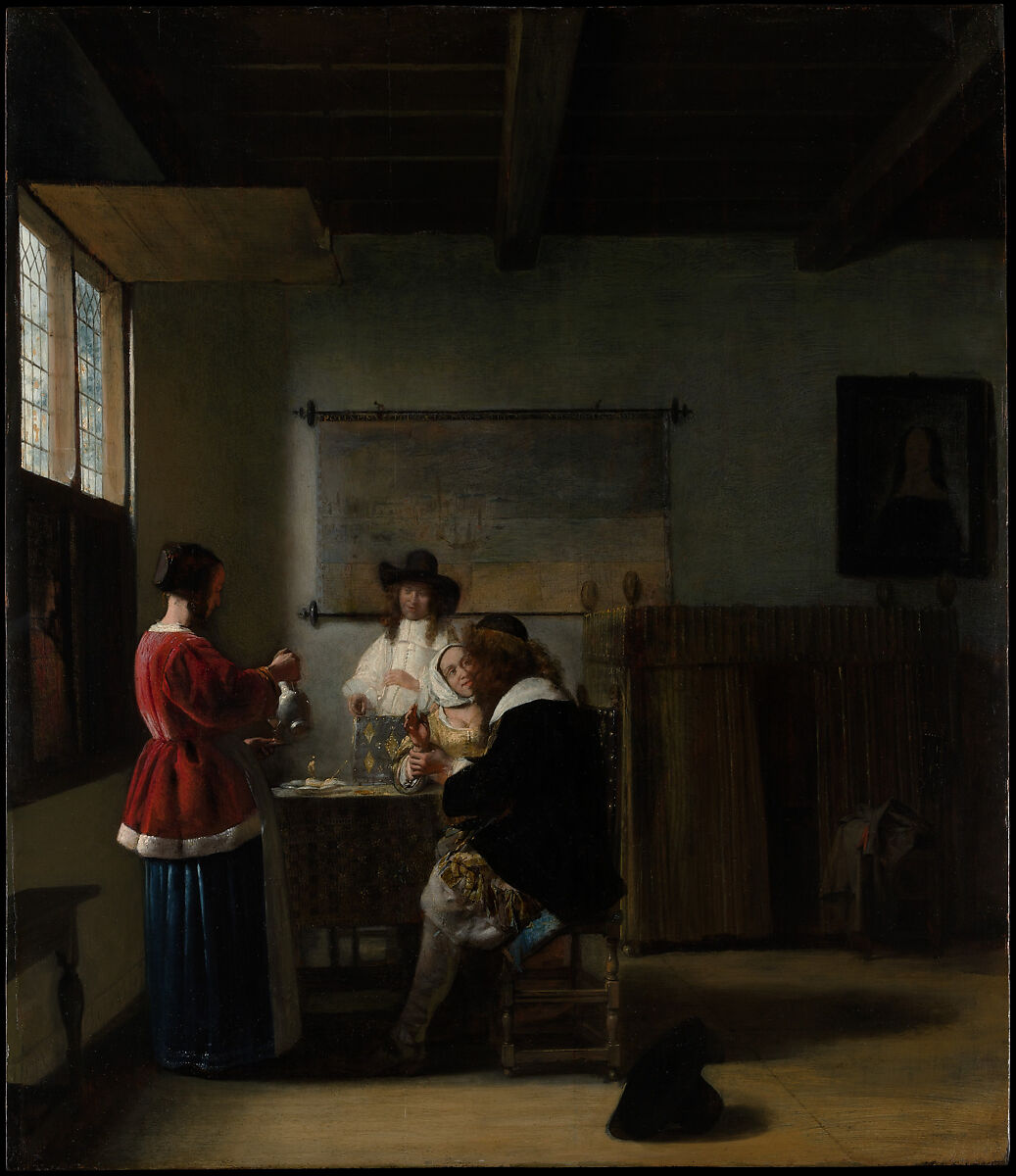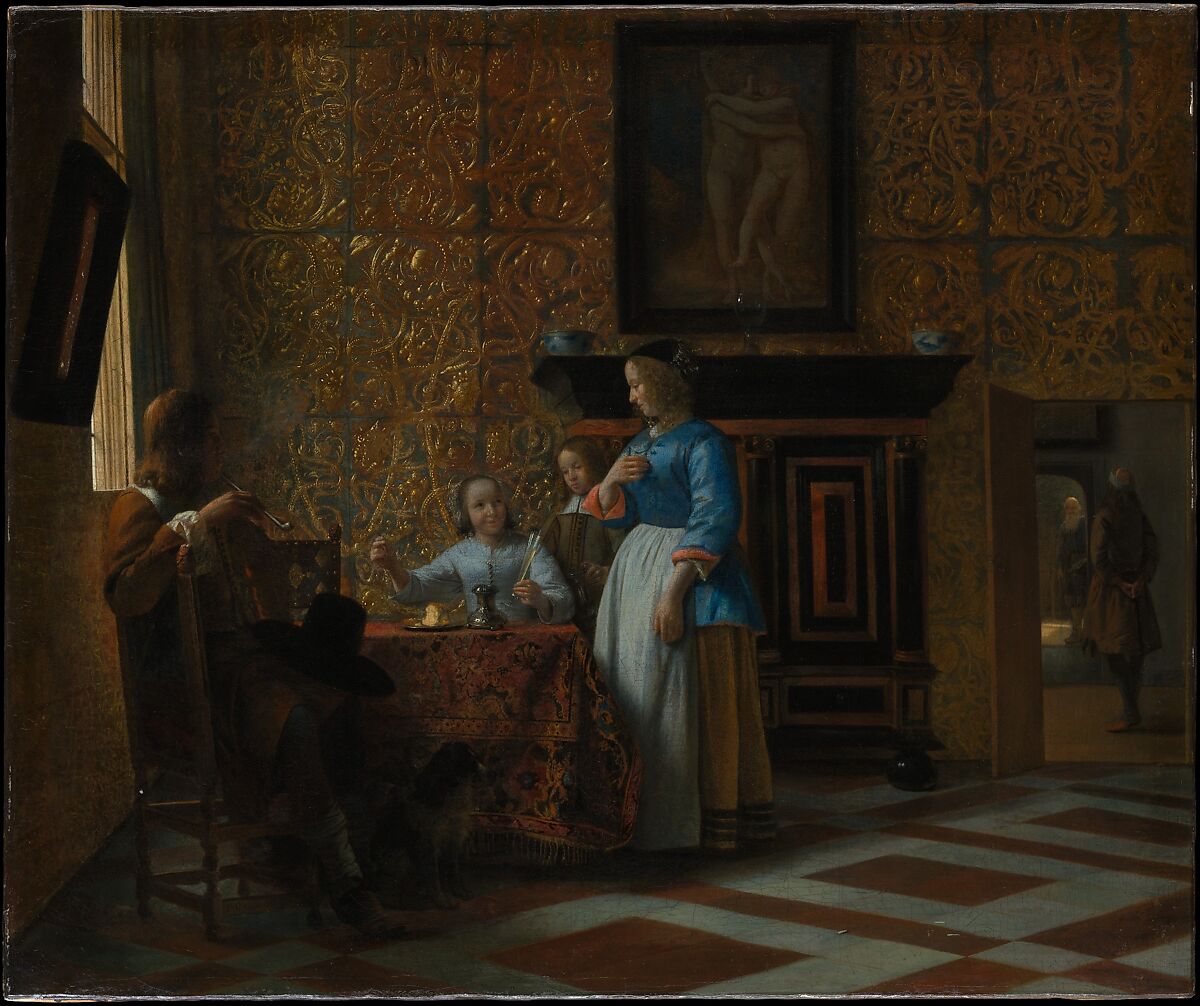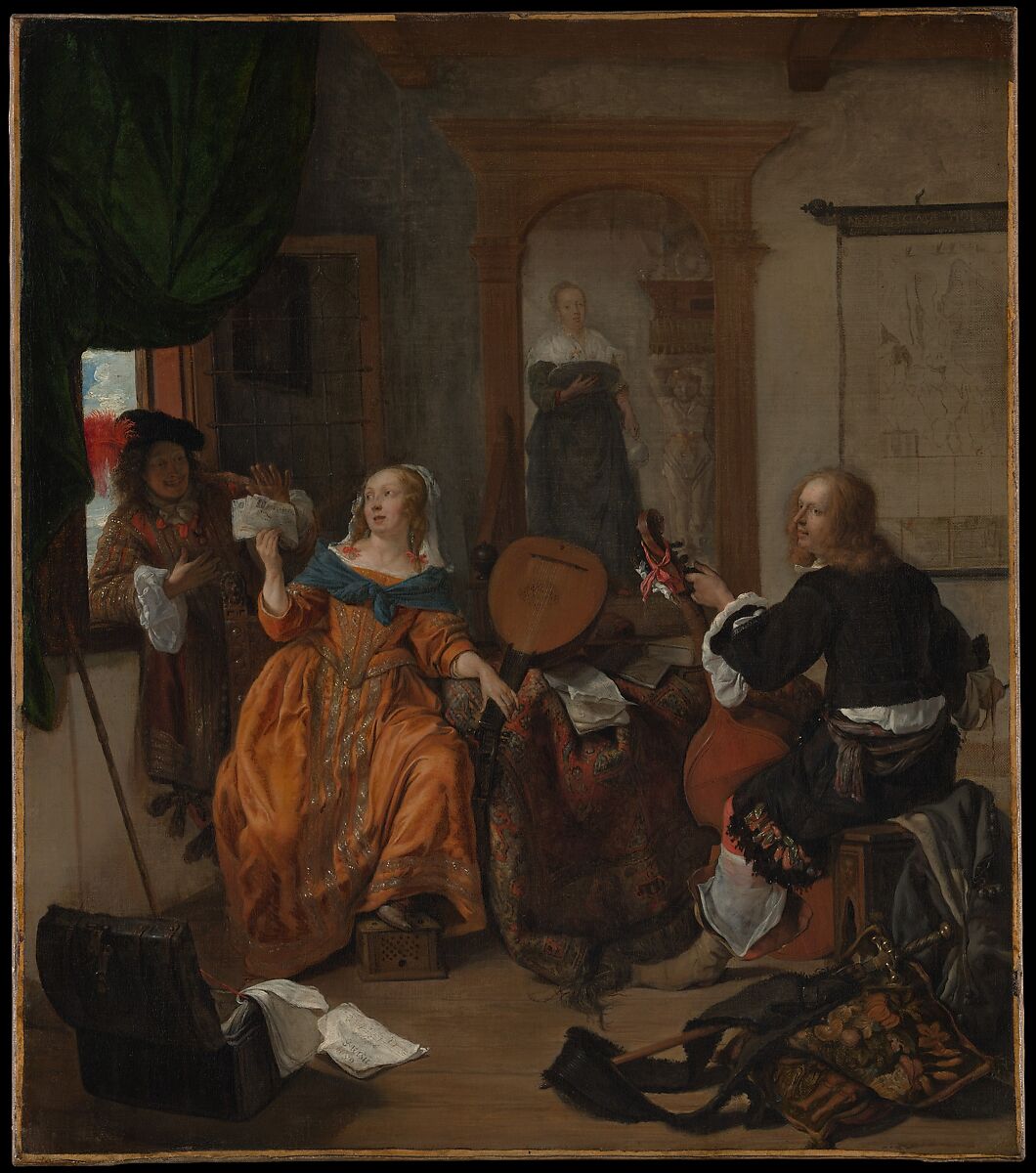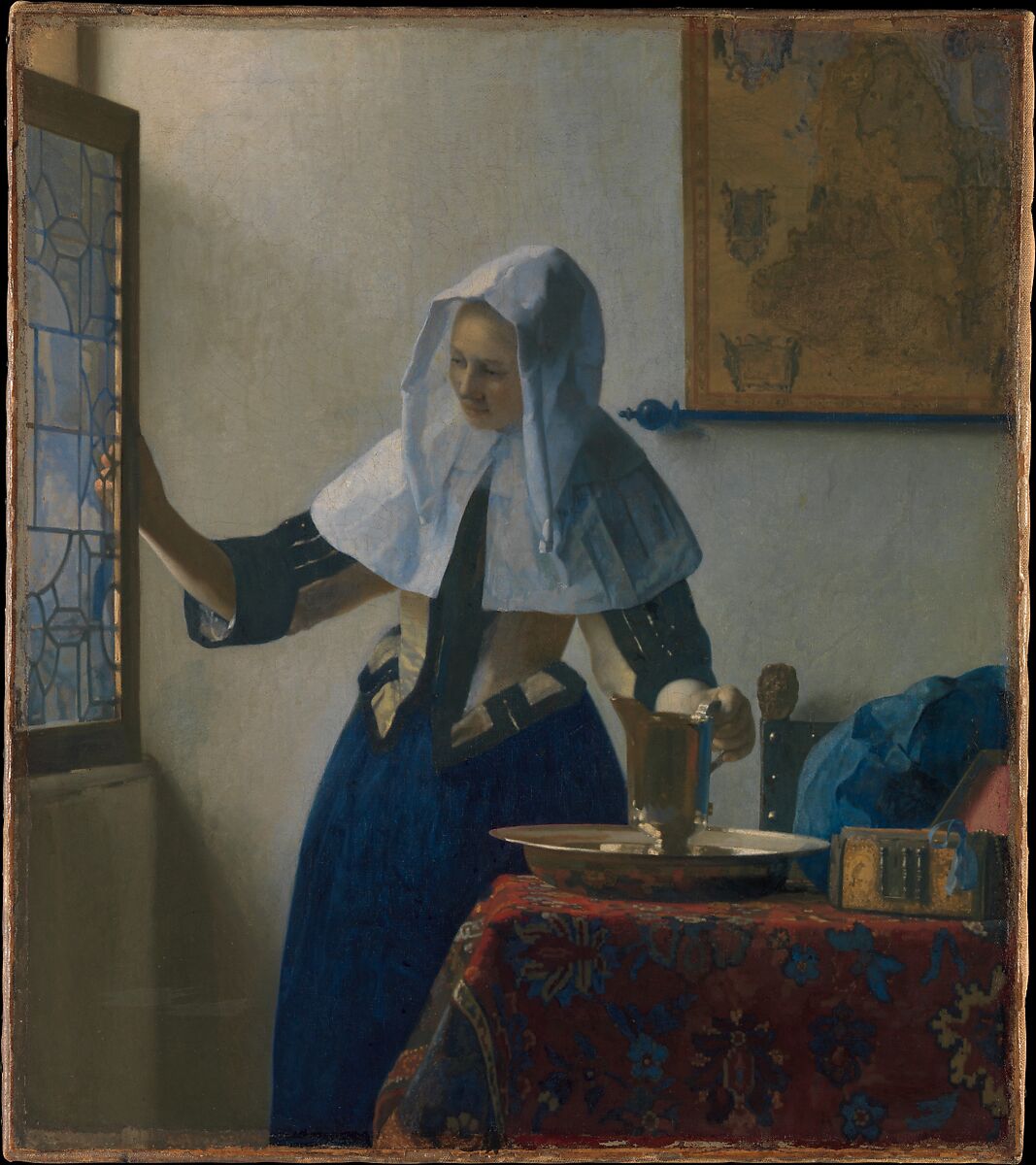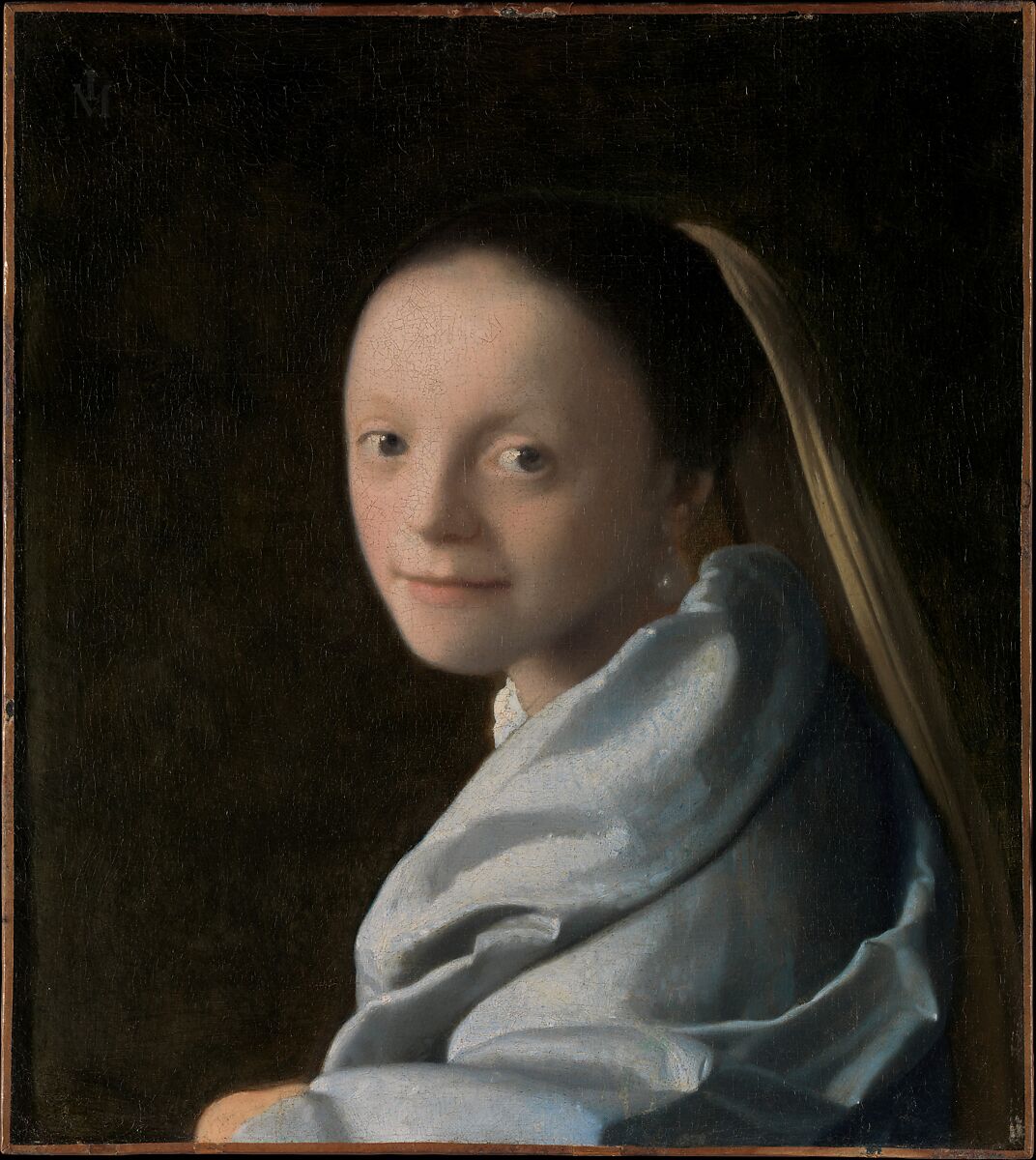 ---