For more than three thousand years, artists have cast sculptures in bronze—a metal alloy composed of copper with smaller amounts of tin, zinc, and lead. Walking through the Met's galleries, you will find remarkable examples of bronze sculpture from ancient Greece and Rome, Asia, Mesopotamia, and Africa. Yet you might be surprised to learn that the technology for casting fine arts bronze was not introduced in the United States until the late 1840s. Early American sculptors worked primarily in marble, plaster, and wood, or sent their works overseas to be cast in bronze at European foundries. However, beginning in the 1850s, professional bronze foundries were established in cities across the Northeast, from Boston to Washington, D.C., later spreading west to Chicago and beyond. The development of America's bronze casting industry freed artists from their dependence upon European foundries, and by the 1880s bronze had surpassed marble as the preferred medium of American sculptors.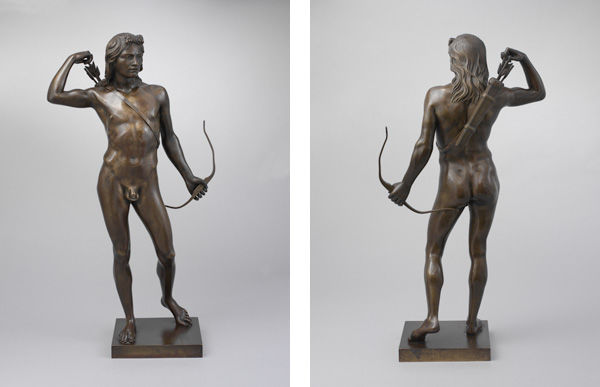 One of the first sculptures visitors to The American West in Bronze, 1850–1925 will encounter is Henry Kirke Brown's Choosing of the Arrow. This work is one of the earliest statuettes of an American subject cast in bronze on American shores. Although the figure's pose and physique are indebted to classical precedents (which Brown studied while in Italy between 1842–46), the subject was inspired by the artist's firsthand study of American Indians on Mackinac Island in Lake Huron in 1848. That same year, Brown established a studio and rudimentary bronze foundry in Brooklyn, where he successfully produced twenty casts of Choosing of the Arrow.
A dedicated advocate of bronze, Brown aimed to make sculpture more accessible to Americans. His preference for the medium was both practical and patriotic. Readily available and less expensive than marble, bronze was considered a "democratic" and, thus, characteristically American material. Furthermore, bronze suited Brown's preference for a realist aesthetic, as the medium is capable of capturing incredible detail and textural variety. It is also well suited to producing complex compositions of physical action (less possible in marble), making bronze ever more appealing to artists creating action-packed, western-themed works—from bucking broncos and buffalo hunts to combating warriors and stalking panthers.
Prior to 1900, sand casting was the method used by American foundries for producing sculptures in bronze. Preferred for its simplicity and economy, the process uses a firm sand mold prepared from a plaster cast of the artist's original model. However, by 1900, the ancient process of lost-wax casting was revived in the United States. Roman Bronze Works, located in New York, became the first foundry to specialize exclusively in this technique. The lost-wax method uses a malleable gelatin mold, capable of capturing greater detail. It also allows artists to experiment with complex compositions and make changes to wax models prior to casting.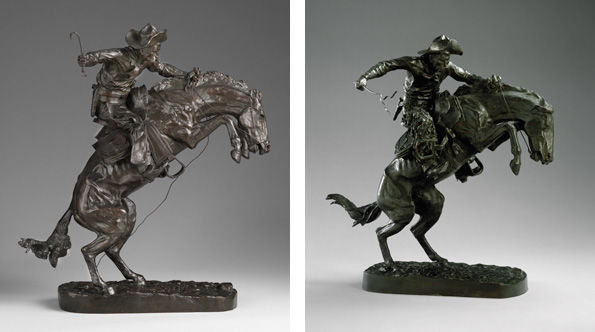 Frederic Remington was one of the first artists to have his sculptures cast using the lost-wax method at Roman Bronze Works, as did Solon Hannibal Borglum, Charles M. Russell, and Henry Merwin Shrady. In 1895, Remington executed his first and most popular sculpture, The Broncho Buster. Within five years, more than sixty casts were produced at the Henry-Bonnard Bronze Company using the sand-casting method (above left). Yet around 1900, Remington moved his model to Roman Bronze Works for casting in the lost-wax method (above right). By carefully comparing these two sculptures (displayed next to each other in the exhibition), we can observe the many changes Remington made from one casting method to the other. In the earlier sand cast (above left), the rider wears smooth leather chaps, his right stirrup hugs the body of his horse, and his whip is pointed upward. However, the lost-wax method allowed Remington to make changes that would more accurately convey the movement of horse and rider. In the later cast (above right), the rider's right stirrup flares out to the side and his right hand, now holding a quirt, is angled down at the rear of his horse, whose tail flips up, enhancing the sense of suspended motion. Remington also changed the rider's chaps in just eight casts to the so-called wooly variety, adding incredible texture to the sculpture.
As you continue to compare these works online or in the exhibition, more subtle and nuanced differences will emerge. The variety of sand and lost-wax casts on display in The American West in Bronze, 1850–1925 offers visitors the opportunity to enjoy the multiplicities of the bronze medium. Whenever documented, the foundries and cast numbers are included on the object labels to draw greater attention to the casting process. You can also watch artist Alexander Phimister Proctor, assisted by skilled artisans, cast a sculpture in the lost-wax method in this 1922 silent film, which is on display in the exhibition: